Is workers' compensation required for seasonal employees?
Whenever there are changes to staffing, including the addition of seasonal workers, business owners should review their workers' compensation coverage to ensure they are in compliance with state laws.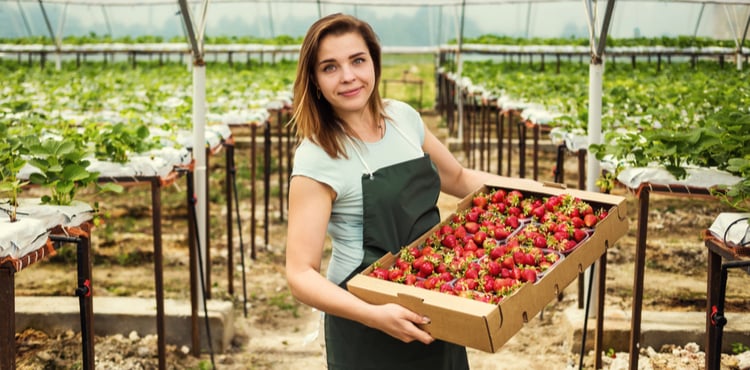 Seasonal workers can be an asset for businesses that need to increase staffing for busier times of the year, such as the holiday season or summertime. However, whenever there are changes in staffing, business owners should also take the opportunity to review their workers' compensation insurance for seasonal workers to make sure they remain in compliance with state laws.
Each state has different laws for workers' comp coverage, but a policy is almost always mandatory for businesses with employees. As staffing needs grow, so do coverage requirements, including insurance for seasonal workers.
Are seasonal workers a business risk?
Temporary workers help some businesses cope with the demands of a seasonal surge in business, but do they also pose a risk? An Insureon poll conducted in partnership with online small business directory Manta found that 35% of those surveyed say they view hiring temporary workers as risky.
When asked what specific concerns they have with seasonal hires:
34% said temporary workers lack the necessary experience
25% think they possess poor customer service skills due to lack of training
22% said they are more likely to steal merchandise or disclose sensitive company information
19% think they are more likely to get injured in the workplace
Nineteen percent of respondents say they are planning to hire additional employees for the holiday season. Of those business owners, 68% have workers' compensation insurance, with 57% of policyholders saying they will be adjusting their policy to accommodate seasonal hires.
That means more than a third of business owners don't have plans to update their workers' compensation insurance to account for temporary workers. Depending on which state the business is based in, that could potentially result in fines – or even jail time for business owners, in extreme cases.
How workers' comp protects businesses with seasonal workers
Understanding state workers' comp laws and properly screening seasonal employee candidates can minimize the risks these types of workers pose to a small business.
Not only can workers' compensation insurance benefit employees by covering medical bills and partial lost wages following a workplace injury, it can also protect business owners from legal costs should an employee sue over an injury.
Seasonal workers are not necessarily more careless than year-round employees. However, there are a number of reasons why they could face a higher risk for injuries, such as:
Lack of sufficient training. During seasonal rushes, business owners and staff are often working longer hours and moving at a faster pace to keep up with business demands. This could lead to shortened safety training sessions for new workers. Without the necessary training, seasonal workers could be more susceptible to injuries such as sprains, strains, cuts, and broken limbs.
Moving too fast. Temporary employees trying to keep up with more seasoned workers may be moving at a pace that is too fast for their experience level. This could lead to slips, trips, falls, and other injuries.
Schedule disruptions. Some seasonal workers have more than one job. The heightened workload of a temporary job combined with the disruption to their normal routine, especially if it impacts their sleep schedule, can make them more prone to accidents than a year-round employee with only one job.
Workers' compensation insurance helps ensure that any seasonal workers injured on the job will have their resulting medical expenses covered.
State requirements for workers' compensation
More than two-thirds of states require employers to purchase workers' comp as soon as their first employee is hired, but others have different rules.
Penalties for noncompliance vary by state. For example, New York business owners can be penalized $2,000 for every 10 days without workers' comp coverage. In Michigan, business owners not only face potential fines of $1,000 per day for every day they are uninsured, but they could also be jailed for up to six months for not carrying the necessary workers' compensation insurance.
Any time your business increases or reduces its number of employees, including seasonal workers, it's a good idea to contact your insurance agent to make sure your workers' comp policy is adjusted accordingly. Otherwise, you might end up paying too much, or end up facing a penalty for being underinsured.
Learn more about workers' comp requirements in your state.
Reduce risks when hiring seasonal workers
It can be more challenging and time-consuming for small business owners to find seasonal help, but it's important to stay diligent when adding temporary hires to any team. Seasonal workers are still technically employees, and business owners should follow the same procedures they would use when filling a full-time position.
Some best practices for hiring seasonal employees:
Write a thorough job description. Being clear about what the job entails can not only help attract qualified candidates, but may also reduce the number of applicants who cannot handle the physical demands of the job. This reduces the chance of potential injuries.
Ask for referrals. Your existing employees can be a good source for recruiting temporary talent. By asking employees to recommend candidates they think would be able to perform the job, you are more likely to find temporary workers that will fit in with the team and be trustworthy.
Perform background checks. It's important to screen seasonal staff the same way you would a full-time hire. If finances are tight, at least call past employers to confirm an applicant's employment history.
Use a staffing agency. Business owners who don't have time to properly vet seasonal help should consider using a temp service to assist with hiring for the holiday season. The temp agency will screen candidates, perform background checks, manage payroll, and cover the employee under the temp agency's workers' comp policy if necessary.
Seasonal workers can play an important role in a small business's success during busy times. However, it's up to small business owners to make sure they are hiring reliable workers and carrying the appropriate amount of workers' compensation coverage.
Compare quotes from trusted carriers with Insureon
Complete Insureon's easy online application today to compare quotes for workers' compensation and other types of insurance from top-rated U.S. carriers. Once you find the right policy for your small business, you can begin coverage in less than 24 hours.