4 sales tips for accountants who hate selling
Many business owners have trouble selling themselves and their businesses to prospective clients. Luckily, there are ways to make the case for your accounting business that don't come off as inauthentic.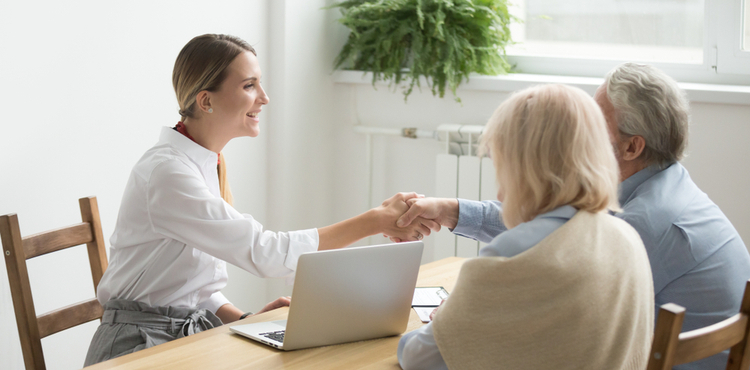 What do you picture when you think "salesperson"? Some slick-talking huckster who's willing to sell their grandmother if the price is right? That image might give you the creeps in any context, but especially so if you're like many accountants whose primary goal is to gain client trust.
Pitching your accounting services to prospects may not be your cup of tea, but it's a necessary part of running your firm. Let's look at some ways you can make the experience more comfortable and successful.
1. Rethink your goal
The first step to adding sales skills to your resume is to reframe how you think about them. Your job isn't to get everything you can out of a prospect (that would be tacky). Instead, try to see yourself as an ally – someone who has specialized knowledge that can help their business grow. That way your main objective is helping the prospect solve a problem.
Pro tip: Sometimes it's easier to position yourself as a collaborator when it's a cornerstone of your firm's value proposition. If you don't have a value proposition yet, write a statement that explains how your firm addresses your core clients' needs. For more tips, check out AccountingWeb's value proposition example for a professional service provider.
2. Do more listening, less talking
Experienced salespeople know that the key to landing a client is listening. Talking about your services only matters if they match what the client needs, and you can only find that out if you listen to their problems.
Remember that the desire to be heard is a fundamental part of human nature. Listening to a prospect lets them know you're interested in more than selling a service.
Pro tip: Listening doesn't mean you need to be completely quiet. Megan Schottler, the author of "CPAs should focus on 'pain,' not selling," suggests that close listening prepares you to ask questions that help you tailor your solution to the prospect's concerns.
3. Nurture relationships
According to CMO, the Gartner Group claims 80% of your future profits will come from just 20% of your existing customers. That makes it clear how valuable it is to keep your current clients in house.
But if that's not enough, remember that happy clients may:
Tell other small business owners how awesome you are
Refer your firm to their friends
Ultimately, dedicating a chunk of your marketing budget to nurturing current relationships can pay off.
4. Look for partnerships
Word-of-mouth advertising and client referrals are a big win for your accounting firm. Essentially, you get a chance to acquire new clients just by being good at what you do. That's living the dream.
But there are other ways to earn referrals. Your first choice may be to partner with professionals who see people on the verge of a major change in their taxes, such as:
Probate lawyers
Real estate agents
Business consultants
Bankers
But you're only limited by your own imagination. For example, considering the stress people face during tax season, you may want to connect with:
Massage therapists
Spa owners
Counselors
Pro tip: If you decide to go the professional route, you may want to look at independent insurance agents. Accountants are a valuable referral source most agents overlook.
Compare quotes from trusted carriers with Insureon
The right insurance coverage is also key to building trust with clients. Complete Insureon's easy online application today to compare quotes for general liability and other kinds of business insurance from top-rated U.S. carriers. Once you find the right policy, you can get coverage in less than 24 hours.