2023 Plumbing license requirements
The licensing, insurance, and bonding requirements for plumbers vary by state. Having the right insurance and bonding can help keep you financially protected, and may be required for some jobs within the plumbing industry.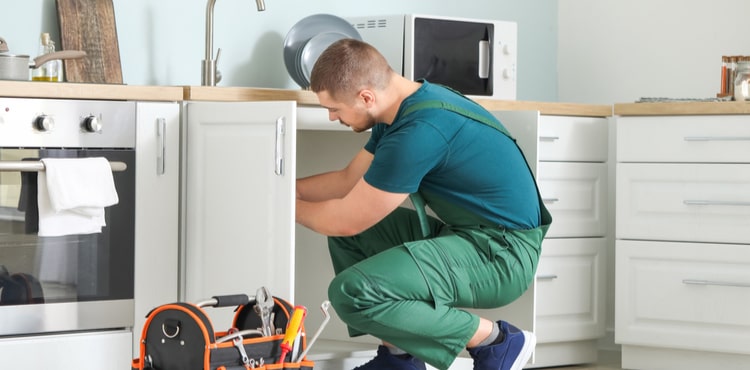 Plumbing regulations differ by state, though they generally require a certain level of education, training, and experience in the field working with a licensed plumber before you can apply for a license.
What bonds and insurance coverage does a plumber need?
Most states require any business with employees to have workers' compensation insurance. Many state and local governments also require licensed contractors, including plumbers, to have specific levels of general liability insurance and surety bonds as a form of consumer protection, as well as commercial property damage insurance for their own business.
For legal and financial reasons, plumbers often buy the following insurance coverages:
Surety bonds are required for many contracts, especially those with state or local governments. The bond guarantees that the insurance company will reimburse your client if you fail to deliver on contracted services.
General liability insurance insures you against common business risks like customer injuries, customer property damage, and advertising injury.
A business owner's policy (BOP) combines general liability insurance with commercial property insurance, typically at a lower cost than if you bought these policies separately.
Contractor's tools and equipment insurance pays for the repair or replacement of your tools and equipment if they're lost, damaged, or stolen.
Commercial auto insurance covers your legal bills, medical expenses, and property damage to others if your work vehicle is involved in an accident.
While insurance and bonds may differ, both are key to a business's risk management strategy.
Compare small business insurance quotes
When do you need a plumbing license?
When first entering the plumbing trade, one usually must go through a training program at a technical school, then work as an apprentice plumber to gain hands-on experience before obtaining a journeyman plumber's license. After gaining more experience in the field, you might pursue a master plumber's license.
Generally speaking, a licensed master plumber has more experience and knowledge of the business. Some states also have plumber's licenses for certain specialties within the field, such as residential dwellings, irrigation, and wells. Licensed plumbers can also work on natural gas lines as gas fitters.
You may need to register with your state licensing board before you begin your apprenticeship under a licensed journeyman or master plumber, per state board professional licensing requirements.
In most states, you'll need a license as a journeyman plumber before you can conduct paid work on your own, whether you're self-employed or working under a general contractor. If a license isn't required at the state level, it may be required by your local county or municipal government.
Plumbing License Requirements By State
Most states offer licenses as a journeyman or master plumber, though there are differences in the types of licenses available and whether they're required at all. Your state's department of commerce, department of labor, or a similar regulatory board could offer more information on this.
Let's take a look at how some states handle their licensing requirements.
New York
New York State does not have a plumbing contractor license requirement, but they're often required by city and county governments.
For example, while New York City allows anyone to do journeyman plumbing work, but to become a master plumber, they must submit an application to obtain a master plumber license. Plumbers must also be registered with the New York Secretary of State's office, although licensing and regulations are handled by the city.
A journeyman plumber in New York can work under the direction of a master plumber, installing new water and gas lines, and doing repairs.
A master plumber has no restrictions and can oversee the work of journeyman plumbers and apprentices in commercial plumbing. They can also create plumbing schematics, plan water systems, and work directly with code enforcement officers in the construction industry.
As with licensing, New York State does not require insurance or bonding, although local governments often require them. New York City requires plumbers to have a minimum of $1,000,000 in general liability insurance, per occurrence, as well as workers' compensation insurance.
Florida
Plumbers in Florida must have a state license from the Florida Department of Business and Professional Regulation as either a journeyman plumber or a master plumber. To obtain a master plumber's license, an applicant must also have a contractor's license.
All contractors in the state of Florida, including plumbers, who have a FICO credit score of less than 660 must have a surety bond or a revocable letter of credit worth $20,000 for Division I contractors and $10,000 for Division II contractors. These amounts may be reduced by completing a board-approved financial responsibility course.
State contractors are also required to have $100,000 in general liability insurance for bodily injury and $25,000 for property damage. Workers' compensation insurance, or an exemption, must be obtained within 30 days of plumber's license being issued.
Local governments also have surety bond requirements. Many of them require a $5,000 bond, although some require up to $25,000 or more.
Texas
Plumbers in Texas must have a state license from the Texas State Board of Plumbing Examiners as either a tradesman plumber, a journeyman plumber, a master plumber, or a plumbing inspector. A tradesman plumber's license requires at least two years of experience in the plumbing field as an apprentice. An apprentice does not require a license, but they must be registered with the state.
To apply for a journeyman license in Texas, plumbers are required to have either a current plumber's apprentice registration, a current Tradesman Plumber-Limited license, or at least 8000 hours of experience working at the trade under a licensed plumber's supervision.
To obtain a master plumber's license, an applicant must have been licensed as a Journeyman Plumber in Texas or another state for at least one year, and have completed an approved training program. Master plumber licenses obtained in other states will also qualify an applicant for a master plumber license in Texas.
For example, if a plumber obtained a journeyman license while living Tennessee and moved to Texas after a year, they will be eligible to apply for a master plumbing license. Likewise, if a master plumber living in Arkansas wanted to relocate shortly after obtaining their master plumber license there, they would also be eligible to apply for a master plumbing license in Texas.
Texas plumbers must carry general liability insurance for claims of property damage or bodily injury, with coverage of at least $300,000. Plumbers must typically also carry insurance coverage for all types of plumbing they do under their license. However, this does not include workers' comp, which is optional for most Texas businesses.
"Becoming a master plumber usually requires two to four years of work experience as a licensed journeyman, plus a state license exam."
North Carolina
There are three types of plumbing licenses available in North Carolina that can be applied for:
Plumbing, Class I: for commercial, residential, industrial, and institutional buildings.
Plumbing, Class II: for single-family detached residential buildings only.
Restricted Limited Plumbing Contractor: able to work on water filtration systems, plus exterior water service, sewer piping, and backflow preventers with less than 2-inch piping.
North Carolina does not require insurance or bonding for to acquire a plumbing license, although local governments often require them. For instance, plumbing contractors must post a $2,000 bond, per occurrence, in the city of Greensboro, North Carolina [PDF]. Many local government projects and building permits will require plumbing contractors to have insurance, most commonly general liability and workers' compensation coverage.
Georgia
There are three kinds of plumbing licenses in Georgia that can be applied for:
Journeyman: able to install, maintain, and repair plumbing fixtures and systems under the direction of a master plumber.
Master License Class 1: restricted to plumbing involving single-family homes, one-level dwellings designed for no more than two families, and commercial structures not exceeding 10,000 square feet.
Master License Class 2: no restrictions.
The state requires all licensed contractors, including plumbers, to have general liability insurance. Plumbers must also submit proof of workers' compensation coverage if they have employees.
In many areas of Georgia, plumbers will need to acquire a surety bond before bidding on a job. For example, in Augusta-Richmond County [PDF], plumbers will need a minimum $15,000 surety bond for a residential project, or $20,000 for a commercial project.
"Becoming a master plumber usually requires two to four years of work experience as a licensed journeyman, plus a state license exam."
How do you get a plumbing license?
While licensure requirements vary by state and local jurisdictions, there are some general requirements that most licensing programs follow.
The path to obtaining a plumber's license typically requires:
A high school diploma or a GED.
Specialized education and plumbing, typically at a technical college or trade school to learn the plumbing code in your state.
Complete a licensing trade exam with your state or local government plumbing examiners, and then filling out a plumber's license application.
In addition to these requirements, it can take up to five years to acquire a plumbing license. Most locations will ask for a specific number of hours of work experience to acquire a license, although the required hours may vary by state. For example, Colorado mandates that anyone applying for a journeyman license have at least 6,800 hours of experience, while New Mexico only requires 4,000 hours to be eligible for the same license, both then requiring applicants to pass an exam once their experience threshold has been achieved.
As a plumbing apprentice working under a licensed plumber, it typically takes between four to five year to acquire a primary plumbing certification. Some trade schools have apprenticeship programs that pair students with a licensed plumber so they can gain hands-on experience while going to school, which can take around two years to obtain your primary certification.
To obtain a journeyman license, most locations will require at least five years of experience working as a plumber.
Becoming a master plumber usually requires two to four years of work experience as a licensed journeyman, plus a state license exam.
When applying for a plumber's license, your state or local government will likely require:
Proof of your education and apprenticeship
Professional recommendations
Names and addresses of your company and owners
Registering your business with the state
Proof of a surety bond and other types of business insurance
Compare plumber's insurance quotes with Insureon
Complete Insureon's easy online application to compare quotes from top U.S. carriers for small business insurance coverage. Once you find a policy that fits your needs, coverage can begin in less than 24 hours.