How to go viral on Instagram with your small business
Engaging with even a small percentage of the billion-plus people who use Instagram each month can have a tremendous impact on your business.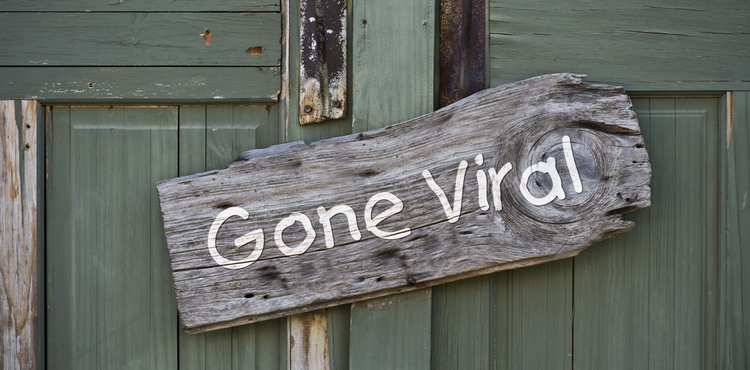 Everyone has seen a small business go viral, but few achieve it. Much depends on chance, but business owners can improve the odds of getting their content noticed. Capturing even a small percentage of the billion-plus people who use Instagram each month can have a tremendous impact.
However, you'll need to be strategic to get Instagram followers for your small business. Take steps to learn best practices for how to use Instagram for business.
Post potentially viral content
Business owners around the world are trying to unlock how to go viral on Instagram. Whether your target market is large or small, global or local, going viral is the fastest way to make an impact with shareable content on social media.
However, not every Instagram post has the potential to go viral. You could sink thousands of dollars in paid promotions into a post and, if it isn't relevant, it just won't catch on.
To figure out what kind of viral content your small business should focus on, answer these questions:
What's visual about your business? Instagram is primarily a visual platform, so most viral content is visually interesting in some way.
What's your brand voice? While it's definitely possible to go viral by simply reposting the latest memes, these standalone posts don't usually translate into new customers for your business. Attract relevant followers to your account by incorporating your brand voice and putting your own twist on memes, industry trends, and current events.
What's your target market interested in? For a post to go viral, it needs to resonate with your audience. To find out what kind of content your audience wants to see, look at other successful posts in your industry or ask your customers for feedback.
There are plenty of ways for small businesses to create relevant content, even in industries with a strong presence on Instagram. The painter Annette Labedzki, for example, has created numerous viral posts by giving her followers a behind-the-scenes look at her creative process. If you manufacture a product or offer a service, this same tactic could apply to your social media audience.
Use tags liberally
As a small Instagram account, you'll probably need to depend on trending hashtags, geotags, and reposts to grow your audience and potentially go viral. To increase the number of people discovering your content, use trending hashtags, attach a geotag, and tag other relevant accounts in your post.
Many people discover new content on Instagram through hashtags
Posts with numerous hashtags generally perform better than those with just a few. Because the content on very popular hashtags like #couplegoals or #tbt refreshes often, you may want to use more specific, slightly less popular, hashtags in your post. If you want your post to pop up in as many searches as possible, try to choose literal and trending hashtags over humorous ones. Small business accounts can also go viral by jumping on trending hashtags or getting reposted by other accounts. Many
interior designers
and
landscapers
, for example, have grown their Instagram followings by using one of @
betterhomeandgarden
's brand hashtags and then being reposted by the popular home improvement brand.
People also discover new content through geotagging
Many small businesses, such as boutiques or independent restaurants, have geographical markets that are limited to a city or state. Adding a geotag to your content will help potential customers find you.
A repost from an account with a huge following can help your post go viral
Some accounts with a large number of followers repost "featured" content from other accounts. Research accounts that are influencers in your industry, and tag them when you post relevant content. Sometimes, being featured on a smaller, but more specific, account is actually better for your business than being featured on a large account with a broader focus.
Repost user-generated content
Your customers can create some of the best content for your small business. Not only are customers great at showing others exactly what they like about your business, but they're also good at convincing others to try your products or services. According to BrightLocal, 86% of people trust online recommendations as much as personal recommendations.
Small businesses can create viral posts by reposting user-generated content like product photos or videos taken by customers. To encourage your customers to share their Instagram content with you, create a brand hashtag or ask customers to tag your business in their posts.
Many small businesses have found success by sharing user-generated content. For example, Mr. Holmes Bakehouse in San Francisco launched a worldwide #cruffin craze by reposting photos of its unique baked goods taken by its customers. Today, fans from around the world flock to the insta-famous bakery to take a photo of their cruffin with the business's iconic neon sign and, hopefully, make it onto the Mr. Holmes Instagram feed.
User-generated content creates risk
Take caution before you repost user-generated content. In general, the person who takes a photo or video and uploads it to Instagram owns the copyright, even if that person used your hashtag or tagged your business. While reposting user-generated content is an excellent way to go viral on Instagram, businesses should avoid infringing on the privacy of a customer or violating a customer's copyright on social media.
To prevent copyright infringement on social media, make sure your business always get permission from the creator and from anyone featured in a photo or video before you repost content.
If a creator sues your business, the advertising injury protections in your general liability insurance policy can cover legal defense fees, settlements, judgments, and other expenses related to the lawsuit.
Compare quotes from trusted carriers with Insureon
Complete Insureon's easy online application today to compare insurance quotes from top-rated U.S. carriers. Once you find the right policy for your small business, you can begin coverage in less than 24 hours.