Slade Land Use: Construction services from the ground up
L'Tryce Slade holds a unique position – she's one of the only women in the industry who owns a construction material testing laboratory. Learn what inspired her to start her own business and what surprised her about being a business owner.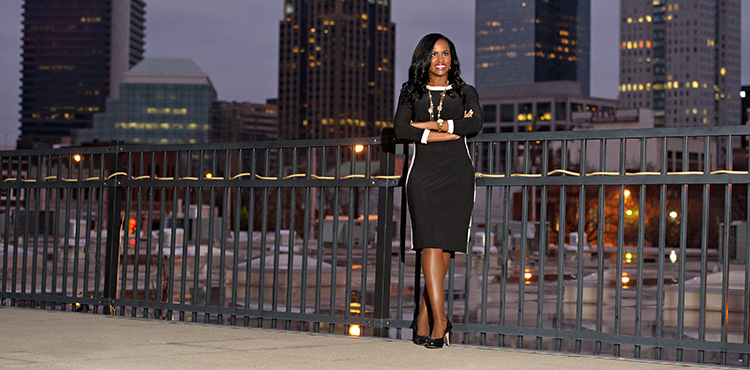 In 2006, L'Tryce Slade needed a job – so she created one. With a background in urban planning and a legal degree, she founded licensed general contracting firm Slade Land Use, Environmental, and Transportation Planning. Based in Birmingham, Alabama, the company specializes in geotechnical services, construction material testing, environmental services, and urban planning.
We caught up with L'Tryce to learn more about what led her to found Slade Land Use, and what has surprised her the most about owning her own business.
What inspired you to start your business?
I needed a job. I was already on sites working on projects and wanted to be able to have longer duration projects. Some of the larger firms I worked with said if you get your license we'll team with you, so that's what encouraged me to pursue it.
But was it that easy? No. I thought they would be regularly teaming with me, which wasn't the case. It did help me a lot but as far as teaming with people on a regular basis – that's not what happened. I still had to compete and build those relationships.
I think I am one of the few women that own a construction material testing laboratory in the country. My nickname is actually "the dirt lady." I know of two other ladies in the industry, but that is it. So that's really unique.
What do you love most about what you do?
Hiring people to empower themselves so they are able to control their own destiny. I hire a lot of people that are in impoverished situations and I help them attain certifications that allow them to make more money and elevate themselves into the middle class.
What's been your biggest surprise of owning your own business?
The amount of work it takes and the number of hours. It's been really, really challenging for me, the commitment. It's a huge undertaking, I had no idea. There are a lot of variables and things you don't have control over, and the relationship-building can take years. No one really understands the intangible ingredients of running a business until they do it. I don't even understand it sometimes.
How would you like your business to change in the next five years?
I hope to have more people to delegate to. It would be wonderful to not have to be the one doing all the quality control. My current team is nine people. I want to keep the same people but also hire more talent, including more professional engineers. One of my main goals is to be able to hire engineers and have their work not only pay for their salary, but also bring in profit for the business.
What keeps you up at night?
Finding the next project. It can be nerve-wracking figuring out which is going to be your livelihood for the next month or 12 months. Plus, it's not only your livelihood but that of the other people who are working for you, too.
How do you protect your business from risks?
I actually took a class recently from the Georgia Minority Business Development Council and they had an insurance company come in to talk about risk. They gave us a booklet that told you to ask yourself questions like, "How many of you do this or don't do this?," "How many of you have this information backed up?," and "How many protect yourselves from your employees?"
It was full of all these kinds of questions that are not always at the top of your mind as a business owner, but they are things that you really have to consider. As a result, I've become more attuned to realizing that I need somebody paying attention to that and getting policies and procedures in place ASAP.
I would also say that it is challenging to find the right fit for an insurance company. I would encourage people to value that relationship and have an open-door policy so you can be honest with them about what your needs are and how the company will be able to assist you. That's been a big help for me and I value that relationship.
Compare quotes from trusted carriers with Insureon
Complete Insureon's easy online application today to compare insurance quotes from top-rated U.S. carriers. Once you find the right policy for your small business, you can begin coverage in less than 24 hours.