How to get clients for a new business
When your business is just starting out, it can be difficult to build up your client base. These tips on how to attract clients can help.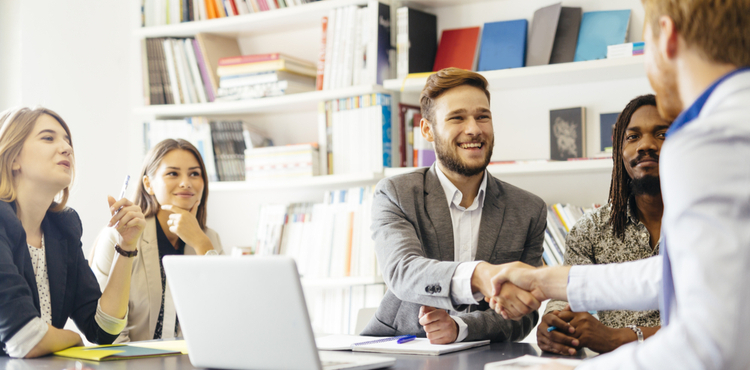 Prospective clients tend to look at new businesses with a healthy dose of skepticism. Not only do they want you to prove you're better than the competition, but they also want proof that you're reliable. We talked to a few entrepreneurs to see how they got clients for their new business, and they recommend that you share case studies, trade work for reviews, demonstrate industry expertise, invest in advertising, nurture existing clients, and embrace rejection.
Share case studies
When Ben Landers started analytics and digital marketing company Blue Corona, he was unknown in the industry. He didn't have clients, a "fancy education," or even a website.
"Think about that for a minute – a digital marketing company without a website!" Landers says.
But the biggest thing Landers says he lacked was a success story.
Landers needed a case study to show his expertise. To get it, he provided services at a discount to a previous employer. Then he says he had it printed, bound, and mailed to about 350 prospective clients. A decade later, Blue Corona has over 150 clients.
"Case study marketing worked so well for Blue Corona that it became one of our core values: make every client a case study," says Landers.
Gil Gildner tried a similar approach when he and his business partner launched the marketing consulting firm Discosloth. They took on small projects to identify businesses that might benefit from their full offerings and pursued those leads. In just seven months, he says Discosloth has over 20 clients on retainer, and he and his partner are making more than they ever did at their nine-to-five jobs.
Trade work for reviews
CEO of CMK Marketing Liza Viana acknowledges that it may hurt a little to work for free, but the payoff can be worth it. She says reviews from happy clients often bring in new, paying customers.
Even better than the reviews, Viana says happy clients may also refer you to friends, colleagues, and contacts.
"Essentially, they're helping to market you to what normally would be a cold audience for your business," she says.
Demonstrate industry expertise
Case studies and reviews show you can get results, but demonstrating your knowledge helps clients trust you. To solidify your standing:
Write articles and blogs
Publishing industry-related articles helps position you as an expert. Outlets such as Forbes and Inc. are great places for those just starting out.
Get quoted
You can also pitch ideas to business reporters who usually link to your business website in their articles. Check out sites like Help a Reporter Out and Muck Rack for opportunities.
Join professional organizations
Business owners get access to the organization's resources and networking opportunities.
Bonus tip: Business insurance can also show your professionalism. Clients often see insurance as a sign a financially responsible business owner.
Invest in advertising
Janet Attard, founder and CEO of small business information site Business Know-How, says advertising where your competitor advertises has two advantages for new businesses.
"When you advertise, you look like a more established business – and you get your name in front of people looking for what you sell," Attard says.
Ads can be costly, so be precise with placements. Gilder says his company used just two niche channels to advertise.
"Each of these channels paid for themselves, but it took months," he says.
Nurture existing clients
Taking care of clients you have can help in two ways: It encourages retention and it might lead to referrals.
Deborah Sweeney, CEO of MyCorporation.com, a leading legal filling services site, says a newsletter can help you reach those goals. She recommends creating a newsletter that links to articles about your industry, informs clients about changes to your business, and promotes your social media channels.
Embrace Rejection
Once you have experience and have proven yourself with your first few clients, it's time to leverage that work and expand your reach to your ideal clients, web designer Charlotte O'Hara says.
"It'll be a numbers game, meaning that you will get rejected more often than not, but you'll also build your client base and grow your business over time," O'Hara says.
Compare quotes from trusted carriers with Insureon
Complete Insureon's easy online application today to compare insurance quotes from top-rated U.S. carriers. Once you find the right policy for your small business, you can begin coverage in less than 24 hours.