How to become a licensed insurance agent
Working as an insurance agent allows for flexibility, and it often takes only a few weeks to acquire a license.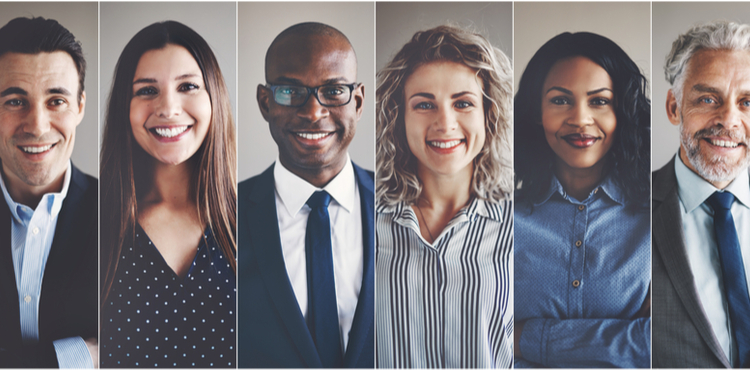 Starting a career in the insurance industry can be an appealing opportunity for new and established professionals. Depending on the area of emphasis, it's a career path that allows for flexibility and a diverse roster of interesting clients. The requirements to become an insurance agent vary by state, but they can often be completed much faster than other professions that require a license.
Exactly how long does it take to become an insurance agent? Most people can become one in only a few weeks. If you choose to take an online course that requires a certain number of study hours, your ability to complete it will largely determine your licensing time. There may also be a week or two of waiting for the license to be issued once your exam and background checks are complete.
If you're ready to jump into the world of insurance sales, consider these steps to becoming an insurance agent.
1. Decide what kind of insurance agent you want to become
You will need to decide between two types of insurance agents when starting your insurance agent business: captive and independent.
Captive insurance agent
A captive agent is one who works with only one company, typically a large national insurance provider. The captive company provides training and support to the agent. In return, the agent represents only the company's products and cannot sell policies for a competitor.
Many captive insurance agents are required to sign a non-compete agreement, limiting them to only one insurance company for a specific period. Commission rates may be lower based on the marketing support provided to the agent by the carrier.
Independent insurance agent
An independent agent is someone who works with more than one insurance company. The agent provides clients with policy quotes from multiple companies to find the best policies and price.
Independent agents have greater flexibility in their product offerings but receive less training and support from the insurance carriers they work with.
Agents must also build their brand in the markets they work in, rather than relying on marketing support from well-known insurers, which can make the path to becoming an independent insurance agent more challenging.
Exactly how long does it take to become an insurance agent? Most people can become one in only a few weeks.
2. Decide which insurance products you will sell
There are many kinds of commercial insurance and personal insurance policies.
Commercial insurance agents focus on providing coverage to businesses with policies ranging from general liability insurance to commercial property insurance and errors and omissions coverage.
Personal lines of insurance focus on coverage for individuals and families. This includes insurance for motor vehicles, home insurance, and life insurance.
3. Review your state's licensing requirements
Before you begin the process of getting licensed, you'll need to know which products you will be selling (see above) so that you choose the proper license for your insurance agent business. License names will vary depending on the state you live in.
What are the two most common license types?
Property and casualty license, for agents who plan to serve clients who need auto, home, and business insurance.
Life, health, and accident license, for agents who plan to serve individuals who need insurance related to life events, such as life insurance, accidents, or health insurance.
Your career plan may require you to obtain multiple licenses. You will need to get the specifics from your state licensing department or the company you plan to represent.
Why do insurance agents need a license?
Insurance agents must be licensed to discuss insurance products or complete sales. Each state has unique licensing requirements. People who operate without a license could face penalties or legal action.
You may also like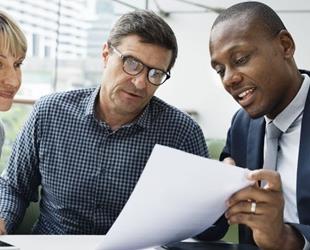 Can you sell insurance without a license?
Starting and running your own insurance business comes with a lot of requirements, including a license to sell or broker insurance. In some instances a license isn't required, but the best way to protect your business is with the proper licenses, bonds, and insurance.
4. Take an insurance license exam
Most states require you to complete a pre-licensing class. Many of these can be taken online or through an in-person course. Requirements vary depending on the state, from a one-day class to 20-40 hours of online training.
After you have fulfilled any pre-exam requirements for your state, you'll need to schedule your official licensing exam. An outside company usually proctors these exams. You will go to a testing site at the scheduled date and time to take the test online. You may need to show proof of your completed training class before taking the exam.
What to expect during your insurance license exam
The exam process usually is not difficult, especially if you have completed pre-exam requirements and come prepared. You'll arrive at your scheduled time and be placed at a computer. Test questions are usually in multiple-choice format. When the exam is complete, you'll immediately find out if you passed. If you don't pass on the first try, you can reschedule and take it again.
5. Submit your licensing application and background check
When you pass your state insurance license exam, you'll submit all required licensing applications to your state licensing department. Some states will require a background check, which may involve fingerprints. Once you're officially licensed, you'll be able to legally discuss and sell insurance policies.
Get small business insurance quotes from top U.S. carriers
Have a question? Schedule a call.
6. Get appointed with an insurance company to sell products
You must be appointed by an insurance company before you have the authority to sell its products. You will need to complete an application with each insurance company you plan to sell products for and be granted an appointment and binding authority, which is recorded on your state insurance license.
7. Find and maintain clients
You have a license. Now what? You'll want to begin prospecting for clients. Many agents begin by writing their own insurance and prospecting to friends and family. This is a great way to get a good feel for how the systems work and become comfortable quoting new coverage.
At this point, it's a good idea to begin marketing your agency. You may want to join the local chamber of commerce, create a website and promote your business online, or explore local advertising options. Many options are available, and most will require some trial and error until you find what works best for you.
You may also like
8. Protect your business with insurance
As a new insurance agent, you'll also want to make sure that your agency is protected with commercial insurance. There are different types of insurance coverage to consider:
General liability insurance: General liability coverage will protect you in a wide variety of situations. One of the most common risks is claims of bodily injury if a client is injured while in your office. Something as simple as tripping over carpet could result in an injury and a liability claim. This coverage can be combined with commercial property insurance in a business owner's policy, often at a discounted rate.
Errors and omissions insurance: E&O insurance coverage is required by almost all insurance companies before you will be allowed to write their policies. This protects your clients against errors that you or your staff may make. For example, you might accidentally delete the wrong car from a policy, and it isn't covered in an accident. If it is an error that you are responsible for, your E&O coverage will take care of the client.
Workers' compensation insurance: Workers' compensation insurance coverage is designed to protect your agency from claims involving your employees. If an employee is injured while at work, it will pay a portion of their lost wages and medical bills. Even if you only have part-time workers, workers' compensation is required for businesses in most states.
Commercial auto insurance: Insurance agents who drive to see clients or conduct other business need to insure their vehicles appropriately, as personal auto insurance policies don't cover business use. Most states require commercial auto insurance for vehicles owned by a business. Hired and non-owned auto insurance covers personal, leased, and rented vehicles driven for work.
Cyber insurance: If you store your clients' email addresses, credit card numbers, or other personal information, then you need to protect it against malicious or accidental exposure. Cyber insurance covers costs related to a cyberattack or data breach, including the cost of notifying affected clients and supplying them with fraud monitoring services after a breach.
You may also like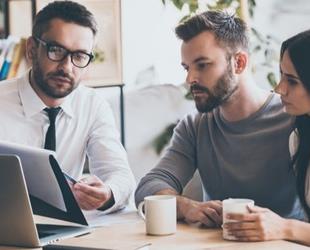 Compare quotes from trusted carriers with Insureon
Complete Insureon's easy online application today to compare insurance quotes for your insurance agency from top-rated U.S. carriers. Once you find the right policy for your small business, you can begin coverage in less than 24 hours.