5 rock-solid reasons to choose a career in insurance
Even if you don't find insurance the most fascinating topic, choosing a career as an insurance agent pays off in abundant job opportunities, the chance to use a wide variety of skills, and other benefits.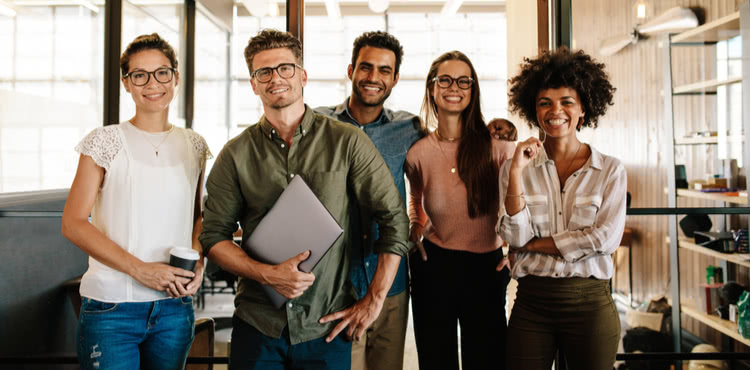 Why work in insurance? For many people, the word brings to mind one of two possibilities: a painfully bored office worker, or a slick, fast-talking manipulator selling policies no one needs.
But these caricatures couldn't be further from the truth. Insurance agents are part of an increasingly innovative and dynamic field that attracts people from all walks of life.
Insurance is also an essential, diverse industry that affects almost everyone in this country. From businesses that need liability coverage to individuals who simply want health insurance, there are few people who don't have insurance coverage of one type or another.
Whether you set out on your own or join a larger company, a career in insurance provides the opportunity to:
Make a difference
Advance your career
Learn a variety of skills
Work in a stable industry
Start a new career quickly
Need a little more convincing? Let's dive into the top five benefits of being an insurance agent.
1. You can give back to your community
Job seekers today are looking for something that provides not just a paycheck, but also a purpose. People are increasingly interested in a profession that offers a chance to give back.
For example, an estimated 30% of Americans reported they volunteer for an organization or association.
An insurance career can help satisfy this desire for meaningful work and community involvement. At its roots, the insurance industry is about protecting members of a community.
For example, insurance can pay to rebuild a home after a fire, provide for loved ones after a death, or help workers injured on the job. By encouraging individuals to share risk, it protects each of those individuals if tragedy strikes.
In addition, insurance companies are often active and engaged members of their communities. Many agencies are involved in a variety of charitable efforts, such as local children's organizations, animal shelters, disaster relief, and more.
2. You'll find an abundance of opportunities
It's projected that 50% of the insurance workforce will retire by 2028, opening up plenty of employment and advancement opportunities. And right now, the benefits of an insurance career aren't widely known, with only 4% of millennials expressing an interest in insurance. That means the field is wide open.
Once you have a foot in the industry, you'll find a wide variety of career and educational opportunities to match your interests. You may start in customer service, and then discover you like marketing or underwriting. Or you might choose a career as a specialty insurer who helps businesses that need unusual insurance, such as coverage for floods or unique items.
Most insurance companies will support you in your journey to find a job that matches your talents and interests.
Get free business insurance quotes for insurance professionals
Have a question? Schedule a call.
3. You can develop a broad skill set
Being an effective salesperson is a valuable talent when you work in insurance, but it's not just a sales job. The industry touches every field and offers countless career paths. Insurance companies look for workers who have skills in:
Communication
Technology
Problem-solving
Research
Analytics
Organization
Moreover, the insurance industry is continually evolving to meet the changing needs of its customers. That means employers are also interested in people who understand social media, digital marketing, and cyber communication.
4. You'll enjoy job security
Insurance isn't going anywhere. It's been around for centuries, and it will stay as long as people continue to need medical care, drive cars, own homes, and run businesses.
During a recession, insurance is more stable than other fields. That's because no matter the economy, people and businesses always need protection from risks.
Employment with an insurance company or an independent agency offers greater job security than other industries. So early on, you can begin paying off your student loans and start building a nest egg for the future.
5. It's easy to get started
There are a wide variety of roles in insurance, and some are incredibly easy to jump right into. To begin a career as an insurance agent, all you need is a high school diploma or equivalent – no work experience required. The whole process of becoming an agent can take as little as a few weeks.
However, you'll need to choose your specialty and also get your license. Learn more about how to become a licensed insurance agent, and get started on a rewarding career.
Complete Insureon's easy online application today to compare quotes for business insurance from top-rated U.S. carriers. Once you find the right policy for your small business, you can begin coverage in less than 24 hours.