New office checklist for small businesses
Making a move to a new office can be stressful and complicated. Use our tips to avoid unnecessary headaches.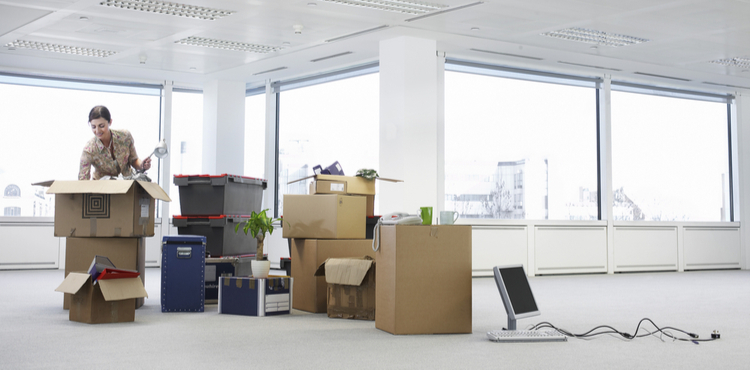 If you think moving to a new home is tough, wait until you move your business. The stress of getting everything to your new location without losing track of the people, papers, and property that keep your business running is enough to make you lose your cool.
We spoke to some people who've been there before. Here are their tips on how to make a smooth transition.
Scout your location
"One of the biggest decisions a small business owner will have to make is deciding where their new office is going to be," says Samantha Harnisch, the HR and office manager of New City Moving. "Location is crucial to a small business not only for branding, but also customer and employee accessibility."
She adds that your employees are major assets and adding time to their commutes may cause complications in the long run.
For your customers, the complication may be finding you. That's why business consultant Seema Alexander recommends making sure signage is clearly visible to traffic. If you're not dependent on a steady stream of traffic, Alexander suggests scoping local spots for potential client meetings.
Location matters, but so does cost. Unfortunately, many small business owners pick a new space without knowing the true cost of their utilities. According to Alexander, they often base their forecast for that expense on the average of a previous tenant.
"At the end of the day, the true cost of utilities can only be determined by their usage," she says. Play it safe and pad a little extra into your budget.
Assign a point person
CEO of Dishah Strategic Solutions Amit Sharma says it's important to "assign a dedicated project leader to manage the entire relocation process."
Your point person doesn't necessarily have to be an employee, but they should be someone you trust because, as Sharma notes, "The relocation relies on the organization and communication skills of the project leader."
Sharma adds that if your point person's responsibilities can't be temporarily reallocated, it might be worth considering professional moving consultants.
Decide if you need a professional mover
Think about your business for a moment. Is it a small boutique or a service-based business? Do you have inventory to relocate? What about specialized equipment?
"These are all things to keep in mind as you decide if you want to move your items yourself or put your trust into the hands of a third-party moving company," says Harnisch.
Ultimately, this is a cost-benefit analysis. Paying a mover might be expensive, but so is replacing property damaged in a move – not to mention the potential downtime if the broken items keep your business from operating.
Harnisch describes the decision to hire professional movers as "grueling." But if you do go that way, she recommends researching movers via online reviews.
"Moving companies are high-volume, so you should see many reviews for a reputable company that has experience and can safely handle your items," she says.
Minimize your downtime
The day of the move is where things really get complicated, mostly because you want your business to lose as little time as possible. Here are some suggestions to streamline the actual move:
Set priorities
Sharma points out that not everything needs to be moved at once. Determine items you need to keep your business running, and then create a timeline for moving the rest.
Eliminate unnecessary items
A move is a good time to get rid of the stuff you don't need. Harnisch suggests donating, selling, or recycling anything you don't plan to bring to your new office.
Organize your packing materials
Harnisch recommends gathering the materials you need, like boxes, packing tape, and shrink wrap, prior to the move. "Make sure every box is clearly labeled with where it's going in the new place," Harnisch adds.
Engage with IT
Harnisch's biggest tip? "Make sure your IT company is aware of your relocation, and book their services for disconnect and reconnect so you are up and running very quickly."
Your commercial property insurance most likely does not cover your business items while they're in transit.
"Standard moving services come complimentary with a very low-grade policy: $0.30/lb per item," Harnisch says. "Therefore, it's always suggested for a commercial move to have a full-coverage policy in place for your relocation."
Talk to your agent about the appropriate policy for your move.
As long as you're talking to your insurance agent…
Your commercial property policy is tied to your business address, so once you're out of your old space, your insurance doesn't cover you. Even if it did, a bigger space may mean your current property insurance no longer matches your business's needs. Review your options with your agent and update your policy right away.
Compare quotes from trusted carriers with Insureon
Complete Insureon's easy online application today to compare insurance quotes from top-rated U.S. carriers. Once you find the right policy for your small business, you can begin coverage in less than 24 hours.
Seema Alexander is a business model strategist, transition coach, and speaker. She is founder of seemaalexander.com, http://www.TheTransitionLab.com, and the Life After Corporate Mastermind Facebook Group.
A Chicago native and graduate of University of Illinois at Chicago, Samantha Harnisch has been with New City Moving since day one. She is a true believer that high-end customer service can be found in the relocation industry. Harnisch has invested great time and detail supporting the owner and aiding in growing the organization.
Amit Sharma is the CEO of Dishah Strategic Solutions. As a business strategy consultant and public speaker, Sharma has helped leading organizations in IT, retail, HVAC, hospitality, and various other fields to grow their business revenue and mind share with effective business strategies and implementation.