Top 5 risks for understaffed small businesses
More than a third of small businesses report being understaffed, which can negatively impact your employees' well-being as well as customer satisfaction.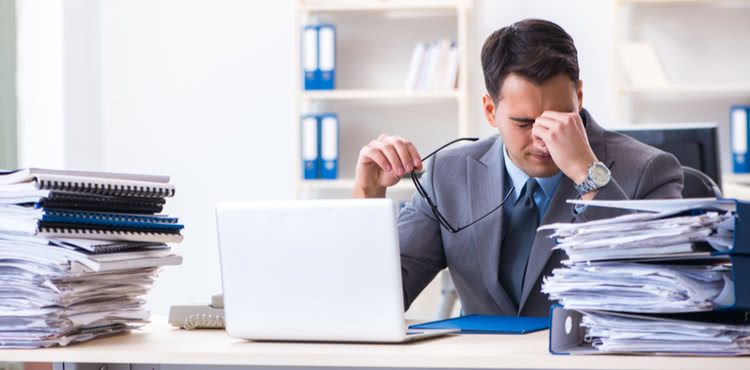 A survey of small businesses conducted last year found that more than a third of them – 35% – report being understaffed, but only about 20% plan to hire new employees in the coming months.
Worries about the economy and future cash flow, an inability to find qualified workers, and concerns about rising healthcare costs top the reasons small business owners gave for such shortages.
While money worries are a legitimate reason to hold back on hiring, you should be aware of the potentially costly risks that come from running an understaffed operation.
Risks of an understaffed workspace
Here's a look at what these risks are and how you can manage them.
Increased injuries and illnesses
Understaffed offices typically cause elevated stress among employees who are expected to do more with less, work long hours, or endlessly multitask. Medical research shows that increased stress can make the body more susceptible to illnesses, which can hurt productivity. Physical stress can also lead to muscle and nerve problems that could disable members of your team temporarily or in the long term, which could lead to a workers' compensation claim.
Increased risk of missed deadlines
A 2012 study found that firms with understaffed IT departments often have trouble prioritizing internal projects, meaning that big deadlines might be missed as a team rushes to complete a less significant assignment. Missing deadlines can seriously hurt a firm's credibility and ability to win new clients.
Increased expenses from delayed tasks
When you're struggling to complete day-to-day work, chances are you aren't thinking about updating your anti-virus software, your business insurance policy, or your printer. But if any one of those conks out in the middle of a big project, your business could face disastrous outcomes.
Increased exposure to cyber and information crimes
While direct client interactions may seem more important to your revenue than behind-the-scenes measures such as updating passwords and ensuring that your data is properly encrypted, failing to keep up with technological updates can lead to a data breach that could seriously tarnish your reputation.
Decreased customer satisfaction
Whenever your performance suffers as a result of understaffing, your clients will feel it. Over time, decreased performance could translate into less-satisfied customers, fewer referrals, less repeat business, and lower revenue.
Managing the risks of an understaffed workplace
Taking an active approach to mitigating your business risk is essential to staying optimally productive until you're ready and able to hire a new team member. Your risk management plan should include:
Stress-management strategies
Encourage your team to eat well, rest, take breaks, exercise, and engage in leisure activities to manage their stress loads. This will help keep everyone refreshed and calm enough to work as needed.
Insurance policy reviews and updates as needed
Ensuring that your cyber insurance and workers' compensation insurance policies are up to handling your current risk level will give you peace of mind and help minimize any understaffing-related losses.
Consistent communication with your team and clients
Let your team know what the situation is, when you plan to hire someone new, and what you need from them in the meantime. Similarly, talk to clients early and often if you know you won't be able to meet an agreed-upon deadline. This will empower everyone involved and help reduce stress levels.
Compare quotes from trusted carriers with Insureon
Complete Insureon's easy online application today to compare insurance quotes from top-rated U.S. carriers. Once you find the right policy for your small business, you can begin coverage in less than 24 hours.