Good news: That copyright infringement lawsuit from a major company is probably covered in your general liability insurance
Many large companies aggressively protect their trademarks with muscular legal teams. Fortunately, small businesses can rely on general liability insurance if they accidentally infringe on another business's trademark.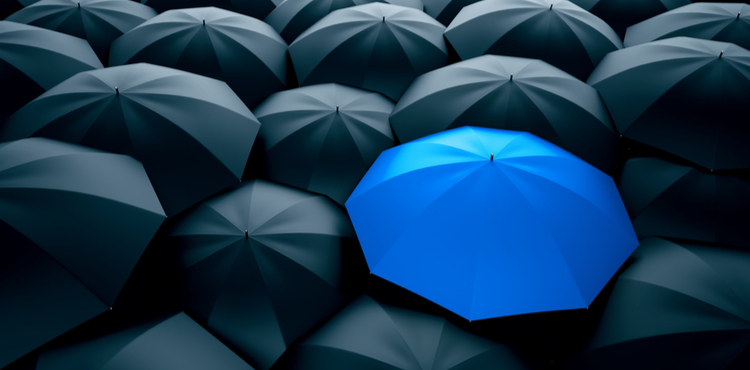 When designing your business's logo, chances are you never thought common household items were off limits. As long as the items aren't an exact replica of another business's logo, you should be good to go, right?
A string of contested trademark applications shows that using something as innocuous as an umbrella in a logo may be a serious trademark infringement. According to The Wall Street Journal, a huge property-casualty insurer took the offensive when a tiny Alaska-based consulting firm tried to trademark its logo, which happened to feature an umbrella. Over the past several years, the insurance company has challenged more than 30 trademark applications across an array of industries to protect its iconic red umbrella.
On the bright side, if the small consulting firm has general liability insurance, the policy may cover the legal expenses that accrue when lawyers are called in to sort out potential trademark infringement claims. Let's learn more about this debacle and how the appropriate consultant insurance can help.
Small businesses aren't safe from big business
The major insurance provider is hardly the first big company to aggressively protect its trademark. Disney, Apple, Blue Cross Blue Shield, and McDonald's also challenge trademark applications that infringe on their namesake and recognizable symbols.
And that makes sense, to some degree. These companies pour a ton of resources into developing their brands, which is part of the reason their symbols are almost universally known.
Unfortunately, when you are just starting out, you probably don't have a team of lawyers and researchers to help you avoid legal complications during this phase of brand development. Failure to do your own research before applying for a trademark on your logo may end with a letter from a billion-dollar company threatening legal action.
If that does happen, you'll be glad to have general liability insurance. This policy usually has advertising injury coverage, which can help when you're sued over:
Copyright or trademark infringement
Libel or slander
Misappropriation of advertising ideas
Invasion of privacy
Each of these "wrongs" is considered an advertising injury, and given the role social media plays in the business world today, they are fairly easy to commit.
For example, you may inadvertently post someone's copyrighted image on your business's social media page and be threatened with a lawsuit. Though these lawsuits may be less common than, say, a premises liability claim, they cost an average of $50,000 to resolve.
The rise of copyright infringement lawsuits
As the world becomes more connected through social media, sharing, and networking, it makes sense that we may see more people eager to protect their intellectual property. For many businesses, that property is their bread and butter. If they can't stake their claim to it, they lose out.
That's why it's important to take the risk of copyright infringement seriously. Even if you just get a letter from the copyright or trademark owner, you may need to hire a lawyer to respond to the demand, which can be a drain on your resources.
So arm yourself with some best practices for avoiding advertising injuries when you can. Make sure you understand your risk exposures and how to mitigate them through a combination of common sense, training, and small business insurance.
Compare quotes from trusted carriers with Insureon
Complete Insureon's easy online application today to compare quotes for general liability and other kinds of insurance from top-rated U.S. carriers. Once you find the right policy, you can begin coverage in less than 24 hours.