Who owns creative property with work for hire agreements?
When a client asks your media business to sign a work for hire agreement, they own the rights to the property you create.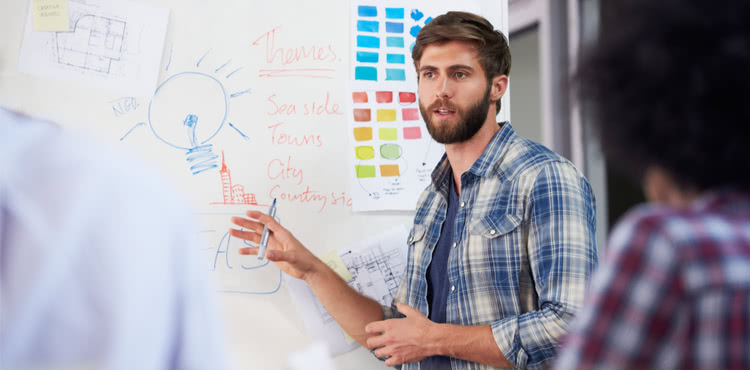 As a media or advertising agency, your business delivers creative work to your clients, whether you produce videos, design web graphics, or write ad campaign copy. But who legally owns the work you have created: you or the client?
Ownership of media in a work for hire agreement
Generally, U.S. law assigns a work's copyright to its creator. A work made for hire is an exception to this rule and assigns copyright to the employer, not the individual who created it.
According to U.S. copyright law, when a full-time employee produces images, written content, audio, or other creative assets as part of their job description, the property is considered a work made for hire, and the employer owns the copyright. If a company hires a freelancer or an independent contractor to produce a piece of media, it is considered a work made for hire if it meets any of the criteria outlined in the Copyright Act.
A business that uses a contractor to produce a media work made for hire must specify that in writing, so you will likely see it in paperwork that you sign with clients. Once you agree to the contract, you officially cede ownership of any works you create on the customer's behalf to them. Similarly, if your media agency outsources work to subcontractors, you can specify that your company owns the right to the works that they create.
It's worth noting that some state work for hire laws vary. Do some online research and ask questions if you are unsure which party owns the rights to the property.
Protect your media business with insurance
Whether your creative agency is hiring a contractor on a work for hire basis or has been engaged to produce content for a large corporation, it's wise to safeguard your business with industry-specific insurance.
Media businesses and creative and advertising agencies often carry some combination of the following policies:
Media liability insurance: This industry-specific form of professional liability insurance covers the damages if you make an error or miss a deadline that causes a client financial loss.
General liability insurance: If your actions cause a client injury or you damage their property, you could face an expensive lawsuit, which is why most small businesses purchase general liability insurance.
Commercial property insurance: Commercial property insurance reimburses you for stolen or damaged items that are essential to your business. Adding a replacement value option to this policy guarantees that the insurance company will replace an older piece of equipment with a brand-new equivalent, while a cash value option reimburses you for only the equipment's current value. Remember that not all homeowner's insurance policies cover business assets, so even if your creative agency is primarily based out of your residence, you should still consider purchasing commercial property insurance.
Business owner's policy: You may be able to save money on premiums by purchasing a business owner's policy, which combines general liability and commercial property insurance.
Cyber liability insurance: Most small media businesses do some or all of their work digitally. Consider cyber liability insurance, which covers damages in the event of a data breach.
Workers' compensation insurance: As soon as you hire one employee, most states will require you to get workers' compensation coverage. This policy pays for medical bills, lost wages, and other costs associated with work-related injuries and illnesses.
Compare media business insurance quotes from trusted carriers with Insureon
Complete Insureon's easy online application today to compare insurance quotes from top-rated U.S. carriers. Once you find the right policy for your small business, you can begin coverage in less than 24 hours.