Bad customer service stories and how to respond
Working with a variety of customers and clients on a regular basis is bound to result in snafus once in a while. The way you handle customer service mistakes may salvage the relationship. These stories and solutions can help.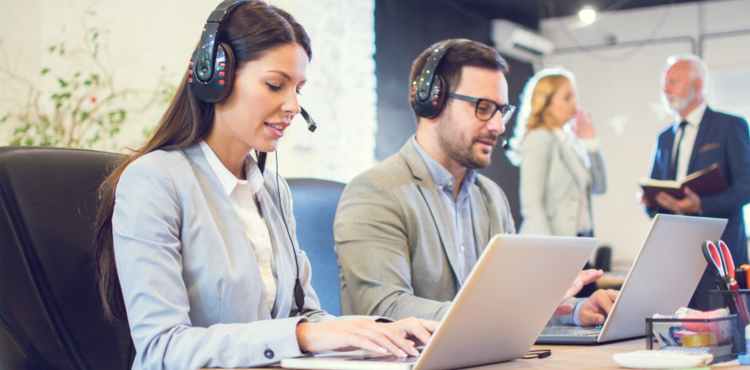 Halloween is the perfect time for scary stories. And what's more terrifying to a small business owner than losing clients over bad service?
But don't worry. These bad customer services stories can have happy endings. Read on to get tips for handling customer service mistakes.
Crying over spilled coffee
Joanna Douglas, owner of Clean Affinity says her worst customer service story came at the home of one of her most particular clients. Her employee accidentally spilled coffee on her client's couch.
"Before we could clean up the mess with a homemade cleaning solution that is guaranteed to get rid of the stain, the owner saw the stain and yelled at all of us," says Douglas. "It was very uncomfortable and embarrassing."
The fix: Accidents happen. And when they do, Nancy Friedman, customer service expert and president of Telephone Doctor, Inc., says your best move is to be upfront. In this case, she imagines the apology going something like this:
"Mrs. Smith – I'm apologizing in advance. We accidentally tipped the coffee that was left on the table by the sofa. Fortunately, we have a guaranteed cleaning solution so you won't ever see it, but I did want to let you know. And in the event for some reason the coffee doesn't come out, we will of course pay to have it cleaned again or we can offer you a discount for today's services."
The abusive customer
April Wier, owner of boutique web design and digital strategy firm Sugar Five Design, says she once worked an entire Easter Sunday to solve a client's problem that wasn't even her fault. Despite her extra effort and cutting him a deal on the final payment, the client still called her in a rage.
"He was verbally abusive and nothing I could offer was good enough. I could not get away from him fast enough," says Wier.
The fix: Friedman thinks refunding the money was probably the right thing to do, especially because saying, "It's not my fault," to an unhappy customer doesn't go over very well.
But that doesn't mean you have to take abuse either. While she thinks accepting responsibility and offering a refund was probably the right thing to do, Friedman also says, "We sometimes need to fire our customers."
In this case, Friedman says the relationship could have ended with: "I fixed your computer. There is no charge. Have a Happy Easter."
Having reservations about firing clients? Read "Can you legally refuse to serve your customers?" to soothe your nerves.
The very disgruntled employee
Robin Salter, chief marketing officer of the equipment rental marketplace Kwipped, relays a story that could terrify any small business owner. She was working for a marketing agency that sent out gift baskets with cards wishing vendors and clients a happy holiday.
"We found out later that a very disgruntled worker who was about to quit his job at the gift store took our order and instead of writing the message we requested, he wrote, "Happy Holidays… Go F*#! Yourself."
The fix: "Life throws unforeseen situations at us, and that includes rouge employees," says Vitaliy Verbenko, marketing and support advocate at software company Helprace. And while you shouldn't blame yourself, he points out that "the customer's trust in your company is at an all-time low," so you need to do damage control.
"Keep composed and reach out to them ASAP, preferably by phone," he says. "Admit fault and explain the situation to them in full. If needed, go a step further: send them a heartfelt apology letter and a discount."
Internet service provider refuses refund
Dr. Aditi Gupta Jha, lead physician at JustDoc.com, experienced one of the more common customer service snafus when she tried to cancel her internet service. She called up her provider, mentioned she was relocating, and asked to terminate her contract. The representative said someone would call her back, but no one ever did.
"I called the customer care again and asked to speak to the disconnection team, but the rep refused," she says. "He even said that the cash deposited which was to be refunded once their modem is returned would not be done."
Dr. Gupta Jha ultimately had to threaten to involve the law just to get someone to collect the company's modem. Months later, after she had moved, the company sent her refund, which she says only reminded her of their terrible service.
The fix: Verbenko says most businesses struggle to balance their need to keep their cash flow positive with their need to stay on the customer's good side.
"Unfortunately, making it difficult to cancel or get a refund is a well-known tactic businesses practice to fatten up their bottom line," he says. "Nevertheless, there are many things the company could have done better in this situation." Among them he lists prioritizing cancellation requests, setting service level agreements that address refunds first, communicating an exact date and time for follow up.
Compare quotes from trusted carriers with Insureon
Complete Insureon's easy online application today to compare insurance quotes from top-rated U.S. carriers. Once you find the right policy for your small business, you can begin coverage in less than 24 hours.
Nancy Friedman is one of the country's most well-known experts on customer service and the president of Telephone Doctor Inc., which helps businesses improve their consumer relations by helping them communicate better with their shoppers and coworkers. Friedman is the author of nine books relating to improving customer service and has appeared on The Today Show, Oprah, CNN, CBS This Morning, Fox News and has been published in The Wall Street Journal.
Vitaliy Verbenko is a marketing and support advocate at Helprace, a customer service and help desk software company. Helprace offers a ticketing (help desk) system, knowledge base, and feedback community for brands of all sizes. Verbenko has been into customer service ever since he cofounded a small construction company five years ago. He holds a BA from Canada's Ryerson University.