Learn how small business insurance can protect hair salons in North Carolina. Compare insurance quotes online for free with Insureon.
Which policies are required for hair salons and stylists in North Carolina?
If you have a commercial lease, your property manager may require you to purchase general liability insurance. Commonly purchased by hair salons in North Carolina, general liability insurance can protect your business from expenses associated with common mishaps, such as client property damage and injuries.
State law in North Carolina requires every small business with three or more employees to provide workers' compensation insurance, which covers medical bills for work injuries.
Compare insurance quotes for hair salons from top U.S. carriers
What are the most common policies for hair salons in North Carolina?
The most common policies for beauty salons and hairstylists in North Carolina vary depending on revenue, client contracts, partnerships, and other factors.
General liability insurance
General liability insurance is the foundation of a hair salon's business protection, with coverage that extends to client injuries, client property damage, and advertising injuries. Most commercial leases require you to have this coverage.
Business owner's policy (BOP)
Beauty salons often qualify for a business owner's policy. This package helps your business save money by bundling commercial property insurance with general liability insurance at an affordable rate.
Professional liability insurance
Professional liability insurance protects beauticians and hairstylists from lawsuits brought by dissatisfied customers. This policy, also called errors and omissions insurance, can help cover legal expenses if a customer sues over an unsatisfactory haircut or a negative reaction to a beauty product.
North Carolina workers' compensation
If you own a hair salon in North Carolina that has three or more employees, you are required to carry workers' compensation coverage. If you have fewer than three employees, coverage is optional. However, workers' compensation will cover medical bills and lost wages if one of your employees has a work injury.
What do hair salons in North Carolina pay for business insurance?
According to an analysis of Insureon applications, the typical beauty salon in North Carolina can expect to pay less than the national median for business insurance.
For example, the median annual cost of workers' compensation insurance for a hair salon in the state is $1,188, significantly less than the national median of $1,641. Similarly, the median annual premium for professional liability insurance is $400, less than the national median of $480.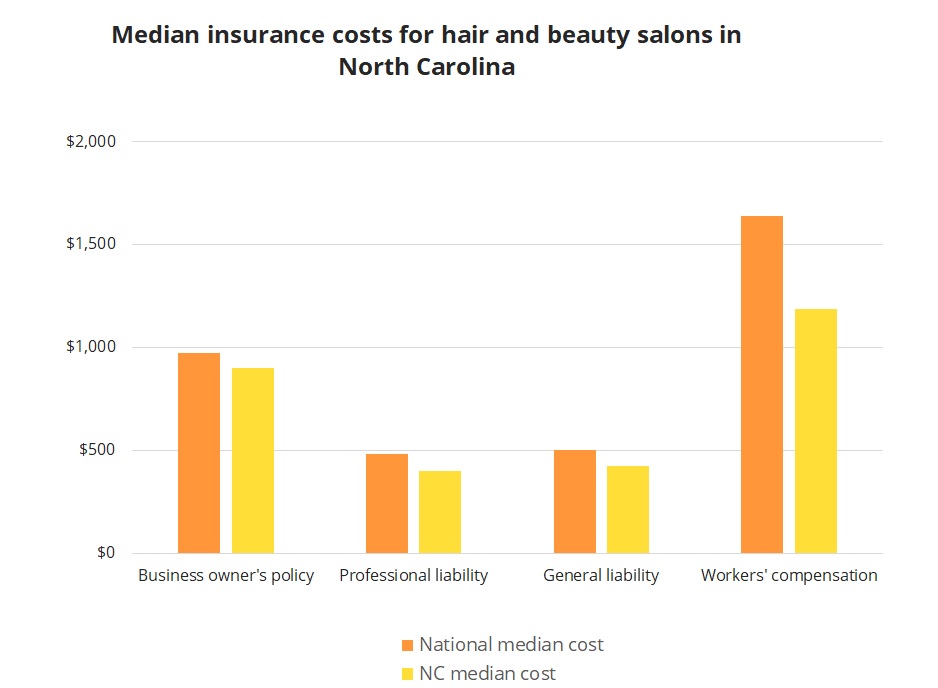 Save time and money with Insureon
Insureon's industry-leading technology helps hair salons in North Carolina save time and money shopping for insurance by comparing policies from top U.S. carriers. Start a free online application to review quotes for the policies that best fit your business. Our insurance agents are licensed in North Carolina and can answer your questions as you consider coverage.
To make the application go quicker, have this information ready:
Workforce details, such as the number and types of employees
Current and projected revenue
Business partnerships
Insurance history and prior claims
Commercial lease insurance requirements
Apply for free insurance quotes for beauty salons today.
Compare insurance quotes for hair salons
Save money by comparing insurance quotes from multiple carriers.