What to know about hairstylist and hair salon licenses
The licensing and insurance requirements for hairstylists and hair salons vary by location and what services you or your salon may provide.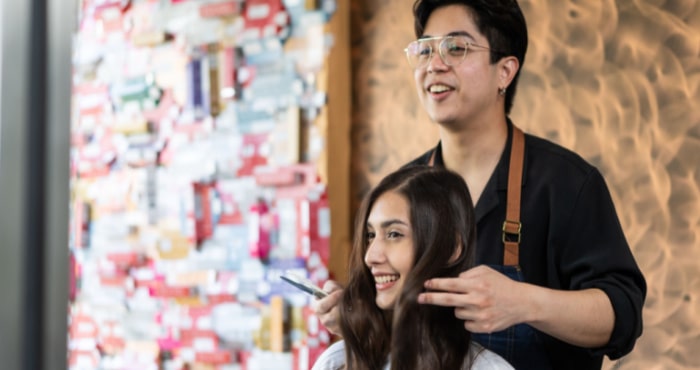 To become a hairstylist or open a hair salon, you'll need to obtain a professional license from your state before you can charge people to cut, dye, or treat their hair. Each state differs in its hairstylist licensing requirements, although there are many similarities among them.
In addition, you will need to get business insurance to keep you and your hair salon protected against accidents, lawsuits and other liabilities.
Let's review how to become a hairstylist, and the education, licensing, and insurance you'll need to operate successfully.
When do you need hairstylist licensure or certification?
Every state requires a hairdressing license, so the only way you could legally earn money as a hairstylist is to first obtain a license. Some states require additional licensing to braid hair, even if you already have a cosmetology license.
Working as an unlicensed hairdresser could result in stiff penalties and fines, so it is important to obtain the right kind of licensing for the services you intend to offer.
What kind of hairstylist and hair salon licensing requirements are there?
Each state has its own licensing requirements for hairstylists. Many of them require an applicant to be at least 16 or 17 years old, have a high school diploma or GED, and attend a state-approved cosmetology school.
Education requirements for hairstylists typically involve attending a state-approved hairstyling, beautician, or cosmetology school for anywhere from 12 to 18 months.
Some states allow an apprenticeship under a licensed hairstylist, or a combination of education and apprenticeship.
Licensing renewals are typically required every 2 to 4 years, with some states requiring a certain number of continuing education courses before renewal. Your continuing education information and renewal fee must be submitted to your state board well before your current license expires, so that you receive your new license in time.
Make sure your contact information is accurate when you make your submission, and notify your state board of any address changes so that your licensing information doesn't get lost in the mail.
In addition to styling and treating hair, you may learn a variety of skills in your school or apprenticeship such as esthetics, manicuring, waxing, and nail technician methods. Some states require an additional license and education to do hair braiding, weaving, eyelash extensions, or to work as a manicurist.
Get hairstylist business insurance quotes 
Have a question? Schedule a call.
How do you get a hairstylist license or certification?
The typical route to becoming a licensed hairstylist or cosmetologist starts with meeting the age and education requirements, such as a high school diploma or equivalency. A few states require only a 10th grade education. Applicants will then attend cosmetology school or work as an apprentice for up to 2 years.
After completing your school requirement or apprenticeship, you'll submit this information and an application fee to your state licensing board before you can take your licensing exams.
Hairstylist licensing tests usually involve a written exam on hairstylist theory and procedures, and many states also require a practical exam where the applicant demonstrates their cosmetology skills. Your test may also include knowledge of state laws and regulations for hairstylists.
Let's take a look at the process of acquiring a hairstylist license in a few different states.
California
To obtain a hairstylist license in California, applicants must be at least 17 years old and have a 10th grade education or equivalency. Applicants must attend 1,000 hours of education at a state-approved cosmetology school, or have 3,200 hours as an apprentice to a licensed hairstylist.
An apprenticeship must include:
At least 3,200 hours of training over no more than two years
39 hours of education on laws and regulations, including sanitation and disinfection
220 hours of direct instruction
An apprentice may work no more than 8.5 hours per day and 42.5 hours of work and training per week.
After completing your education or apprenticeship, you can apply to take the state exam [PDF]. Your application must include any criminal history, though having a criminal record will not necessarily disqualify you.
California no longer requires a practical exam. Instead, you'll have to pass a theory test dealing with hair, nail, and skincare. The California Board of Barbering & Cosmetology offers a list of sample questions and examination information on its website.
You must renew your license every two years, and California does not require continuing education courses to renew.
The state also allows reciprocal licensing to those who completed an approved cosmetology course or apprenticeship and received a license in another state.
Florida
To obtain a cosmetologist license in Florida, applicants must be at least 16 years old or have earned a high school diploma. The state requires at least 1,200 hours of education at a state-approved cosmetology school; or at least 1,000 hours of training with the school declaring the applicant is ready to take the state exam.
Florida also requires applicants to take a four-hour HIV/AIDS course approved by the Florida Board of Cosmetology and to pass the state cosmetology exam [PDF].
A Florida cosmetology license must be renewed every two years. At least 16 hours of continuing education courses are required for license renewal, with this information included in your renewal application.
Florida allows reciprocal licenses, if the applicant is registered or licensed in another state that meets Florida's education requirements.
New York
To obtain a cosmetologist license in New York State, applicants must be at least 17 years old and complete 1,000 hours of education at a state-approved beauty school. New York does not require a high school diploma or a background check.
Applicants must also complete a one-hour domestic violence awareness course and receive a health physical from a licensed doctor or nurse practitioner. A license application must be submitted within 30 days of the physical, with the doctor or nurse practitioner completing and dating the Health Certification part of the application.
If the state licensing board accepts your application, you must also pass a written exam and a practical examination to obtain your license.
New York allows some cosmetology license holders from other states to obtain a license through endorsement or reciprocity.
Licenses must be renewed every four years, and continuing education courses are not required.
Texas
Applicants for a Texas cosmetology license must be at least 17 years old and have a high school diploma or GED. Applicants could also fulfill this requirement by taking an "ability to benefit" test at a Texas community college.
Texas has the following education requirements for a cosmetology license:
1,000 hours of instruction at a Texas-licensed cosmetology or beauty school
1,000 hours of instruction, including 500 hours of related high school classes in a vocational cosmetology program
Have a Class A Barber Certificate, plus 300 hours of cosmetology instruction at a state-approved school
Applicants must also pass written and practical licensing exams [PDF] with the Texas Department of Licensing & Regulation.
Licenses must be renewed every two years, with at least four hours of continuing education required for renewal.
Texas also requires specialty licenses for cosmetologists who want to perform certain procedures. These requirements are:
Texas also allows reciprocal licenses for cosmetologists licensed in another state, with approval depending on the other state's licensing requirements.
What insurance coverage do hairstylists and hair salons need?
Dealing with the public brings all kinds of risks for hairstylists and cosmetology or beauty salons. Imagine what could happen if you accidentally nicked a customer with scissors, or if someone slipped and fell at your business.
There are several types of insurance for hairstylists and hair salons to keep you financially protected from expensive lawsuits and claims. Let's take a look at some of these insurance options.
General liability insurance
General liability insurance is often the first policy a new salon owner buys. It covers common business risks, such as customer injury, customer property damage, and advertising injury. For example, if a customer slipped and fell in your salon, your policy would cover their injury.
General liability is often required to sign a commercial property lease.
Commercial property insurance
Commercial property insurance covers your business's physical structure and contents. If your hair care products, equipment, or furniture were damaged or stolen, they would be covered by this policy.
Business owner's policy (BOP)
A business owner's policy (BOP) combines your general liability and commercial property coverage into one policy. It is usually less expensive than buying these coverages separately.
Professional liability insurance
Workers' compensation insurance
Workers' compensation insurance is required in most states for businesses with one or more employees. Workers' comp covers medical costs and lost wages if you or an employee has a work-related injury or illness.
You may also like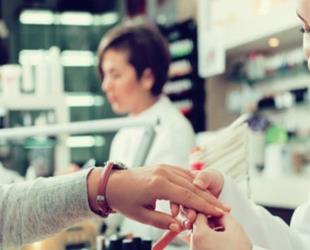 What to know about nail salon technician licenses and certifications
The licensing requirements for nail salon technicians vary by state. Having the right licensing and insurance can help keep you financially protected within the personal care industry.
Go to article
Compare hairstylist and hair salon business insurance quotes from trusted carriers with Insureon
Complete Insureon's easy online application today to compare insurance quotes from top-rated U.S. carriers. You can also consult with an insurance agent on your business insurance needs. Once you find the right types of coverage for your small business, you can begin coverage in less than 24 hours.