What to know about nail salon technician licenses and certifications
The licensing requirements for nail salon technicians vary by state. Having the right licensing and insurance can help keep you financially protected within the personal care industry.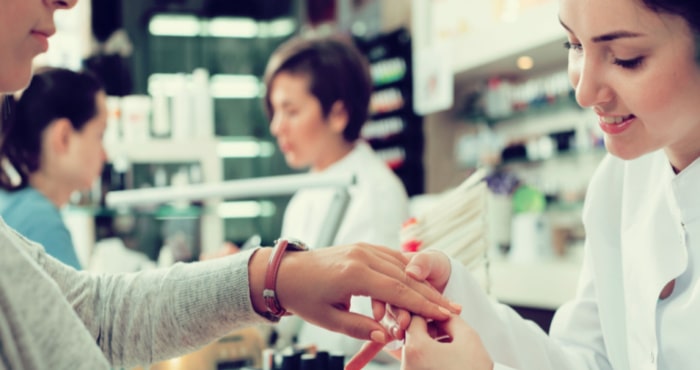 Every state requires a license or certification to be a nail salon technician, although there are different nail tech licensing requirements in each state.
Most states require a certain amount of education, training in a cosmetology or nail technician program, and passing a test to receive a nail technician license.
Let's look at what nail technician requirements you'll need to set up shop as a nail technician or manicurist.
When do you need a nail technician license or certification?
You'll need a nail technician license or certification if you intend to work as your own boss, open your own salon, or work as a manicurist for someone else.
Failing to meet your state's requirements and working without a license or certification could result in hefty fines from your state board of cosmetology, or your local department of public health.
Having the right education and training also gives you the knowledge you need to follow all health and sanitary precautions, which reduces the chances of a customer complaint or lawsuit.
Displaying your license to customers in your salon is also a good way to gain their trust and let them know that you're a professional nail technician.
What are the licensing requirements for becoming a nail salon tech?
Nail tech licensing requirements differ in each state, although they usually require applicants to be at least 16-17 years old and have a high school diploma or GED.
License applicants typically are required to have:
A certain amount of education with a cosmetology program, taken at a state-approved nail technology school
A passed written test and/or practical exam
Payment for the associated licensing fee
Nail tech licenses generally last for two years, and some states require continuing education courses to renew a license.
Get nail salon business insurance quotes
Have a question? Schedule a call.
How do you get a nail tech license or certification?
When you look for a nail technician school or manicurist school, make sure it's approved by your state board of cosmetology and can fulfill your education requirements.
Courses typically take between a couple of months to a year to complete. In some states, you have the option of taking an apprenticeship training program instead to learn your skills on the job.
To obtain a nail tech license, cosmetologist license, or manicurist license, you will need to learn about nail services and the many aspects of the beauty industry, including:
Nail care, nail art, and nail technology
Pedicures and manicures
Disinfection methods and other practical training
After completing your education or apprenticeship, you'll have to pass a written and/or practical examination to demonstrate you have the acquired knowledge and skills to obtain a license.
The path to acquiring a nail tech license varies by each state. Here are a few examples of how to get a nail tech license by location.
California
To obtain a nail technician license in California, applicants must be at least 17 years old with at least a 10th grade education, plus 400 hours in an approved manicurist program before passing written and practical exams with the California Board of Barbering and Cosmetology. A license is good for two years, and the cost of the license and initial exam is $110.
Someone who is a licensed nail technician in another state can receive a reciprocal license in California based on the following requirements:
Proof of nail tech license in good standing from another state
Must be an active nail technician for three of the previous five years
No disciplinary actions or criminal convictions
Pay a $35 fee
Florida
A nail tech license in Florida requires applicants to be at least 16 years old with a high school diploma or GED. Applicants must receive 240 hours of instruction at an approved cosmetology school and pass a state recognized HIV/AIDS course. After passing a final exam, applicants can apply for a nail tech license with the Florida Board of Cosmetology.
Licenses are good for two years, with an application fee of $75. The state requires 10 hours of continuing education to renew. Florida allows reciprocal licenses, provided you're licensed in a state with similar education and testing requirements.
Georgia
A Georgia nail tech license requires applicants to be at least 17 years old, have a high school diploma or GED, and to be of "good moral character."
Applicants can go through a four-month, 525 credit hour nail tech licensing course, or complete a 2,050-hour apprenticeship program before passing a nail tech licensing exam with the Georgia State Board of Cosmetology & Barbers.
A license is good for two years and costs $45. Georgia has reciprocal licensing agreements with many states at a cost of $50. In odd-numbered years, nail technicians must renew their license by Aug. 31 and complete five hours of continuing education before renewing.
Texas
Nail technicians in Texas must be at least 17 years old and have a high school diploma or GED. They must undergo 600 hours of training and pass a written exam and a skills exam with the Texas Department of Licensing & Regulation – Board of Cosmetology. The exams cost $122.
Applicants who have a criminal record involving a felony or a federal offense must submit a Criminal History Questionnaire with their licensure application. The board considers such applications on a case-by-case basis.
Nail tech licenses in Texas are good for two years, and nail technicians must complete four hours of continuing education before they can renew their license.
Texas has licensing reciprocity agreements with some states and costs $100.
What insurance coverage do nail salons need?
General liability insurance
General liability insurance is typically the first type of business insurance that small business owners purchase. It covers third-party risks, such as someone suing you after a slip and fall accident at your business.
Commercial property insurance
Business owner's policy (BOP)
A business owner's policy bundles your general liability and commercial property insurance into one policy and is usually less expensive than buying these coverages separately.
Professional liability insurance
Professional liability insurance, also known as errors and omissions insurance (E&O), insures you against lawsuits related to your work, such as a customer accusing you of injuring them during one of your treatments.
Workers' compensation insurance
Workers' comp insurance requirements vary by state, although most states will mandate coverage for businesses that have employees. Many sole proprietors also buy this coverage, as it protects against work-related injuries and illnesses that likely wouldn't be covered by your personal health insurance.
Compare nail salon insurance quotes from trusted carriers with Insureon
Complete Insureon's easy online application today to compare insurance quotes from top-rated U.S. carriers. You can also consult with an insurance agent on your business insurance needs. Once you find the right types of insurance for your small business, you can begin coverage in less than 24 hours.