5 interview questions that could get you sued
Some interview questions can open up your business to employment discrimination lawsuits if you end up passing on the candidate. Learn more about which questions you can and cannot ask potential hires.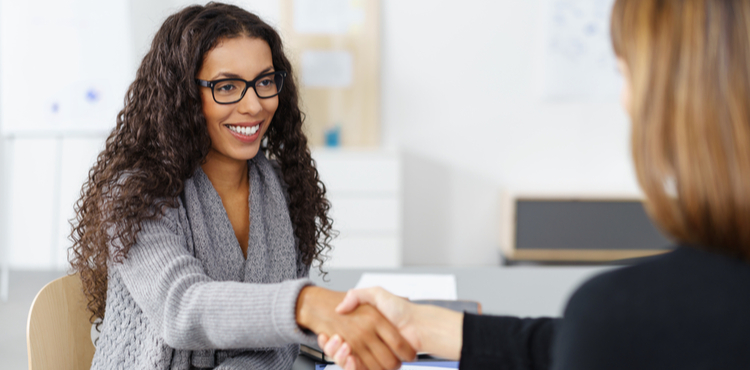 Everyone knows interviews are nerve-racking for interviewees. But the stakes are high on the other side of the table, too, especially if you're a small business owner.
Sally A. Piefer, an employment law attorney with the Schroeder Group, S.C., cites a 2013 Career Builder survey (as reported by Yahoo News) that shows nearly 68% of employers were affected by a bad hire. A whopping 25% said that a bad hire can cost them more than $50,000.
And there are legal risks, too. Piefer says, "Questions you ask or activities you undertake can expose you to failure to hire (e.g., discrimination claims), Americans with Disabilities Act violations, and Fair Credit Reporting Act violations." She adds the average employment discrimination suit costs about $125,000 to defend.
Fortunately, avoiding such a lawsuit is easy when you know what questions to watch out for. According to Clarence Belnavis, an employment law attorney and partner at the Portland, Oregon office of Fisher & Phillips LLP, you just need to remember the law prohibits discrimination based on a protected status (race, religion, gender, etc.), and that these protections extend to job interviews.
"As a general rule of thumb, it is best to keep questions focused on the applicant's ability and availability to perform the job," says Belnavis. "The more you stray from this, the greater the risk of crossing the line with an improper question."
So let's take a look at some of the improper questions you may be tempted to ask and see if there are some alternatives that might keep you out of hot water.
1. How much longer do you plan to work before you retire?
Most people understand that asking someone how old they are is a serious no-no. Some, however, think this question is a passable work around. Unfortunately, that assumption could be a big mistake because retirement plans aren't directly related to job functions.
Better questions: "Are you over 18?" and "What are your long-term career goals?" are usually safe to ask. The first lets you know if the candidate is eligible for employment, and the second provides insight into their ambitions, both valid concerns for an employer looking for the right fit.
2. What religion are you?
Religion is one of the Equal Employment Opportunity Commission's protected classes. Keep away from questions about religion, religious holidays, and even social clubs or organizations because they may reveal information you want to avoid.
Better questions: Religion usually doesn't impact a candidate's ability to do their job, but some positions require people to be on site at a certain time. That means it's usually okay to ask if they are able to meet the demands of the schedule.
3. Will you be deployed with the reserves?
Sadly, some employers discriminate against veterans with disabilities. Others are concerned that they might hire a reservist and then lose a valuable employee when they're deployed. Either way, you don't want to ask about military status during a job interview because some vets have protected status, according to the U.S. Department of Labor.
Better questions: If the candidate brings up their military record or has it on their resume, you can ask how those experiences may be useful in the position. You might also ask if they have any upcoming events that may require them to leave their job.
4. Are you in debt?
For some jobs, it might seem completely logical to ask about a candidate's finances, but the question can violate the Fair Credit Reporting Act.
Better questions: You can request a credit report, but according to the Federal Trade Commission [PDF], you need the applicant's permission first. If it factors into your decision not to hire, you must give the candidate a copy of the report and tell them they have the right to challenge the information in it.
5. Have you ever been arrested?
You want to know if you can trust the person you're hiring, so again, this might seem like a very sensible question. However, according to Nolo.com, some states limit what offenses a potential employer can ask about. Usually the information can only be used if the offense is directly related to the job. Even if your state allows you to ask about criminal history, you can still be accused of racial or ethnic discrimination.
Better questions: If you want to ask about arrest records, the EEOC requires you to consider…
The nature of the offense
The amount of time since it was committed
The relation of the offense to the position
You might be better off asking about specific crimes, such as, "Have you ever been convicted of theft?" And be sure to ask every applicant the same question. Otherwise, they could claim you only asked individuals of a particular race or ethnic background.
Like it or not, your chances of being accused of discrimination are good. "We are a very litigious society," says Belnavis."These types of lawsuits are not uncommon."
Remember, you don't necessarily have to be guilty to be sued. That's why it's a good idea to have employment practices liability insurance before you post a new position. EPLI can cover discrimination claims from:
Candidates
Current workers
Former employees
Compare quotes from trusted carriers with Insureon
Complete Insureon's easy online application today to compare quotes for employment practices liability insurance and other kinds of business insurance from top-rated U.S. carriers. Once you find the right policy, you can get coverage in less than 24 hours.