4 surefire ways to boost insurance cold calling results
Cold calling is a reliable way for independent insurance agents to get new clients – but the number of rejections can be daunting. Improve your odds with these insurance cold calling tips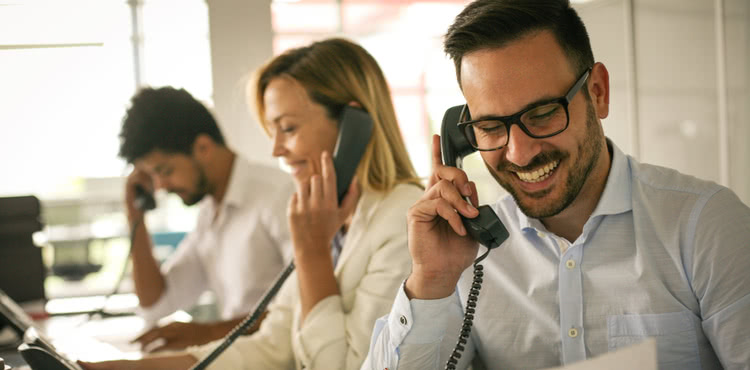 Sales might be your game, but even the most outgoing insurance agent can find cold calling a challenge. You have to plow through hundreds of leads (and hundreds of rejections) just to get your foot in the door with a few prospects. And even if you get a sales meeting, you're not guaranteed a client.
However, cold calling gives you that crucial first contact with people who might not otherwise hear of your agency. Plus, there are proven ways to improve your success rate.
Here are our top four tips to help turn those cold calls into hot prospects.
1. Stay positive
When someone picks up the phone, they're far more likely to engage with a friendly caller. These methods can help keep your mood upbeat:
Smile during the call.
Post cheerful pictures around your desk.
Research your products so you're confident promoting them.
Do something you enjoy on your breaks.
Limit your number of calls per day.
Focus on how you help protect clients.
Keep your emphasis on the benefits of your products – not the premiums. Remember, the worst that will happen is they will say no.
2. Do your research
As with most agency tasks, planning ahead on cold calls pays off.
For example, view the person's LinkedIn profile or business website before you dial them up. You may find a common interest or a shared connection. At the very least, you'll gain confidence from knowing a little about who you're calling.
You may also realize they're not an appropriate target. Skip any unlikely leads – this will save you time and money in the long run.
You might also want to subscribe to the FTC's National Do Not Call Registry as a telemarketer. That way, you can be sure that the numbers you're calling won't result in a fine. In fact, you may want to subscribe even if you use a lead generation service just to double-check.
Finally, make sure your calls are easy to understand. Practice them on a co-worker or manager. Both your voice and what you're offering should be clear.
Compare business insurance quotes for insurance professionals
3. Time your calls appropriately
When making cold calls, midweek attempts are far more successful. On Monday, people are busy gearing up for the week. On Friday, their focus has shifted to the weekend.
The time of day also matters tremendously. No one wants to receive a cold call first thing in the morning or after the workday is over. Specifically, sales calls tend to get the most conversions between 10 and 11 a.m. and 4 to 5 p.m.
If the person doesn't respond, leave a message and try again another time. If you can only reach a secretary or receptionist, try to build rapport with them. A friendly ally is always a plus.
Of course, your busy schedule might dictate the hours you can devote to cold calling. In that case, you could send an email (or a LinkedIn message) with a heads-up that you'll be calling at a certain time so they can anticipate your call.
If someone reaches out to you, however, follow up with them as soon as possible – ideally within an hour.
4. Write a script
Sometimes insurance agents can sound robotic when they use cold calling scripts. But practice can help with this, and the benefits far outweigh the risks. It's a skill worth mastering, because a good script can help you:
Get straight to the point. Asking "How are you?" can sound insincere when it comes from a salesperson. Your aim is to make a sale or to at least get a meeting, so be friendly but get right down to business.
Stay on track. Everyone is busy these days, so respect the time of your prospective client. A script that lists your main points keeps your pitch focused and concise.
Prepare for objections. Make sure you have well-prepared responses for common objections. Listen and respond appropriately to common concerns. You could even practice objection handling with someone to make sure you have a ready response.
Leave an effective voicemail. A script that includes a voicemail response means you won't forget important details, such as your agency phone number.
To keep it natural, outline your major points. Write out the information you need to remember in the order you want, but treat the call as a conversation. That way you can respond to the person's most pressing needs as they come up.
Cold calling becomes easier with experience. You'll figure out a routine and method that works for you. In time, it won't seem intimidating – and you'll likely stop relying as much on the script.
Complete Insureon's easy online application today to compare quotes for business insurance from top-rated U.S. carriers. Once you find the right policy for your small business, you can begin coverage in less than 24 hours.