How to protect your small business's bottom line from coronavirus
The economic impact of the coronavirus continues to grow. These practical steps can help keep your customers, employees, and business healthy.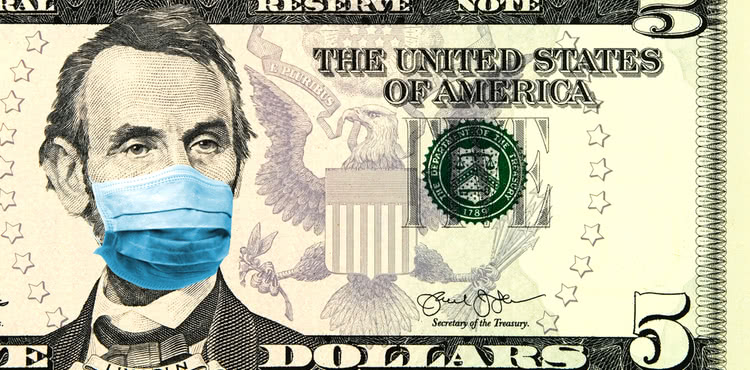 The effects of the coronavirus (also called COVID-19) are changing daily. Canceled sporting events and conferences, closed restaurants, and orders to "shelter in place" are vital for the public health. They're also a major economic blow to many types of small businesses.
Together with supply chain interruptions and changing consumer behaviors, this pandemic is far-reaching. To help you keep employees safe and minimize your financial loss, we've gathered tips that cover a wide range of the economic impact you may feel.
Evaluate your financial risks and the toll they may take on your business
The coronavirus is creating an economic domino effect. What started as declining sales and closures has led to daily disruptions that threaten operations and revenue.
Many businesses have workers out sick or isolated due to COVID-19. Others have lost money or opportunity due to missed shipments of supplies or inventory. An ISM survey found that nearly 75% of all U.S. businesses have experienced supply chain disruptions due to the virus.
If your business is in danger of closing, laying off employees, or losing significant revenue due to coronavirus, be sure to:
Making the effort to be informed can help you minimize your short-term losses and plan for future risk. However, you also need to tend to your customers. You'll want them to have a good impression of your business once this crisis is over.
Stay in regular contact with your customers and prospects
Fear and caution have kept many clients and customers from starting services, projects, or purchases. Just because they're riding out the storm doesn't mean you can't still reach out.
To help keep the lines of communication open, don't wait to:
Provide regular online updates to keep your customers informed of steps you are taking to help reduce risk or contribute to relief efforts. Timely email updates and social media posts show your customers you're there for them. As a bonus they let prospects know you're still in business and ready to help them.


Clearly communicate changing conditions, such as hours and availability. Businesses need to keep their websites updated with the latest news, and make sure that online resources like Yelp and Google My Business are kept up to date.


Serve customers despite the current challenges. For example, people are opting for e-commerce to purchase critical supplies. Promoting or expanding online offerings can grow that segment of your business to help offset lost revenue. Providing home delivery options can help you stay afloat during tough times and remain top of mind when life returns to normal.
While these measures can safeguard the financial health of your business, you also must take other steps to protect the physical health of your customers, clients and employees.
Protect the health of your employees and customers
You should be as concerned with protecting the health of customers and employees as your bottom line. It's the right thing to do. And after all, a healthy workforce is key to healthy profits.
Follow these steps to help keep both employees and customers safe:
Allow employees to work from home when possible. This supports social distancing, a method to reduce the risk of getting sick or infecting others.


Cancel nonessential meetings and travel, and encourage video conferencing and other digital tools to limit in-person interactions.


Educate your employees to practice the latest hygiene standards. They should avoid touching their face, wash their hands regularly, and disinfect surfaces such as doorknobs, handles, and counters.
These steps can help prevent spread of the disease and reduce risks to workers and customers. But you also need to think about protecting the financial health of your business long-term.
Guard against future risk
The coronavirus is not the first communicable disease outbreak, and it won't be the last. Ebola, SARS, and H1N1 are just a few outbreaks in recent memory.
In the short term, you are likely busy weathering the storm, which will eventually pass just like the others.
As you consider ways to secure your business, prioritize insurance planning. It will help you evaluate your risks and learn how to best protect your business from future losses.
While only time will tell the full economic repercussions of this pandemic, our experts are on hand to help you through.
Contact us at (800) 688-1984 with questions about insurance coverage or policy options. You can also complete Insureon's easy online application today to compare quotes for business insurance from top-rated U.S. insurance companies. Once you find the right policy for your small business, you can begin coverage in less than 24 hours.