How the right to refuse service can impact your business
Is it legal to refuse service to potential customers? In some cases, yes. But make sure you read about the negative impact that refusing service can have on your business before making a decision.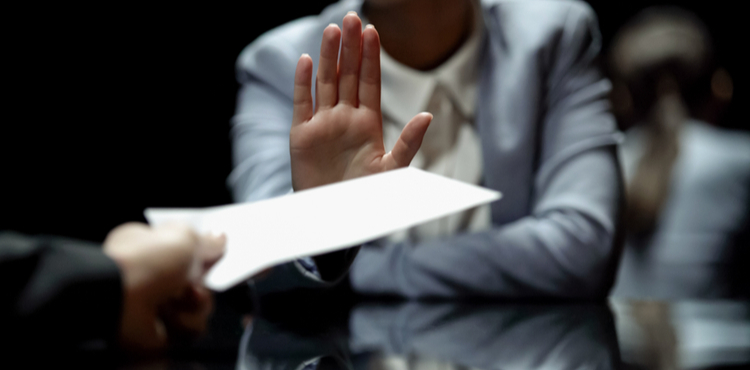 In June 2018, the U.S. Supreme Court ruled in favor of a Colorado baker who asserted his right to refuse service to create a same-sex couple's wedding cake. The court's decision has raised confusion as to whether business owners can now legally cite their religious beliefs as grounds for refusing to serve people based on their sexuality.
Does a business legally have the right to refuse service?
It's common to see signs in restaurants and stores stating, "No shirt, no shoes, no service" or "We reserve the right to refuse service to anyone." While the sentiments aren't exactly friendly, as long as they aren't violating someone's rights, businesses do have the right to refuse service.
However, the Supreme Court's ruling in favor of the Colorado baker does not confirm the right to refuse service based on sexuality.
The 7-2 decision in Masterpiece Cakeshop v. Colorado Civil Rights Commission states the deciding factor was a remark made by a member of the commission during a previous ruling that demonstrated bias against the baker's religious beliefs, which are protected under the First Amendment. The court did not uphold the baker's right to refuse service to the gay couple on the basis of those religious beliefs.
Justice Anthony Kennedy's majority opinion states, "these disputes must be resolved with tolerance, without undue disrespect to sincere religious beliefs, and without subjecting gay persons to indignities when they seek goods and services in an open market."
Title II of the Civil Rights Act of 1964 (a federal law) makes it illegal to discriminate at places of public accommodation (restaurants, stores, hotels, etc.) based on someone's race, color, religion, or national origin. It doesn't include protection for sexual orientation. However, many states, including Colorado, have public accommodations laws that also prohibit discrimination based on sexual orientation. That means if the same Colorado baker refuses service to any gay customer based on his religious beliefs, he could still potentially be sued in state court.
Why refusing service may not be a good idea
Even if a business owner has the legal right to refuse service outside of race, religion, and sexuality, there might still be repercussions.
In June 2018 Sarah Huckabee Sanders was asked to leave the Red Hen, a Virginia restaurant, because of her work in the Trump administration. In this case, Sanders's rights were not violated because she was not refused service because of her race or religion, but rather her political affiliation. Since there is no federal or Virginia state law prohibiting discrimination based on political beliefs, the owner was within her legal rights to ask Sanders to leave.
After Sanders was asked to leave the restaurant, she wrote about the incident on social media and it became a widespread news story. This led to the Red Hen enduring an onslaught of negative reviews and comments from Sanders supporters, forcing it to temporarily close.
Refusing service for any reason can result in a backlash, especially in the social media era where a customer's negative post about a business can go viral in a matter of hours, if not minutes. Business owners should consider the potential impact on their business before telling any customers they aren't welcome.
Insurance can protect business owners against refusal of service claims
Another potential issue is the possibility of a lawsuit. Even though Sanders's rights weren't violated, she could choose to sue the Red Hen. If she decided to file a lawsuit, the cost to defend against it could potentially bankrupt the restaurant, even if Sanders didn't win. That is, unless the Red Hen has employment practices liability insurance (EPLI).
This type of insurance was initially created to protect business owners from employment-related lawsuits such as sexual harassment, discrimination based on age, gender, religion, race, or other protected classes, wrongful termination, and breach of an employment contract.
In addition to covering employee lawsuits, some insurance carriers also offer an endorsement that covers claims from third parties, such as customers. So if Sanders did sue the Red Hen, an EPLI policy would be able to pay for legal expenses – provided it had the endorsement.
While the protection EPLI provides can help a business survive a discrimination lawsuit, the potential negative publicity can make the price of refusing service higher than most business owners can bear. Unless a customer poses a legitimate threat, it makes better business sense to offer service to everyone rather than risk a potentially costly trial, be it before a judge or simply in the court of public opinion.
Compare quotes from trusted carriers with Insureon
Complete Insureon's easy online application today to compare insurance quotes from top-rated U.S. carriers. Once you find the right policy for your small business, you can begin coverage in less than 24 hours.