Create an IT disaster recovery plan that lowers business risk
Without an IT disaster recovery plan, a natural disaster or data breach could disrupt or shut down your business. These tips will help you reduce your risks and get back to business as usual.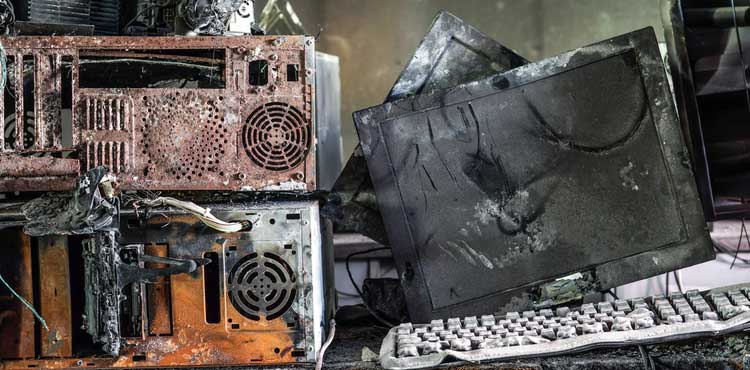 The impact of losing data from a cyberattack, malware, hardware failure, human error, or natural disaster can be devastating. A company that suffers an information technology (IT) disaster might never fully recover. For that reason, it's critical that your business continuity planning efforts include an IT disaster recovery plan and a cyber insurance policy.
IT disaster recovery planning should include instructions for how to respond to an unplanned outage. The goal is to have an easy-to-use and repeatable set of steps that allow you to recover your IT assets and return to normal operations as soon as possible. Here are some tips to help you create an effective plan:
Take inventory of IT systems and resources
When you develop an IT disaster recovery plan, you need to take inventory of your entire IT infrastructure. If even one critical system fails, the rest of them may not run properly. That means you need to consider system components such as:
Hardware: Servers, desktops and laptops, wireless devices and peripherals, networks
Software applications: Email, electronic data interchanges, enterprise resource planning systems, customer relationship management systems, office productivity apps, etc.
Data: Client information, credit card numbers, business records, financial transactions
Connectivity: Wireless, fiber, cable, etc.
Additionally, you should be able to easily access the technical support information and contact numbers for the vendors of each piece of hardware and application.
Assess the IT impact and plan your response
Your business continuity plan needs to include the following steps for IT disaster recovery:
Perform a business impact analysis: Evaluate how a business disruption or loss of data could hurt your company financially. This kind of risk analysis helps you set recovery objectives such as securing IT systems and making sure you have the right level of insurance.
Establish your recovery point objective: A recovery point objective is the age of files that must be recovered from data backup storage for normal business operations to resume following a system or network failure. This will help you decide how often you will need to back up your systems in case of a data loss or a system failure.
Plan your recovery strategy: Determine what critical functions you need to get up and running first and set a plan for restoring those systems from cloud backup or other offsite server to reduce downtime and resume business operations.
Set your recovery time objective: The recovery time objective is the amount of time your business can survive after a disaster with your systems or networks down. You'll need to set an objective for every system or application you use.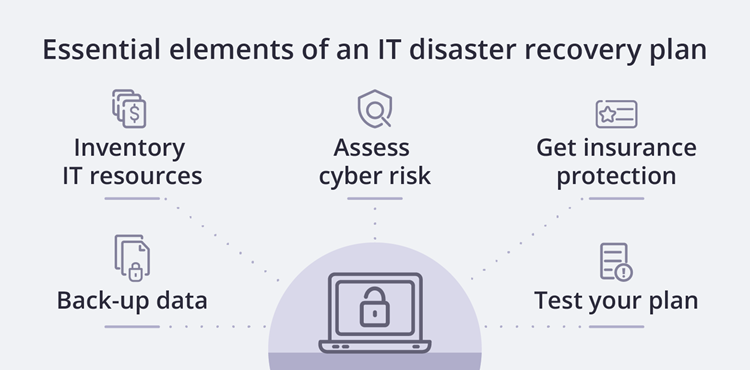 Back up your data regularly
Backing up your data is a reliable way to prevent data loss. Determine the files that need to be addressed, where they reside, which contain the most business-critical data, and who's responsible for ensuring the data is backed up regularly.
Other data protection factors to consider are when and how the backups occur. Determine where the restored files will be located once backups and recovery are performed. Also, designate a secondary recovery spot for data storage. If possible, choose a location that's more than 100 miles away from your headquarters to protect against local or regional power outage issues. Cloud backup is also a good option for offsite storage.
Analyze potential cyberthreats and your reactions to them
Your IT disaster recovery plan should take into account potential cyberthreats that could affect your tech business and include a plan to get back up and running after a breach. You should have the tools and processes in place that will allow you to identify and respond to increasingly sophisticated cyberattacks. Review your plan with a cybersecurity expert to make sure there are no gaps.
Assemble an IT disaster recovery team
An IT disaster recovery plan is only as good as the team behind it. It's critical to put together a team consisting of IT and operations employees who are briefed on the plan and ready to take action when necessary. You should also define the roles and responsibilities of each team member and identify other employees who can fill in as backups. This is especially important when you work with third-party vendors or providers. Each of them should be aware of the responsibilities of the others to ensure the disaster recovery process is as efficient as possible.
Develop a communication plan
If disaster strikes, you should have a plan in place to communicate with your employees. If phones and email aren't working, you need to have another way to contact your employees and keep them updated throughout an event, such as a freestanding IRC system, remote office switchboard, or some other alert system. Make sure your employees know how they can access the systems necessary to perform their jobs.
In addition, you need an effective and reliable way to communicate with vendors, suppliers, partners, and customers in a timely manner. Establishing a written communication process that you can easily reference will enable you to act quickly after a disaster and ensure everyone is working together to get your business up and running again.
Protect your business with small business insurance
Ensure your service-level agreements (SLAs) cover disasters / emergencies
If you've outsourced any of your technology to a third party or if you store your systems in a co-location facility, make sure you have binding agreements with each of the providers that detail the level of service they offer if disaster strikes. This will help guarantee that they start to resolve your problems within a certain timeframe. Some SLAs may even specify the time needed to get your systems back up.
Perform data recovery testing
Test your IT disaster recovery plan to determine if it works and check for areas of improvement. You should conduct disaster recovery tests regularly throughout the year and incorporate them into your planned maintenance and staff training. Once you complete a test, you should analyze audit logs and other data to identify what worked as expected, what didn't work, what changes you need to make, and which tasks you need to test again.
Protect your business with the right insurance
As part of your IT disaster recovery plan, it's vital to have the right insurance in place. For example, commercial property insurance can help pay to fix damages, replace equipment, and get your business back up and running in the event of a disaster.
Business interruption insurance can help your business survive an unexpected catastrophe so you can get back to normal. A business interruption policy can replace your revenue when your business is forced to close for certain reasons. For example, if a fire – or any event covered by your commercial property insurance – forces you to shut your doors, it can help pay ongoing bills until business resumes.
In addition, cyber insurance protects your company against liability and expenses due to the loss of data or privacy and security breaches.
Protecting your business from disaster and planning for the unexpected are important parts of a risk management plan that will keep your business running.
Complete Insureon's easy online application today to compare quotes for business insurance from top-rated U.S. carriers. Once you find the right policy for your small business, you can begin coverage in less than 24 hours.