Additional insured vs. loss payee: What's the difference?
Additional insureds and loss payees can both collect benefits from your business insurance policy, but they're not the same thing.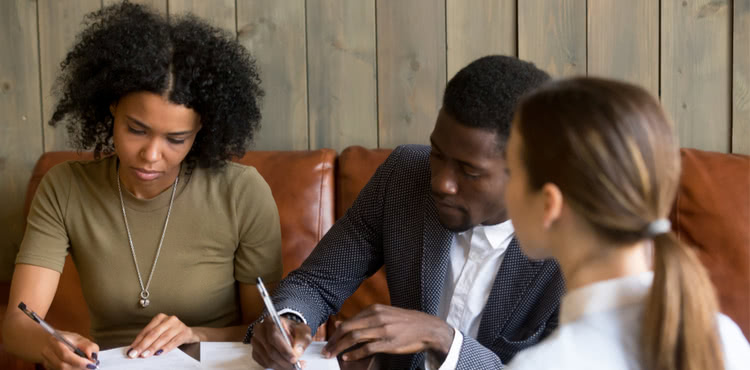 Insurance policy terminology can confuse small business owners who aren't familiar with the industry. For instance, you may think that additional insureds are the same as loss payees because you can add both to your business insurance policy, granting them the right to receive benefits.
Despite this broad similarity, loss payees and additional insureds are quite different.
What is an additional insured?
An additional insured is a third party – either a person or a business entity – that has a liability exposure in a business relationship. To reduce that risk, it asks the other party to name it as an additional insured on an insurance policy declarations page.
For example, the owner of an office building hires a janitorial company to clean its premises. If a visitor gets injured after tripping on a box the owner left in a hallway, the janitorial firm could be exposed to litigation.
To protect itself, the janitorial company would ask the property owner to list it as an additional insured on the owner's general liability insurance or business owner's policy (BOP). That way, if the injured visitor sues the janitorial services company for negligence, the building owner's insurance policy will defend the company.
When do you need to add an additional insured?
You should consider requesting additional insured status any time that working with a third party increases your business's legal liability. On the other hand, a third party might ask you to add them to your liability insurance. In either case, becoming or naming an additional insured can be a useful risk-transfer strategy.
Both parties in a business agreement can request additional insured status, but whether they both get it depends on the specific situation. For instance, when a contractor hires a subcontractor, the contractor typically has more leverage and would decide whether to honor the subcontractor's request to become an additional insured.
Compare general liability insurance quotes
What is a loss payee?
A loss payee is a third party listed on an insurance policy's declarations page that has first rights on insurance claim payments after a property loss. Why does the insured come second? Because the loss payee has an insurable interest in the property that must be protected first.
For example, a florist takes out a loan to purchase a delivery truck. The finance company requires the florist to put up the truck as collateral against the loan, so if it stops making loan payments, the finance company can repossess the vehicle.
If the business owner damages the truck in an accident and then files a claim with their commercial auto insurance provider, they could theoretically stop making loan payments, refuse to repair the vehicle to its full collateral value, and keep the money. To prevent this, the finance firm could require that the florist name it as a loss payee on its commercial auto insurance policy's declarations page.
The insurance company must notify the loss payee when the policyholder files a damage claim. When the insurer issues a check to pay for repairs, it must make it out to both the named insured (the florist) and the loss payee (the finance company). When the finance company receives the check, it must verify the loss with the business, then endorse the claim check back to the business owner to pay for the repairs.
What rights do additional insureds and loss payees have?
Both additional insureds and loss payees are entitled to receive insurance benefits along with the named insured. The difference is that additional insureds receive only liability protection whereas loss payees receive only property damage coverage.
For example, a commercial property owner decides to sell their building, but the buyer cannot secure a standard mortgage. To close the deal, the owner agrees to provide additional financing. Then, to cover liability exposure – if someone gets injured on the property and names the seller in a lawsuit – the seller asks to be added as an additional insured on the buyer's general liability policy.
However, if the building catches fire, the additional insured would have no legal first right to the claim proceeds to pay off the loan. For that, they would need to be a loss payee on the buyer's commercial property insurance. In this case, the owner might request to be named as both an additional insured and a loss payee.
Another key difference is that additional insureds cannot receive payments for other liability claims involving the property, only matters in which they have a direct interest. For instance, if a building owner's negligence caused a visitor to sustain an injury in an area of the building that a janitorial company did not service, the latter could not file a claim. Loss payees, on the other hand, have the first right to proceeds resulting from any damage to property in which they have an insurable interest and can exercise that right any time the named insured – the policy's owner – files a claim.
It's important to note that though both additional insureds and loss payees can receive benefits, they lack the full authority of the named insured. The named insured is the only person or entity that can request changes to the policy, submit claims under it, or cancel it.
How do you add an additional insured or loss payee to your small business insurance policy?
You cannot add an additional insured or loss payee to all types of small business insurance, so it's important to consult your insurance agent to review your options. An agent can help you determine:
Which endorsements are available for your insurance policy
Whether a third party's request to be named as a loss payee or additional insured is reasonable
Whether the coverage amount and type are appropriate
Once you address these concerns, your agent can initiate the process of having an additional insured or loss payee added to your policy. If you are adding an additional insured, your premium will increase, but it will be a relatively nominal charge compared with the cost of the policy itself. Adding a loss payee to a policy will not generally cost extra since it creates no additional risk.
Compare quotes from trusted carriers with Insureon
Complete Insureon's easy online application today to compare insurance quotes from top-rated U.S. carriers. Once you find the right policy for your small business, you can begin coverage in less than 24 hours.