Tech startup Handstand balances risks with caution
Frustrated with her experiences when trying to find a personal trainer, Tiffany Orli Hakimianpour took matters into her own hands to create the Handstand app. Read all about her journey to start and run a new business.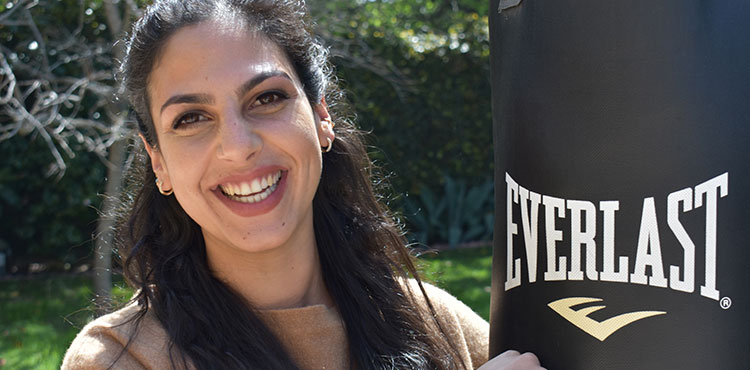 A lifelong athlete, Tiffany Orli Hakimianpour struggled to squeeze workouts into her busy schedule after graduating college and entering the workforce. After a frustrating experience at her gym, Tiffany decided that there had to be a better way for people to stay fit. This inspired her to create Handstand, an app that Tiffany describes as a gym that fits into the palm of your hand.
Handstand users are able to schedule on-demand, in-person sessions with a trainer at a location convenient for them. Users also have access to online workouts and meal plans through the app.
Today, the company employs 14 people in Santa Monica, California, and roughly 8,000 trainers throughout the United States book clients using the app. We asked Tiffany to share more about her journey creating Handstand and what she has planned for the future of her business.
When did you start your business, and what inspired you to do so?
I started it in 2015 after going through the ancient process of finding a personal trainer. I just saw so many problems with it. It was inconsistent, super expensive, and not flexible. It lacked choices. I had to purchase a minimum number of sessions and I couldn't choose the trainer. It wasn't customizable and it wasn't priced well. That inspired me to start Handstand.
How do you find the trainers you partner with?
Trainers apply on our Handstand trainer team app by uploading their bio, experience, and training certifications. They also need to upload a quick video or have a phone call with us to explain why they love what they do, and take a personality test. It's a long onboarding process because it's super important that the trainer is encouraging and positive.
What do you love most about what you do?
I love the feedback from all the clients and the trainers. We just love helping people reach their highest potential.
What's been your biggest surprise owning and running Handstand?
How much I love to work. It's so stimulating that we get to chart our own course and do all these things. I get to meet a lot of different people.
How would you like your business to change in the next five years?
We've recently added partnerships with Reebok and W Hotels and we'd really like to expand and make Handstand available for anyone anywhere, so we're planning an international expansion over the next five years. I'd also like Handstand to become an all-in-one fitness app so people don't need to have 40 fitness apps to use for things like tracking, classes, and studios.
I also want to pave the route for what I think will happen with working out by maybe 2025. I think we will know so much more about ourselves and our body types and our personality, which will influence the way that we work out. I feel that with Handstand we can make fitness hyper-personalized on a mass scale and allow it to change with you throughout your life. That way you'll always have an app that collects all this information, knows you really well, and can tell you what workout to do based on looking at your lifestyle and how you're feeling.
What keeps you up at night?
Right now we are going through different growth stages. For example, we're close to raising the funding A round. I've never been a CEO or founder and I just turned 27, so I just hope that I can lead us in the right direction and deal with a bigger company. I know exactly where I want to take the business and how to grow it. I just am a little bit worried about making sure that everyone is OK and is being managed effectively. I've never done it before, and it gets more and more challenging, but I have faith and I just work on myself.
How do you protect your business from risks?
We have trainer insurance, company insurance – especially with the hotels and with Reebok, we have a lot of coverage. We also do background checks on every single trainer and they are required to keep their training certifications up-to-date.
We move slowly even though we're a startup, which is difficult because there are investors so there's pressure. But I think nothing done in a rush is done well. I think you're not able to avoid potential risks or pitfalls when you're in a rush. We try to have that startup mentality but balance it with thinking about a lot of things, including how we can make them safer, more effective, and better.
Compare quotes from trusted carriers with Insureon
Complete Insureon's easy online application today to compare insurance quotes from top-rated U.S. carriers. Once you find the right policy for your small business, you can begin coverage in less than 24 hours.