How to buy lawn care insurance
When looking for lawn care insurance, you should assess your business risks, determine which types of insurance you'll need, find an agent with industry experience, and read the policy's fine print.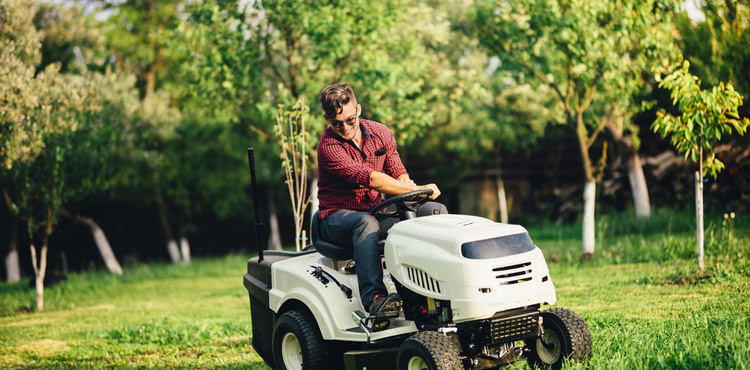 No matter how much landscaping industry experience you have or how careful you are, accidents can happen. Damaged customer property, stolen equipment, and customer injuries are just a few examples of the risks you face every day.
Even if you offer landscaping services as a solo operator with no employees, lawn care insurance can be an affordable way to protect yourself from a financial loss.
What types of small business insurance do lawn care professionals need?
In order to figure out which insurance policies you'll need, you should contact an insurance agent with experience in the lawn care industry, who can guide you based on past work with similar businesses.
Your agent will help you determine which lawn care insurance plans are the best fit for your small business based on your unique risks and needs. Let's take a look at all the types of business insurance coverage you might consider:
General liability insurance
Most lawn care companies and landscaping businesses buy general liability insurance to protect themselves against injuries to clients and damage to client property. This policy will pay for:
Attorney fees, in the event that you are sued
Client medical bills
Replacement property
Repairs to damaged property
If you damage a customer's property or accidentally injure them, general liability coverage will protect you against the costs of getting sued for a property damage claim and/or client medical bills.
It also covers costs associated with an advertising injury; that is, in case someone sues you over an advertisement, a flyer, or an Internet posting.
It's important to note that general liability insurance does not cover injuries that workers sustain on the job. If your landscaping business has employees, you'll also need workers' compensation insurance.
Workers' compensation insurance
Most states require businesses with one or more employees to have workers' comp insurance, which covers job-related employee injuries or illnesses.
Workers' comp also provides coverage for attorney's fees, court costs, and settlements in the event of a lawsuit over a work-related bodily injury or a pesticide-related claim.
Many sole proprietors buy workers' comp insurance for themselves because their personal health insurance is unlikely to cover work-related injuries. Workers' comp can also cover some of your lost wages if an accident on the job leaves you unable to work.
Commercial property insurance
Commercial property insurance reimburses you for the cost of stolen or damaged items you need to run your company at your business location.
Even if you don't own or rent a commercial space, this policy can cover assets stored at a designated location, such as your home or a storage unit.
It is important to consider further protecting any equipment that you commonly bring to job sites, as standard property insurance does not cover items in transit outside of your business location.
Contractor's tools and equipment insurance
This type of insurance covers your business equipment and tools wherever you take them.
If your work items are lost, stolen, or damaged, contractor's tools and equipment insurance can pay to repair or replace them. This policy typically provides protection for equipment that is less than five years old. This equipment may include lawnmowers, leaf blowers, and hand tools.
What's more, inland marine insurance is a floater policy that can provide additional protection to your equipment from jobsite to jobsite and everywhere in between.
Business owner's policy (BOP)
A business owner's policy bundles general liability coverage and commercial property insurance into one policy at a lower premium, allowing you to save more money than if you purchased each policy separately.
Whether an insurance carrier will sell you a BOP depends on a number of things, including your revenue, number of employees, and level of risk.
Commercial auto insurance
Lawn care business owners constantly move from job to job, but personal auto insurance may not cover damages from an accident that happens when you or an employee is driving for work.
To protect yourself, consider commercial auto insurance for your business vehicles or hired and non-owned auto insurance for personal or leased vehicles used for work.
Umbrella insurance
Commercial umbrella insurance backs up your general liability and commercial auto coverage. It kicks in when a claim exceeds those policies' limits.
Cyber liability insurance
If you accept payments online, cyber liability coverage covers you in the event of a data breach or cyberattack that compromises sensitive customer information.
License and permit bonds
Each state requires licenses and bonds for certain professions. If your state requires a landscaping license, it will likely require a surety bond, also known as a licensing bond.
A bond provides a financial guarantee that you will comply with your state's laws and the terms of any contracts you sign.
It's worth noting that some carriers will allow you to name additional insured parties on your policy at no extra cost. For example, this is useful if your lawn care business works for a homeowners' association that could be held liable because of alleged negligence on your part.
What's a certificate of liability, and do I need one for my business?
A certificate of liability insurance (COI) is a document from your insurance company that proves you have certain liability coverage for your lawn care business. Many customers and landlords require this before they'll sign a contract or lease a property.
Some insurers issue these certificates via the post office, which can take several days to receive. With Insureon, you can receive a proof of insurance certificate in a matter of hours.
How much does insurance cost for lawn care businesses?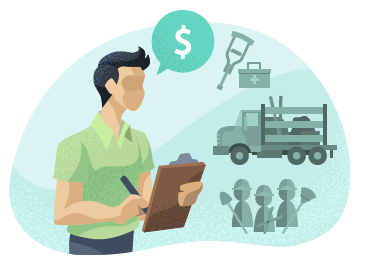 Your insurance costs for a lawn mowing or landscaping business depend on many factors, such as:
Size of your company
Number of employees
Years of business operation
For Insureon customers, the average cost of general liability insurance for a landscaping business is about $45 per month, or $530 per year.
Should I prioritize quality or cost when purchasing insurance?
No matter which lawn care insurance policies you decide on, don't cut corners just to lower premium costs. Buy the plan that offers the best protection so that you don't end up paying out of pocket for unexpected incidents.
For example, when purchasing commercial property insurance, consider a replacement value option. This would cover the cost of replacing a stolen, three-year-old lawnmower with a brand-new equivalent.
Cash value policies are generally cheaper, but reimburse you only for the lawnmower's current value, leaving your business to foot the extra cost of replacing it with a newer model.
Similarly, you may be tempted to purchase lawn care insurance with a high deductible because the premiums are cheaper. However, if you lose an essential and particularly expensive piece of gear, a low deductible would help minimize your out-of-pocket costs.
Discover how you can save on your insurance
How do I make sure that my insurance policy has everything I need?
As with any business contract, carefully read your landscaping insurance policy before you sign it.
You can ask your agent for clarification about any terms that you don't understand. If your client requires a certain type of coverage in order to secure a job, your agent can also help make sure that you have everything you need to meet those requirements.
Knowing exactly what your lawn care insurance does and does not cover will help you manage risks and better plan for emergencies down the road.
Get lawn care business insurance quotes from trusted carriers with Insureon
Complete Insureon's easy online application today to get insurance quotes for your lawn care business from top-rated U.S. carriers and find the best coverage for your business. Once you find the right policies for your business needs, you can begin coverage and receive your certificate of insurance in less than 24 hours.