How to buy lawn care insurance
When shopping for lawn care insurance, assess your business risks, find an agent with industry experience, prioritize coverage quality over cost, and read the policy's fine print.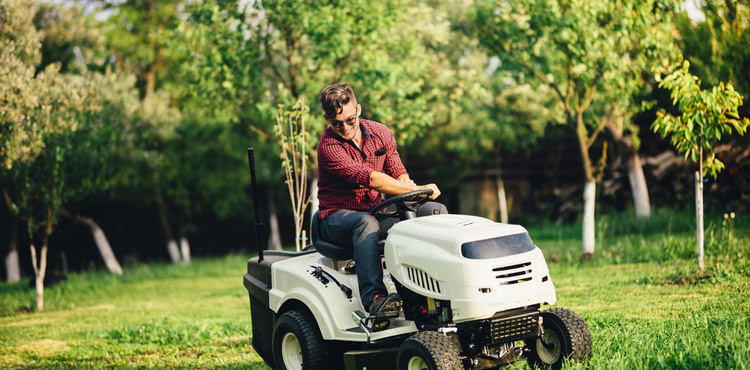 No matter how much landscaping industry experience you have or how careful you are, accidents can happen. Damaged customer property, stolen equipment, and customer injuries are just a few examples of the risks you face every time you take on a new job.
Prioritize researching and purchasing the right lawn care insurance to protect your business.
Lawn care insurance starts with general liability
Nearly all lawn care and landscaping businesses purchase general liability insurance to protect against injuries to clients and damage to their property. This policy will pay for attorney fees if you get sued and also covers client medical bills, replacement property, or repairs to damaged property.
Note that general liability insurance does not cover injuries that workers sustain on the job, so if your landscaping business has employees, you'll likely also need workers' compensation insurance.
Find a trusted landscaping insurance agent and provider
Try to contact an insurance agent with experience in the lawn care industry, who can provide the expertise to guide you based on past work with similar businesses.
Your agent will help you determine which lawn care insurance plans are best for your business's specific needs and the policy limits you should consider for your location. Industry-standard policies include:
General liability insurance: If you damage a customer's property while mowing their lawn or accidentally cause them injury, general liability insurance will protect you if they decide to sue you. Oftentimes, small lawn care businesses can find savings by combining this policy with commercial property insurance (see details below) in what is known as a business owner's policy.
Commercial property insurance: Commercial property insurance reimburses you for the stolen or damaged property you need to run your business, regardless of whether you store it at home or at an office. Consider contractor's tools and equipment insurance, which protects lawn care equipment in transit.
Business owner's policy: This policy bundles general liability and commercial property insurance for a lower premium than if you purchased both separately. Whether an insurance carrier will sell you a business owner's policy depends on your revenue, number of employees, and level of risk.
Workers' compensation insurance: If you have even one employee, most states require you to purchase workers' comp insurance to cover any job-related injuries or illnesses.
Commercial auto insurance: Lawn care business owners constantly move from job to job, but personal auto insurance may not cover damages from an accident that happens when you or an employee is driving for work. To protect yourself, consider commercial auto insurance and hired or non-owned insurance if you don't have dedicated business vehicles.
Umbrella insurance: Umbrella insurance backs up your general liability and commercial auto coverage and kicks in when a claim exceeds those policies' limits.
Cyber liability insurance: Cyber liability coverage may not apply to all lawn care and landscaping businesses, but if you accept payments online, it covers you in the event of a data breach that compromises customer information.
It's worth noting that some carriers will allow you to name additional insured parties on your policy at no extra cost. For example, this is useful if your lawn care business works for a homeowners' association that could be held liable because of alleged negligence on your part.
Prioritize coverage quality over cost
No matter which lawn care insurance policies you decide are right for your business, don't cut corners just to cut down on premium costs. Buy the plan that offers the best protection so you don't end up paying out of pocket for unexpected incidents.
When purchasing commercial property insurance, consider a replacement-value option, which covers the cost of replacing a stolen, 3-year-old lawnmower with a brand-new equivalent. Cash-value policies are generally cheaper but reimburse you only for the lawnmower's current value, leaving your business to foot the extra cost of replacing it with a new model.
Similarly, you may be tempted to purchase lawn care insurance with a high deductible because the premiums are cheaper. But if you lose an essential and particularly expensive piece of gear, a low deductible will help minimize your out-of-pocket costs.
Read your policy thoroughly
As with any business contract, carefully read your insurance policy before you sign it and ask your agent for clarification about any terms that you don't understand. Being clear on what your lawn care insurance does and does not cover will help you manage risks and better plan for emergencies that could impact your business.
Compare lawn care business insurance quotes from trusted carriers with Insureon
Complete Insureon's easy online application today to compare insurance quotes for your lawn care business from top-rated U.S. carriers and protect your business. Once you find the right policies for your business needs, you can begin coverage in less than 24 hours.