Social media for small business: Do it well in 2 hours per week
Social media marketing can raise awareness about your business, and it doesn't have to take long.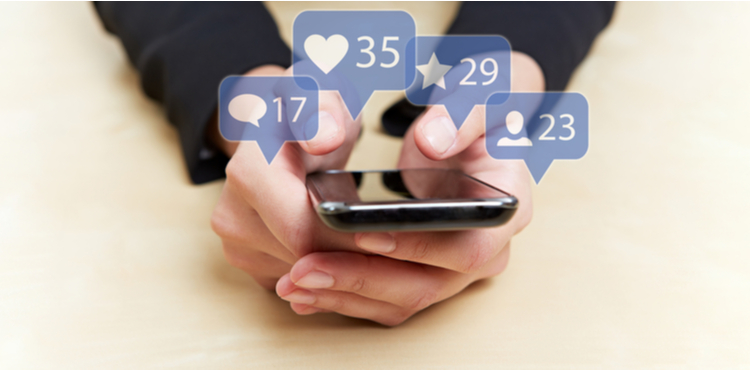 If you're like most small business owners, you're probably…
Spending too much time on your social media marketing
Not spending enough time on your social media marketing
Not improving your social media presence, regardless of the time you're spending
Don't worry if you fall into any of these groups. According to Jeff Hora, social media consultant and founder of Social Sapiens, "Business owners tend to be top flight when it comes to what their business is about, but not so much in navigating the intricacies of social media marketing."
Want to change that? Here's how you can knock your social media marketing out of the park in just two hours per week.
Prep to improve your social media presence
Before you get started, Hora suggests that you consider what you want social media to do for your business and whether you have the capabilities to achieve it. A social media presence for your business can help you…
Increase brand awareness
Gain customer insights
Increase visibility
Drive consumers to your site
Hora notes your social media goals should support your business goals.
The next step is to select the right platform for your business. David Hernandez, founder and managing partner of lotus 823, suggests you first figure out where your target audience lives online.
For example, he says a location-based business may want to focus on Instagram and Facebook where followers can "check in" or tag your business. By contrast, a B2B operation might find more professionals on LinkedIn or Twitter. If your audience is young, Hernandez recommends checking out app-based platforms like Snapchat. And if you're just entering the social media realm, Hernandez usually suggests that you focus on no more than two platforms at a time.
Now that you know what you want to achieve, let's look at where you should invest your time each week.
Spend 60 minutes planning and writing your social media content
Social media requires a lot of content if you want users to engage with your business via likes and shares. Chances are that content will fare better if it's planned out. In part, planning ahead gives you time to think through what you really want to say. It also gives you the opportunity to create a consistent publishing schedule.
"Consistency is always rewarded by platforms, search engines, and fans alike," says Hernandez. "A calendar helps you remain consistent in both your publishing of content and your fan engagement."
Pro tip: A schedule doesn't have to be set in stone. If you see something that you think will add value for your audience, go ahead and post it. Just make sure you publish regularly.
Spend 10 minutes automating your social media posts
Consistency with social media may be rewarded, but it's difficult to achieve – especially when you're running a business, too. Luckily, Hora says there are plenty of platforms that automate posts. He uses Hootsuite, Post Planner, IFTTT, and the built-in scheduler on Facebook. Not only can these tools help you get posts out on a regular basis, but you can also send them at peak engagement times for your audience.
Pro tip: You may need to bank a bit more time for this at first. But once you're up to speed, this may be one of the simplest social media tasks on your plate.
Spend 30 minutes engaging your customers and fans
Samantha Strazanac, the owner of Strazanac Solutions, says that having a social media account and not engaging with your audience can be just as harmful as having no account at all.
Think about it this way: what do you assume about a business that has a Facebook page but no content? Or one that has a submission form, but never seems to respond? At best, you think it's closed. At worst? It's a rinky-dink operation that isn't worth your time.
But that's also the reason social media marketing is so tough. It feels like you have to be on top of it all day, every day.
One way to minimize the pressure is to set limits for responding to followers. Hora also recommends giving customers an estimated timeframe for a response. People often give you space if they know a reply is on the way.
Pro tip: It's not always the customer that is the problem. As Hora points out, social media is designed to suck you in. Combat that by getting in the right mindset. Set a timer and remind yourself this is business development time so you stay focused.
Bonus tip: Social media marketing isn't a "set it and forget it" kind of deal, says Hora. Once you've launched, you'll want to monitor it regularly and watch for opportunities to take part in conversations. At the same time, he says you want to give your efforts a chance to work.
"Execute consistently for five to six months before taking a hard look at the accumulated data and looking for larger trends and further opportunities," he says.
Spend 20 minutes tracking key performance indicators
As you get more comfortable with your social media marketing, make time to review your progress and fine tune your goals. As Strazanac says, "Always set measurable and achievable goals and focus on timeframe." For example, you may have a goal that simply isn't feasible in one to three weeks, but may be achievable in one to three months.
Rookies may wonder what goals to set and how to measure them. That depends on what you want to achieve, but Strazanac says you may get a baseline by looking at your competitors.
"There are a number of tools that you can use when running competitor analysis on social media, some free and some paid," she says. "Keep a track of your key performance indicators (KPIs) to best set your goals, including frequency, follower growth, reach, engagement, and content type."
Pro tip: Twenty minutes may sound like a lot of time to spend on metrics, but remember you need to do more than just look at the numbers. Analysis takes time, and it can help you consider new KPIs.
Compare quotes from trusted carriers with Insureon
Complete Insureon's easy online application today to compare insurance quotes from top-rated U.S. carriers. Once you find the right policy for your small business, you can begin coverage in less than 24 hours.