Small business spotlight: Crowdfunding with Peggy Jean's Pies
A popular from-scratch pie company that closed its doors in 2004 made a comeback with a highly successful crowdfunding campaign.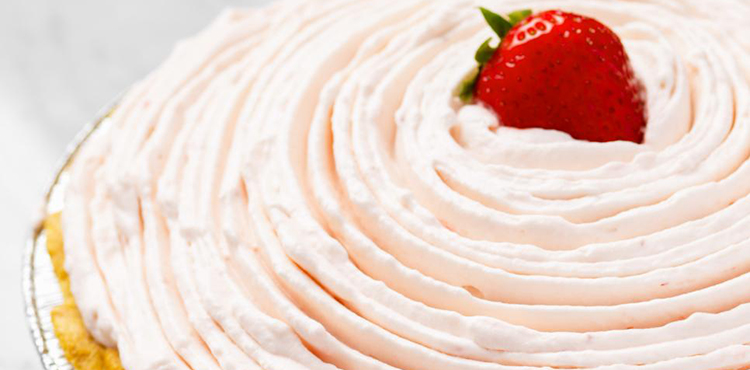 Rebecca Miller and her mother Jeanne Plumley own Peggy Jean's Pies in Columbia, Missouri. Peggy Jean's Pies is a gourmet pie bakery offering delicious, made-from-scratch pies.
The original Peggy Jean's Pies closed its doors in 2004. Years later, the much-loved pie bakery made a comeback with a Kickstarter campaign. We talked with Rebecca about the decision to revive PJP and their decision to use crowdfunding for the re-launch. Learn how small business owners can utilize crowdsourced funding to build their business.
What's the story behind the original Peggy Jean's Pies?
My mom (Jean) and her best friend (Peggy Day) owned the business from 1994 to 2004 and did exceptionally well. Peggy started to experience some health challenges in 2001 and her health only declined from there. My mom was completely overwhelmed as she tried to run the business on her own and decided to close it. Peg eventually passed away in 2005.
What inspired you to bring back PJP?
My mom would be asked from time to time: Is there the possibility of getting a pie? Would she consider writing a cookbook of pie recipes? If we wanted to bring Peggy Jean's Pies back to our area, we knew the name recognition still existed in our community. Mom and I started working to bring Peggy Jean's back in the fall of 2013.
What sets you apart from other bakeries?
We make our pies completely from scratch each morning. We don't use anything canned or frozen from a box. We don't add any preservatives or fillers. Most of all, we absolutely adore our craft and it shows in our product.
What made you turn to crowdsourced funding to jump-start your business?
It was important to us to pursue this business without asking our husbands to mortgage our homes and cars for a loan. We wanted this to be something that we did together on our own.
How did you choose the right crowdfunding site?
I had spent some time on Kickstarter in the past. I enjoy reading through the different projects and appreciate the creativity and the entrepreneurial spirit in the Kickstarter process. It was basically the platform that I was most familiar with, and I could see how a Peggy Jean's project could easily fit the scope of Kickstarter's goals.
What was confusing or challenging about Kickstarter?
Writing the campaign was more rigorous than I anticipated. Kickstarter assigned a project manager to our campaign and that person worked through our submitted materials, pushing us to make our campaign stronger.
How did you spread the word about your campaign?
I write an exceptionally popular blog about the PJP experience (though it was so very new then – if 50 people a day read it, I was thrilled), so I talked about it on the blog a lot. I used Facebook and Twitter extensively. I contacted local newspapers and magazines, one of which ended up hosting a baking class as a fundraiser for our project. Anyone who would stand next to me for 15 seconds got my full sales pitch for our campaign.
Were you worried you wouldn't meet your goal of $10,000? How quickly did you hit it?
We were very worried. For my mom, especially, she felt like reaching our goal of $10,000 indicated that the community wanted PJP back in business. She felt strongly that if the campaign only reached $9,000, then it was a sign we shouldn't reopen.
Thankfully, we never needed to have that discussion. We were funded four days prior to the end of our 30-day campaign, hitting a total of $10,246.
How did you fulfill rewards to backers? Any challenges?
We offered rewards to our backers at different levels. Some received a slice of pie a month for a year and some received a whole nine-inch pie a month for a year, depending on the donation. For the highest donors, we offered a personal pie party in their home for up to 25 guests. We received donations from $5 up to $1,500.
Our biggest challenge was the number of out-of-town contributors. When we began the campaign, it never occurred to me that people all across the country would be a part of this journey. Obviously, shipping a slice of pie to Southern California from mid-Missouri has its challenges, so we worked to overcome those.
Were you surprised by the outcome of your campaign or its reception from the public?
I was very surprised by the number of contributors whom I didn't know at all and didn't live in our area. I was also pleasantly surprised at how many people really root for Kickstarter campaigns to do well. I think it speaks to that part of us all that wants to create without having the restrictions of traditional funding sources harnessing our decision-making process.
Would you use crowdsourced funding again or recommend it to others? Why?
Absolutely. When we are ready for a second store or a production facility, we will be back on Kickstarter. It is a wonderful way to build an audience engaged in your goals. It is also a tremendous way to support entrepreneurship in its most basic format.
What's next for Peggy Jean's Pies?
Kickstarter tips from Peggy Jean's Pies
Use strong campaign content. Make the story interesting, personable, and relatable. And spellcheck everything – nothing is more distracting than poorly written and edited content.
Set realistic goals. We tried to think of a dollar amount that felt obtainable in 30 days. Does $10,000 give you everything you need to open a bakery? Of course not. But was it realistic and did it give us an amazing start to our storefront? Absolutely.
Know your audience. Identify how to explain crowdsourced funding to your audience as many will still be unfamiliar. Having that 30-second prepared speech in mind gets your point across succinctly. Conduct outreach through social media.
Compare quotes from trusted carriers with Insureon