How worried should small businesses be about ADA compliance lawsuits?
Businesses that don't provide handicapped access in line with the Americans with Disabilities Act often face harsh civil penalties. Learn how your business can manage ADA lawsuits with careful compliance and adequate insurance.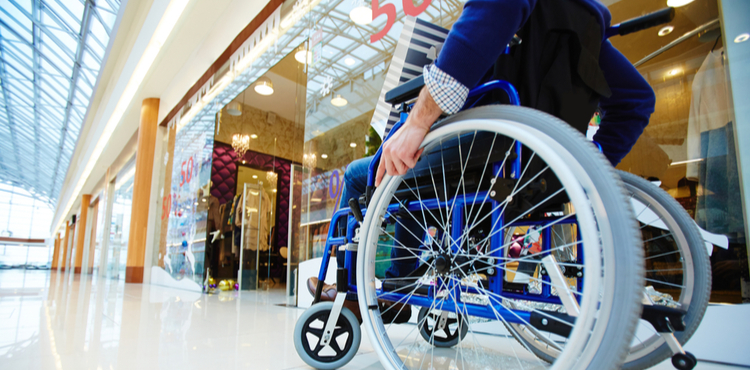 As if you didn't have enough to worry about as a small business owner, you may now have to be on the lookout for what attorney Catherine Corfee, a principal of Corfee Stone & Associates, calls "drive-bys." She says there are people in California who make a living by looking for parking spaces that don't make code and suing the businesses for noncompliance.
Corfee's firm exclusively practices civil rights litigation and defends small businesses in Americans with Disabilities Act compliance lawsuits, including multiple cases stemming from the individual described in the Mercury News article "ADA serial plaintiff probed by IRS, federal prosecutors in criminal probe." Here's what she has to say about ADA compliance lawsuits.
What is the ADA?
Most simply, the Americans with Disabilities Act is a law that prohibits discrimination against people with disabilities. As a small business owner, you need to be aware of your responsibilities under the law, one of which is making sure your business is accessible. This may mean altering architectural barriers, such as:
Narrow parking spaces
Stairs to the entrance
Round doorknobs
Narrow aisles and doorways
High counters
Fixed tables and chairs
That list is only a sampling of the items a business may have to change to be compliant. According to Corfee, different types of facilities have different accommodations to make.
If you're a renter, don't assume your status means you're safe from being sued. Both landlords and tenants can be responsible for removing barriers.
What happens if my business isn't ADA compliant?
A consumer can sue you if you aren't compliant. What happens next, says Corfee, depends on where your business is located.
"If someone just shows up, and they have a disability, and there is one tiny violation, it's like strict liability," Corfee says. "They get $4,000 per visit."
However, she adds, if you fix the compliance problem within 60 days from the summons and complaint, you may only have to pay $1,000 for each visit.
Not every state awards damages in an ADA lawsuit. In fact, Corfee says the only relief the federal law provides is to have the facility fixed. Essentially, the plaintiff gets a court order stating the business has so many days to get in compliance. When they win, however, the business owner often has to pay the plaintiff's attorney fees.
Even if your state doesn't award damages, Corfee says small business owners should voluntarily remove barriers.
"If you voluntarily fix it without admitting liability, the court loses power over you," she says. "They can't order you to fix something you've already fixed."
How can I protect my business from ADA lawsuits?
Your best protection is to comply with the ADA regulations. However, that can be tricky, according to Corfee. She warns business owners to not be too complacent with what they have now because the code changed in 2010. As a result, many small businesses think they are in line with the law when they aren't.
Take, for example, the crosshatch striping next to accessible parking spaces. According to Corfee, the stripes had to be white before 2010. Now, they must have blue borders.
Seems like an easy enough fix, right? A little blue paint, and you're good to go. But you need to know the law so you can make these changes.
Review the US Department of Justice's "ADA Update: A Primer for Small Businesses." ADA codes can be very specific, so Corfee also recommends hiring an ADA specialist or a law firm like hers to do a confidential site survey. Depending on the size of your business, a site survey might cost between $900 and $2,500, but that's still better than the expense of a lawsuit.
Your general liability insurance may cover an ADA lawsuit, but it depends on:
The language of the policy
The facts of the complaint
Contact your insurance agent and provider if you receive notice of a complaint. They can help you determine you're covered.
Compare quotes from trusted carriers with Insureon
Complete Insureon's easy online application today to compare quotes for general liability and other kinds of business insurance from top-rated U.S. carriers. Once you find the right policy, you can get coverage in less than 24 hours.
Catherine Corfee is a principal of Corfee Stone & Associates. She has extensive experience in defending wrongful termination cases, handling employment harassment and discrimination claims, and providing preventative advice to employers of all sizes.