How unsecured and secured business lines of credit help small businesses
Having a business line of credit is a great option for companies who need capital quickly, but there is a difference between a secured and unsecured line of credit.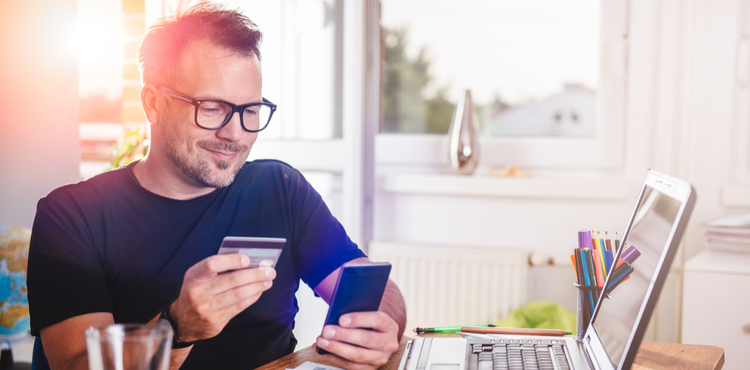 A business line of credit can be a great asset for your small business. Lines of credit offer quick cash when you need it, and only require you to pay interest on the money you've borrowed. Plus, they let you withdraw funds throughout the term of the agreement — rather than requiring you to take out one large loan and pay it all back within a set amount of time. If you need cash from time to time, a line of credit is a great way to get it.
But not every business line of credit is created equal. You'll have different interest rates and fees depending on the lender, for starters. But more important is the difference between an unsecured and secured line of credit. Although they may seem similar, the main difference between the two comes down to the amount of personal responsibility you have to get the line of credit — and your obligation to pay for debts personally.
What's a line of credit?
A business line of credit provides a pool of funds from which a company can draw when it needs to cover business expenses. You just have to repay what you take from the line of credit, and you'll only pay interest on the money you withdraw.
A line of credit can help you pay for inventory, invoices, or just about anything else that requires a little extra capital. This can be a great alternative to a regular term loan since you can take out as much or as little as you need at any given moment (up to the credit limit set by your lender, of course). Keeping a line of credit open also helps build your company's credit history, which is great to have if you end up applying for a term loan later on.
What's an unsecured business line of credit?
Unsecured lines of credit and loans give borrowers money without requiring them to put up something of their own as collateral. This is usually some sum of money or a physical item that belongs to you or the business. When your loan is unsecured, that means your lender has not required you to put up collateral to get the loan. If you don't pay what you owe to the lender, it becomes much more challenging for them to get it back.
An unsecured business line of credit is great for borrowers since it doesn't require you to put any of your own money on the line. But the real trick is getting approved for one in the first place. As you might expect, an unsecured business line of credit is difficult to get. You will likely need to have high annual revenue, as well as a high personal credit score, to get approved. In other words, you're going to need to show your lender that your company is doing well and that you're a reliable borrower personally.
It's also worth mentioning that an unsecured business line of credit doesn't simply let you walk away if you don't pay off your debts. Creditors are still allowed to make a claim against your business capital and equipment, as well as your personal finances and assets. You may not have to put up collateral to get an unsecured business line of credit, but you'll absolutely have to repay your obligations one way or the other.
What's a secured business line of credit?
A secured business line of credit is similar to an unsecured line of credit, insofar as they both provide you with a revolving amount of credit with a lender. The difference is that secured business lines of credit require borrowers to put up some kind of collateral. This is often a financial guarantee that promises to give the bank a sum of money or a physical item owned by the borrower if the loan isn't repaid on time and in full.
These lines of credit are much more common, as they demand less risk on the part of the lender. Since there's a baked-in method for lenders to recoup some of their losses, there's a lower approval threshold for borrowers. Most lines of credit are secured, and odds are that you're more likely to get approved for one — particularly if your business is relatively new or doesn't have high revenue quite yet.
In the event that you can't pay, you should expect to forfeit your collateral. This is less than ideal from a borrower's perspective but helps open up funding opportunities that might otherwise stay shut.
Alternatives to a business line of credit
You might determine that your business needs don't fit neatly into either an unsecured or secured business line of credit. Perhaps your company has to make a big purchase all at once and would be better suited to payments over a longer period of time. Or, perhaps you want to earn travel or cash back rewards for all of those seemingly endless business expenses.
If you're interested in earning a little extra for your purchases, consider a business credit card instead. They don't require collateral in most cases (except for secured credit cards, of course). They also function similarly to lines of credit insofar as they let you borrow money incrementally, and you only pay interest on what you've spent. If your business and personal credit permits, you may qualify for an introductory 0% APR, which can be used to finance large and small purchases, all while avoiding interest payments for a set period of time.
On the other hand, a big business purchase upfront may be better suited for a short-term loan. Though you will likely pay more interest over the lifetime of the loan than with a business line of credit, this is a good option if you need the majority of your funds upfront. You won't get the ability to borrow against a term loan more than once, and you'll have to apply for a new one each time, but it's still an option to consider if a line of credit isn't going to work for your business.
No matter what type of funding is right for your business, make sure you do your homework. Understand exactly how your company's finances work, what your typical cash flow is like, and what kind of collateral you can give up in exchange for a loan. Whether you're a prime candidate for an unsecured loan, a strong applicant for a secured loan, or want to pursue the alternatives, you'll want to make sure you know exactly what works best for your business's financials.
Compare quotes from trusted carriers with Insureon
Complete Insureon's easy online application today to compare insurance quotes from top-rated U.S. carriers. Once you find the right policy for your small business, you can begin coverage in less than 24 hours.
Meredith Wood is the Editor-in-Chief and VP of Marketing at Fundera, a marketplace for small business financial solutions. Specializing in financial advice for small business owners, Meredith is a current and past contributor to Yahoo!, Amex OPEN Forum, Fox Business, MyCorporation, SCORE, AllBusiness and more.