ADA compliance continues to plague some startups
Sometimes, startups are so focused on pursing new ideas that they accidentally violate laws and regulations in the process. Luckily, new business owners can avoid costly lawsuits by doing their due diligence with compliance.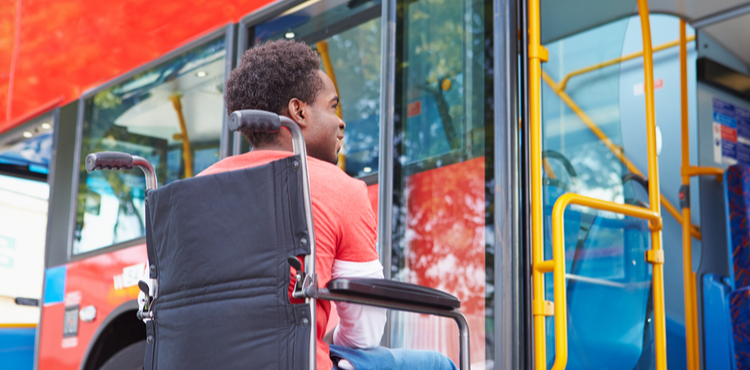 Several months ago, we discussed a Florida hotdog shop that was sued over violating the American with Disabilities Act by failing to comply with accessibility requirements. The result? The owner had to make $10,000 worth of renovations and pay $14,000 in legal fees.
And now, according to SFGate, the luxury transit startup Leap is facing a similar situation. The complaint filed with the Department of Justice alleges the company, which runs one route in San Francisco during morning and evening commutes, removed wheelchair ramps, spaces, and securement only to replace those accessibility features with bar-style seating and leather armchairs. In doing so, the startup may have violated ADA regulations.
Though innovation often seems at odds with existing laws and regulations, these rules can't just be ignored for the sake of a new business model. Let's explore how your startup can find middle ground between pursuing new ideas and complying with old rules.
Brave new world meets same old laws
The Americans with Disabilities Act requires both private and public transportation companies to ensure vehicles are accessible to passengers with disabilities. So if the complaint is true, Leap could be fined for violating the act by removing accessibility accommodations from their buses.
But the case is a little more complicated than that. Turns out, transportation isn't the sole service Leap offers. The company exists in the same gray area as rideshare startups Uber and Lyft: it's one-part tech company (thanks to its app that controls every aspect of the ride) and one-part transportation service. Just like its peers, Leap's nebulous classification makes it difficult to decide how existing laws apply to it.
For the sake of elaboration, let's get into specific examples:
Uber recently came under fire for allegedly misclassifying drivers as independent contractors, which violates workers' compensation insurance laws.
Lyft was also named in lawsuits alleging the company wrongfully classified its drivers as independent contractors.
Leap must contend with ADA laws even if transportation isn't the core of its business. SFGate notes that companies that offer transportation services with fixed routes and that fit 16 people must use wheelchair-accessible vehicles.
As more startups continue to merge technology with existing services, more of these cases are bound to crop up. That means in order to survive, you must think outside the box while also conforming to any laws or regulations.
Innovation + compliance = startup success
While it may be frustrating to wait for the laws to catch up with technology, innovators are likely shaping the new laws and regulations to come. For example, Uber and Lyft put rideshare services on the economic map. Though the innovation challenged the insurance industry at first (there was a bit of confusion about which policy would apply – personal auto or commercial auto insurance), some insurance providers are developing products specifically for rideshare risks.
Though change is inevitable, it doesn't do you any good to disregard the laws and face the financial consequences. To walk the line, here are some tips:
Understand the laws that could apply to your new idea. When you develop your business and its services, it may be wise to consult a lawyer to ensure you play by the rules and avoid fines and lawsuits from the outset.
Don't take employee misclassification issues lightly. The Department of Labor sure doesn't. If you accidentally misclassify employees as independent contractors, your business can be fined and sued for workers' comp benefits, back taxes, and other fees.
Know that being inclusive can be a selling point in itself. When your startup hits the ground, you'll want all the positive buzz you can get. We're living in a time when videos of random acts of kindness go viral. Take that spirit into consideration as you develop your plans.
Compare quotes from trusted carriers with Insureon
Complete Insureon's easy online application today to compare quotes for general liability and other kinds of insurance from top-rated U.S. carriers. Once you find the right policy, you can begin coverage in less than 24 hours.