The top risk management threats for architects
Design and construction errors can create major problems for architects, but they aren't the only risks that can impact your business.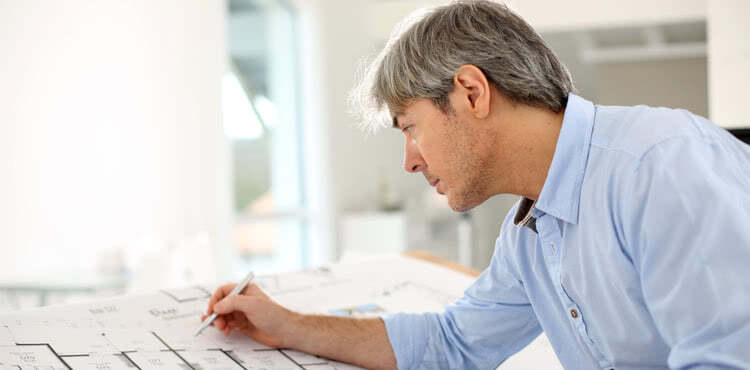 Architects have inherently risky jobs. A design flaw can have catastrophic safety and financial implications. But dealing with contractors, clients, and finances can also create uncertainties that impact your livelihood.
Learn about the major risks that architects might encounter, get tips for managing them, and find out what insurance policies you need to protect your business.
Construction problems
Even though you've drafted detailed architectural blueprints and specified the exact building materials to use, there's no guarantee that construction project managers will follow your instructions to the letter. For example, a contractor may skip a crucial building reinforcement step or use cheaper insulation than you recommended.
If there are flaws in the finished structure due to construction mistakes, the owner could sue the architect for negligence and hold them liable for damages.
To protect against expensive lawsuits, most architecture and design businesses carry professional liability insurance, also known as errors and omissions insurance. These policies cover you if a client accuses you of negligence, you make a mistake that costs a client money, or you miss deadlines or fail to complete projects.
Contractor liability
Architects often hire contractors to help them complete projects, which adds exposure to risks. Depending on the contract you sign with a client, you can be legally responsible for any work mistakes that your contractors make.
To help manage contractor risks, verify the licenses of all third parties that you hire, and make sure that they all carry their own professional liability insurance. If you want to further reduce your exposure to risk, you could ask to be added to their policy as an additional insured, which means that the contractor's insurance carrier would defend you if you were sued for negligence because of their actions.
Client miscommunications and shifting project scopes
When a project doesn't go according to plan, clients can file lawsuits against the architect, and miscommunication is often a factor. Many architects point to shifting project scopes as sources of disputes with clients, which can lead to lost wages, hard feelings, and eventually lawsuits.
Make sure that the contract you sign with the client details all the terms of your work – including deliverables, deadlines, and pay rate – so both parties have everything in writing. If a project's scope changes or you take on more responsibilities, it's a good idea to modify and re-sign the contract. Regularly check in with the client throughout the project so that you can manage expectations and stay aware of new or shifting priorities.
Again, professional liability insurance will cover you from lawsuits caused by poor communication, changing project requirements, and budget overruns.
Variable income
Architects are more likely to operate as sole proprietors than professionals in other industries. As a sole proprietor, you'll need to spend time pursuing new clients, which can strain your business's finances when you're between projects.
There is no insurance policy to protect you from cash-flow problems, but you can take steps to keep your business in good financial health. For example, you might save a percentage of each check in an emergency fund, charge clients on a monthly basis instead of by the project, or require an up-front deposit or payments by milestone.
While architects on tight budgets may be tempted to forgo professional liability insurance, their business will have much larger financial problems if they have to pay for the costs of a lawsuit out of pocket.
Other insurance policies for architects and designers
While professional liability insurance is a must for architecture and design businesses, it only protects you from lawsuits caused by work mistakes or negligence. Depending on other aspects of your business, you might consider purchasing some or all of the following policies:
Compare architecture business insurance quotes from trusted carriers with Insureon
Complete Insureon's easy online application today to compare insurance quotes for your architecture business from top-rated U.S. carriers. Once you find the right policies for your business needs, you can begin coverage in less than 24 hours.