When do you need architect insurance?
While architect insurance is not necessary to become a licensed architect, there are times when you should still invest in extra protection. Learn when you might want to sign up for an insurance policy.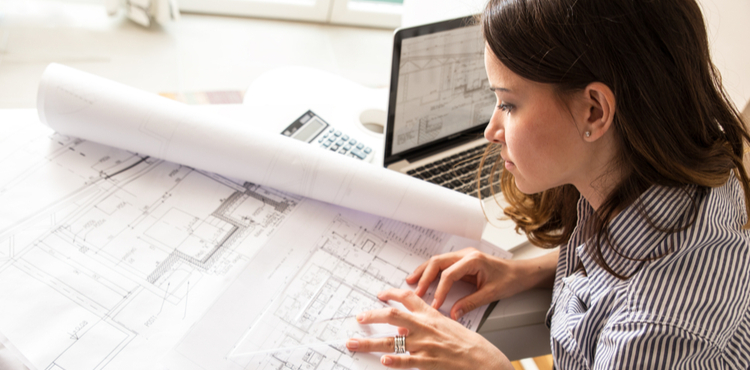 To become a licensed architect, you typically need to earn a bachelor's degree in architecture, complete an internship, and pass the Architect Registration Examination.
One thing that's not usually required is architect insurance. However, there are plenty of circumstances that can come up during your career that may make coverage a good idea. Let's take a look at a few instances when architects may need insurance.
When you want to land clients
The first thing most prospective clients want to know is whether you're able to do the job they hire you for. That's why it's a good idea to have a portfolio of past work that demonstrates your skills. However, many prospects will also want to know if you have architect insurance. It shows them you're a responsible business owner who's prepared if something going wrong.
One policy they most likely want to see is professional liability insurance. This policy covers allegations that your professional work caused a client to lose money. Professional liability can come into play if a client claims you missed a deadline, designed a building with structural problems, didn't deliver what the client asked for, or left something out of a project.
Clients feel more comfortable hiring architects with professional liability coverage. They know if they need to sue over a professional error, they're more likely to recoup their money.
You want to lease commercial property
Maybe you're working out of your home right now. But as you grow your firm, you might decide you're ready to lease office space. But before your landlord hands you the keys to your new office, they're likely going to ask if you have general liability insurance. They might also ask that you name them as an additional insured.
Most commercial landlords require tenants to carry general liability because it protects them if another party suffers an accident on their rental property. For example, say a client trips and breaks their arm while visiting your office. Your general liability insurance typically pays any resulting medical bills, as well as court costs should they decide to sue.
When you want to work with other firms
Partnering with another firm can be a good way to land projects that you can't take on yourself, but it poses some challenges, too. According to AIA Trust, when you form a joint venture with another design firm, you also open yourself up to additional liability. You're not only responsible for your own mistakes, but you can be held liable for mistakes made by the other firm.
The first step to mitigating this risk is to understand how your architect insurance responds. For example, some professional liability policies include coverage for joint ventures. General liability policies typically don't. This makes it important to review your coverage with your agent before you enter into a partnership.
But just because your policy includes joint venture coverage doesn't mean your partner's does. That's a pretty big risk, especially if something goes wrong. Not only might you be sued for mistakes you didn't make, but you could end up paying higher premiums even after the partnership ends.
This leaves you with a couple of choices. One is purchasing liability insurance for the joint venture entity you've created. Another is to avoid a joint venture altogether. Assign one firm as the project lead and the other as a subcontractor. That way the lead firm is responsible for the overall project while the subcontractor is only liable for their own work.
No matter which route you choose, the important thing is to make sure you have adequate insurance to cover your liability.
Learn more about architect business insurance.
Compare quotes from trusted carriers with Insureon
Complete Insureon's easy online application today to compare insurance quotes from top-rated U.S. carriers. Once you find the right policy for your small business, you can begin coverage in less than 24 hours.