How to find a lawyer for your business startup
A good lawyer can give your startup legal advice, negotiate with partners and competitors, and represent your business in lawsuits.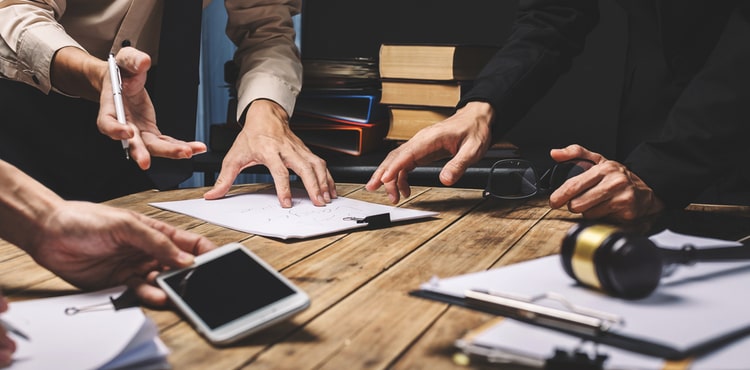 Entrepreneurs are risk takers. While taking smart risks is what propels a new business to success, it's good to have someone focused on the legal implications of your business too. A lawyer can give your startup legal advice, negotiate effectively with partners and competitors, and represent your business in lawsuits.
Here's how to find, vet, and choose a lawyer for your new business.
Finding a lawyer for your startup
Not all startups need the same type of lawyer. If you need help registering your business's intellectual property, for example, you might need a copyright lawyer. If you're looking for advice on your startup's tax situation, you might need a commercial tax attorney. And if you need someone to defend your startup in court, you might need a business malpractice lawyer.
Once you know which type of lawyer you're looking for, recommendations from people you know are often the best and quickest way to find a good lawyer. If you're plugged into the local startup scene, ask other business owners about their lawyers and let people at startup incubators, co-working spaces, and industry events know that you're looking for a startup lawyer.
The internet is another good place to look for a lawyer. You can filter lawyers by location and area of practice with online databases, such as the Martindale-Hubbell Legal Directory and Lawyers.com. Many lawyers feature testimonials on their websites, which let you see the type of clients and legal issues they have experience with.
What to ask your potential startup lawyer
It's a good idea to meet with several lawyers, so that you understand all your options before you choose the one that's right for your startup. Many law firms offer free consultations, particularly if you were referred to them by a current client. During this consultation, be sure to ask questions about your potential lawyer's experience, clients, connections, and rates, as well as their thoughts about business risk and growth.
Here are a few questions you might want to ask when you meet your potential lawyer for the first time:
What kind of experience would you bring to my startup? Lawyers with experience in your industry and in the area of practice you need them for will be able to understand compliance and resolve your legal issues more efficiently than those without any relevant experience. Prior experience is particularly important if you work in a highly regulated industry.
Do you represent other clients in my industry? This question helps you understand how much experience the lawyer has in your industry while, at the same time, exposing potential conflicts of interest. If the lawyer already works for a direct competitor, you may want to find someone else to represent you.
If I came to you with an issue that was outside your area of expertise, would you be able to give me a referral? Whether you're looking for a generalist to keep on retainer or a specialist to advise you on a specific legal issue, it's useful to hire someone with connections in other related areas of practice as well.
How is your law firm structured? If you're thinking about hiring a larger law firm to represent your startup, ask how the firm is structured. Will the lawyer you're talking with be the one who works with your startup? What work will be handled by your lawyer, and what will be delegated to others?
How much do you charge? Some lawyers will offer a flat fee for certain services, such as business incorporation. Lawyers also charge different hourly rates based on their seniority and the size of their law firm. Be sure to ask about their fees and how they bill their clients.
What's your approach to business risk and growth? During that first meeting, ask your potential lawyer about their approach to risk and growth. Their response will help you determine whether they'd be able to work with your business strategy.
During the consultation, make it clear that you need a lawyer who's skilled in getting new businesses off the ground. Many business lawyers have only worked with established businesses and may not be prepared for the complexities of working with a startup.
Choosing the right lawyer for your business startup
Choose a lawyer who understands your industry, has worked with new businesses before, and sympathizes with your business strategy. A great startup lawyer shares your strategic vision or, at least, won't second-guess the nonlegal aspects of your business. Look for someone you enjoy working with and, most importantly, can trust.
Here are a few other things to take into consideration as you choose a lawyer for your business startup:
Small legal firms have less overhead and often charge smaller fees. The generalists in these firms will likely have a broader knowledge base than specialists.
Large legal firms have more specialists on hand. They're usually more expensive, but they can often resolve more complicated legal issues in house.
Choose a lawyer with the right level of seniority for the task at hand. You don't want to hire a senior partner to prepare routine incorporation documents, and you don't want to hire a junior associate to represent you in high-stakes litigation.
If you have a pending legal issue that might end up in federal court, make sure your lawyer has a license to practice in federal court.
Make sure there are no surprises or suspicious ambiguities in the fee agreement the lawyer gives you. You want to hire a lawyer you can trust and afford.
The best startup lawyer is the one who, later on, you never seem to need. A good startup lawyer will lay a solid legal foundation for your business, allowing you to grow your startup free of legal obstacles like compliance issues, tax liability, and expensive litigation.
Compare quotes from trusted carriers with Insureon
Complete Insureon's easy online application today to compare insurance quotes from top-rated U.S. carriers. Once you find the right policy for your small business, you can begin coverage in less than 24 hours.