Viral marketing on social media: Bigger audience equals bigger risk
Viral marketing campaigns can either be hugely successful for your company or they can cause a tremendous amount of trouble. Find out what to do if your viral campaign backfires and learn the "dos" and "don'ts" of social media marketing.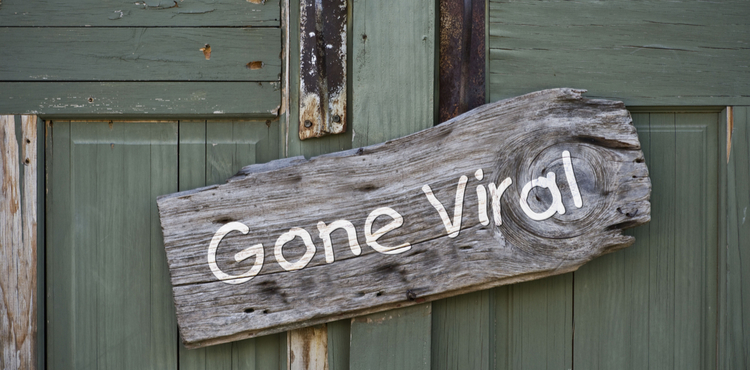 Viral marketing has fundamentally changed the way small businesses can get the word out about their products or services online. The widespread use and accessibility of social media means viral marketing can raise visibility and brand engagement for little to no cost. And when done right, a viral campaign can catapult the success of a small business.
But viral marketing isn't without its risks. In fact, a single campaign could make your brand or damage it beyond repair, especially if you commit an advertising injury in the process. Once that mistake is viewed by millions of people, the violation can be harder to settle quietly with your business's reputation intact.
Take, for example, the case of GoldieBlox, a small company that creates toys for young girls. The business got a boost from crowd-sourcing fundraisers, and followed up the attention it received with a commercial that quickly went viral. However, the toy company didn't have authorization to use a rendition of the Beastie Boys' song "Girls" in the video. The band is suing the small company, demanding that GoldieBlox hand over profits it earned from using the song without consent. The Beastie Boys also seek damages, lawyers' fees, and an injunction that will prevent GoldieBlox from using the song in the future. (Read more about the lawsuit in AdWeek's article, "Beastie Boys Countersue GoldieBlox, Seeking Profits Earned Off Viral 'Girls' Ad.")
Once your video, blog, or other marketing content is live on the Web, it's not always up to the consumers to decide whether your strategy is a success or failure. Sometimes, that decision will belong to the courts.
When viral marketing backfires
Creating viral marketing content for social media is a delicate balancing act. You want your efforts to seem "organic," but at the same time, you need some traditional tactics so that your audience will recognize your brand. But what you may not be taking into account is how easily your best-laid campaigns can backfire if you're not watching out for common advertising injuries.
Say, for example, you want to create a shareable video that pokes fun at one of your competitors. It's an unexpected hit, and major media outlets report on your spot, which generates even more awareness and shares. By the end of the week, your video has more than a million views on YouTube and other social media outlets.
But now your competitor is alleging that your small company committed slander. Three factors determine whether or not a spoken statement is slanderous:
The statement must be false
The statement must be made in public
The statement must have hurt someone's reputation
If your competitor can prove that your viral video hurt its sales because you made untrue remarks, you could face a hefty fine or settlement.
Other viral marketing efforts could saddle you with a fine from the Federal Trade Commission (FTC) if you misrepresent your products or services in order to boost sales. It's illegal to write fake reviews for your business or to pay someone else to write reviews for you.
For example, back in 2006, Wal-Mart's PR firm created several blogs that showed the retailer in a positive light. The most well known blog was called, "Wal-Marting Across America," and it featured a family traveling across the country in an RV and camping in Wal-Mart parking lots. The fake blog heaped praise on the big box store and its employees. But after the real story surfaced about the blog's origin, both Wal-Mart and their PR firm raked in bad publicity over the stunt.
Viral marketing legal risks: When building buzz ends in a lawsuit
Watch out for the following viral marketing risks that could land your business on the wrong side of an advertising liability lawsuit.
Copyright infringements
This happens when you use copyrighted material (such as music, art, or content) without the copyright holder's consent. The copyright holder can sue your business for profiting from their work.
Libel or slander
If you write or say something false about another person in public, you could be sued for harming their reputation.
Misappropriation
If you use someone's image, name, words, or endorsements without their permission, you could be sued for infringing on their publicity rights. So if you want to use an Instagram picture one of your fans took while sporting your gear, you'd need their consent before you could use their image to promote your business.
The "dos" and "don'ts" of viral social media marketing
When working on your viral marketing masterpiece, be sure to consider these pointers:
Don't use copyrighted material without permission
If you want to use a song in your business's video, first obtain the rights. And remember, just because you found a picture on social media doesn't mean the creator doesn't retain copyrights. Though user-generated photos can be excellent fodder for a grassroots marketing effort, you could be sued for copyright violations and misappropriation claims when you use others' photos without their consent.
Don't trick or mislead people
Not only will you put off your target audience, but you could also be fined for false advertising or other FTC violations.
Do run your marketing plan past a focus group, including a lawyer
Show the group your marketing material and get their feedback. This will let you know if your plan will appeal to your target audience and whether it remains on the right side of the law.
Do keep an eye on your campaign
If things start to spiral, be prepared to go into damage-control mode. This includes engaging with the comments, but always in a professional manner. Be sure when you're responding to negative criticism that you don't say anything disparaging or defamatory about the person who penned the scathing review.
Do carry general liability / advertising injury coverage just in case
General liability insurance
can cover litigation costs when your social media marketing goes awry. Covered claims include copyright infringement, privacy violations, slander and libel, and misappropriation.
The takeaway? Respect the intellectual property of others and ensure that the marketing content you're putting out in the world is something you'd be proud to put your name on.
Compare quotes from trusted carriers with Insureon
Complete Insureon's easy online application today to compare insurance quotes from top-rated U.S. carriers. Once you find the right policy for your small business, you can begin coverage in less than 24 hours.