The $17,000 small business insurance claim lurking in your pipes
Water and freezing damage can be costly for small businesses. Luckily, with adequate small business insurance you can protect your business from these risks.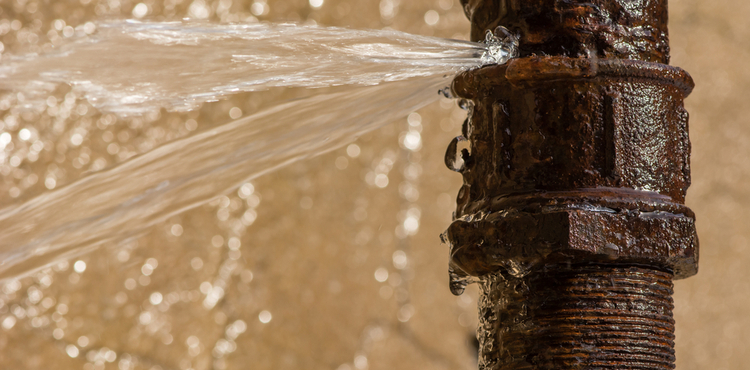 Last year, small business insurance carrier The Hartford published a claims study that highlighted the ten most common and expensive claims that happen to small businesses. Water and freezing damage ranked as the second most common claim type and earned the number-eight spot for most expensive, with an average claim cost of $17,000.
While weather patterns in certain areas of the country make water and freezing incidents more likely, every business with pipes has some exposure to this type of damage. Read on to get an idea of how you can manage the risk your business faces and prepare for serious incidents with appropriate small business insurance.
Commercial property insurance and water damage
If you're like most people, the first question you have about water and freezing damage is whether your small business insurance policy covers it. Unfortunately, the answer to that question, as it is to so many questions about insurance, is "it depends."
That's partly because water and freezing damage can encompass a lot of different things, including…
Ruined inventory or carpets
Warped walls or floors
Corrosion
Mold
Structural damage
And it can come from a lot of different sources: burst pipes, rain storms, sewer backups, hurricanes, river overflows, and more. Most commercial property insurance policies exclude coverage for certain types of water damage, and exclusions are often based on the type of incident that caused the damage. For example, a standard property policy may cover damage from burst pipes but not from sewer backup, flooding, or rainwater.
Many policies exclude mold-related damages for all kinds of reasons.
The good news is that, in many cases, you can purchase add-ons called endorsements (or "riders") to your property policy to enjoy additional coverage. A talk with your insurance agent will give you a better idea of which riders are available to you.
7 tips for reducing your risk of water and freezing damage
Having to make a claim on a small business insurance policy is never fun, largely because it means something has gone wrong at your business. To minimize the likelihood that you'll need to tap into your insurance for a water-related claim, implement these seven tips:
Protect exposed and accessible pipes with insulation to prevent freezing and bursting. You can find the right material at most hardware stores.
Maintain a building temperature of at least 55 degrees Fahrenheit, even when nobody's inside.
Keep gutters, downspouts, and drainage areas clear.
Have a plan for removing ice and snow from the roof – safely!
Make sure you know how to shut off your building's main water supply in case a pipe breaks. This is good information to share with any employees, too.
Prevent seepage and leaks by sealing cracks and gaps in your building's exterior and foundation.
Store non-waterproof valuables above floor level to protect them from floodwaters.
For best results, have a plan
The thing about small business insurance is that it only helps you if you actually have an active policy. And the time to start your policy is before the big freeze that cracks your pipes. So if you don't yet have coverage, consider applying today.
In addition to insurance, develop a plan for dealing with water damage. When crises hit, they can be overwhelming and it's not always clear what actions to take for maximum impact. That's why developing a disaster management strategy ahead of time is so important. To get started, check out this Business Emergency Response Plan template.
Compare quotes from trusted carriers with Insureon
Complete Insureon's easy online application today to compare quotes for commercial property and other types of insurance from top-rated U.S. carriers. Once you find the right policy for your small business, you can begin coverage in less than 24 hours.