6 mistakes small business owners make when filing insurance claims
Failing to contact your business insurance provider immediately after an accident, not documenting property damage, and admitting fault for an incident can affect your claim amount or whether you'll be covered at all.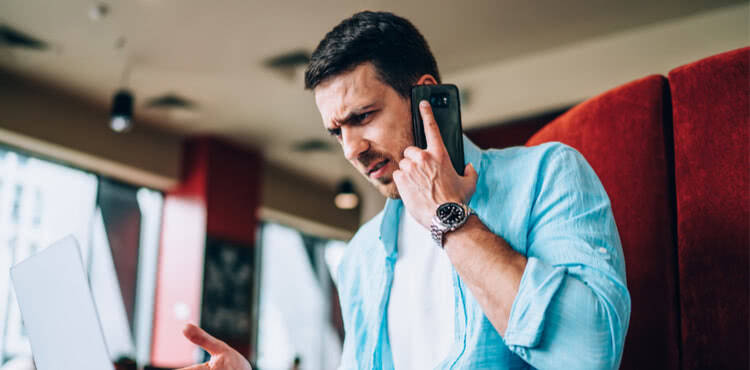 Risk comes in many forms for small businesses. Natural disasters, client injuries, and equipment failure can all impact your bottom line.
Commercial insurance is essential to managing a small business's risks. Your general liability insurance premiums will be well worth it if a visitor sues your business over an injury that occurred at your office.
But having business insurance doesn't guarantee you'll be fully reimbursed for damages or lost time. Filing insurance claims can be tricky, and many business owners make costly mistakes.
Here are the most common errors that small businesses make when filing commercial claims, along with advice for avoiding them.
1. Being unfamiliar with your policy
Many business owners assume that their commercial property insurance covers their office for damages caused by floods, earthquakes, and other natural disasters. But that's not always the case.
Insurance policies are complex and don't always cover everything you expect. When you choose your policy, take the time to learn exactly what is and isn't covered. Filing an insurance claim for something that isn't covered is a waste of time, which you can't afford after an event interrupts your business.
Knowing what your policy does and doesn't cover can help you identify coverage gaps and decide what additional policies you need to fully protect your business.
2. Not contacting your insurer immediately
Just as you would with a car accident, contact your insurer immediately after any business-related mishap. Both property damages and your memory will be fresher the sooner you file. Plus, claims are easier to adjust the earlier you make them.
Waiting to file a claim can confuse insurers about the severity of the damages.
Most insurers have quick-response teams that will survey a situation and assess damages. If insurance company representatives arrive at a flooded warehouse that you've already bailed out, they could dock your payout.
Almost all commercial property policies require prompt notice of loss or damage. But many general liability and umbrella insurance policies require notification as soon as possible after an event. Failure to report an incident within the first 48 hours may cause your insurer to refuse payment.
3. Not documenting damage
Your insurer will want to see proof of damages from a disaster or accident. Failure to thoroughly document that damage may result in a lower payout or a refusal of your claim.
Photograph the scene immediately. Focus on damaged equipment, goods, utilities, and anything else that may be costly to repair or replace.
Likewise, document all of your communication with your insurer. Be sure to:
Record the time, date, and substance of your verbal conversations.
Retain copies of your mailed correspondence.
Create a folder for all of your email exchanges.
If you speak with a claims representative over the phone, send that person a summary of the conversation in an email or ask them to provide you with a transcript.
This documentation will help ensure your insurance company honors your policy to its fullest extent.
Compare small business insurance quotes online today
4. Getting rid of damaged goods
Documenting damage is an important step, but don't throw damaged property away after taking photos. Physical evidence is important, and you should retain every damaged item to prove the extent of your loss.
Damaged items will be evidence of the impact the accident had on your business and will affect an adjuster's report.
Also, if your property is damaged, you must take reasonable steps to prevent further damage. Failing to attempt to prevent excessive damage after an initial mishap can be considered negligence and give your insurance company grounds to deny coverage.
If you spend money on temporary repairs to prevent further property damage, save your receipts and submit them to your insurance company for reimbursement.
5. Admitting you were at fault
If someone injures themselves on your business's premises, never admit fault. Frivolous lawsuits happen all the time, and admitting fault when a customer is harmed on your business premises can invite a lawsuit.
First, you may not know the cause of the accident. Admitting liability removes any doubt about the cause of the accident and puts the blame on your shoulders. Should the injured party file a claim against you, accepting responsibility will impair your insurer's ability to defend you.
Beyond the defense challenges, many policies prohibit you from assuming fault without the insurer's consent. If you admit fault for an accident, you may breach your contract, which could result in the insurance company denying a claim or terminating your coverage.
6. Failing to advocate for yourself
Business insurance claims require cooperation. Arguing with your insurance company over a claim may feel like adding insult to injury. You want to be cooperative, but don't simply accept anything your insurance company says.
Be realistic about what your damaged property is actually worth. Some insurers may undervalue lost property at first, but if you have a clear, well-documented damage assessment, you should receive a suitable settlement. Damaged commercial property is generally valued according to its actual cash value or replacement value.
Don't be afraid to appeal an adjuster's initial damage estimate by hiring your own adjuster for a second estimate. If the two adjusters make different estimates, a third-party mediator will usually make a final decision on the payment amount.
Failing to cooperate with your insurer may give it grounds to deny coverage, but that doesn't mean you can't advocate for yourself. Most insurers attach written instructions to their policies that you must follow if an accident or loss occurs. Keep these instructions handy and follow them, but prepare to advocate for yourself if necessary.
The bottom line
When it comes to unexpected closures, time is money. The faster you reopen your doors, the better your chances for recovery following a disaster. Your insurance agency is there to help you get back on your feet after an unfortunate event, but it's your responsibility to file claims correctly.
Christine Aebischer is an editor at Fundera, a marketplace for small business financial solutions. Previously, she was an editor at the financial planning startup LearnVest and its parent company, Northwestern Mutual. Christine writes extensively on small business trends and personal finance and has a degree in journalism and English from The College of New Jersey.