How to start a web design business
Starting a web design business can be exciting and lucrative, but it can pose challenges. Learn how to succeed in this competitive field.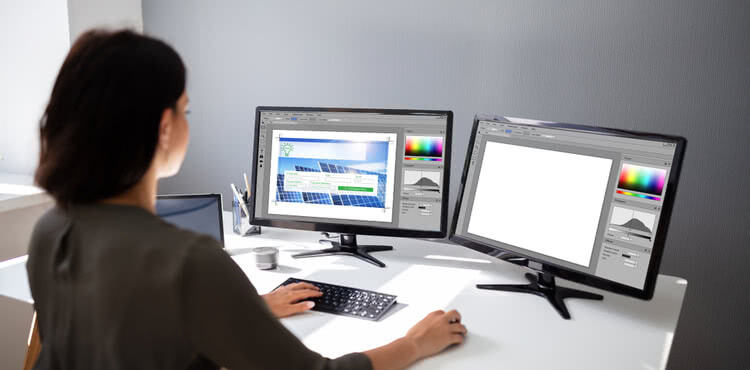 A career in web design can be an attractive option for those seeking a lucrative, in-demand profession that blends right-brain and left-brain skills.
Recent ZipRecruiter estimates put the average salary for a freelance web designer at $27 per hour, but depending on where you live and how much experience you have, you might be able to charge twice that. And if you decide to start your own web design business, you could eventually earn even more money.
Starting a web design business offers plenty of benefits and perks beyond financial ones. You will get the opportunity to work for clients of all sizes in multiple industries, and you will change projects frequently. You will regularly learn new things and get to meet a variety of talented people. And if you start a web design business from home, you will get the flexible lifestyle that regular office workers often do not enjoy.
You must also learn to be a business owner if you hope to turn your passion for web design into a successful venture. Here are some tips for starting your own business and an overview of what kind of insurance you might need to protect yourself.
How web design, web development, and UX design are different
First, here's a quick breakdown of what different kinds of web professionals do:
Web design: This discipline focuses on the look and feel of a website. To become a successful web designer, you need excellent graphic design skills, an understanding of the principles of design, and a working knowledge of HTML and SEO (search engine optimization).
You need to be aware of branding and how a website should support a company's image. You also must understand the target audience for each site and how your choice of website elements – from photos to the amount of text on the page – can impact the user's experience. Learn more about essential skills for web designers.
Web development: Web developers perform the behind-the-scenes work to turn the designer's vision into a reality. They are strong programmers who use a variety of tools to create each element of the website. Some people can double as both web designers and developers.
UX design: Some web designers can also serve in a UX design capacity, also known as user experience design. However, it is increasingly becoming its own speciality. UX designers focus on a website's usability, digging deep into the brand's target market, conducting usability surveys, and testing to optimize each element of a website and its individual pages.

How to start a web design business
If you're ready to take the plunge and start your own web design business, there are a few steps you should take and best practices you should follow.
Name your company
While you want your web design business's name to be memorable and perhaps even catchy, you don't want it to make you look unprofessional. Brainstorm some ideas, then run the short list by friends and family. And before you finalize your business's name, do a thorough Google search to make sure that someone else isn't already using it.
Create a business plan
Think of your business plan as a snapshot of where your company is now and a road map for its future growth. It doesn't need to be formal, and you can modify it as you go. Write a brief description of your company, the specific services you offer, your target clients, and financial projections for the next year. You might include information about whether you plan to hire employees and how much you will pay them.
File paperwork
One of the keys to your web design business's future success is choosing the right structure. Most small businesses choose a sole proprietorship, a limited liability company (LLC), or an S corporation. You must also get a license to conduct business in your state. Check your state's official website, as well as the IRS checklist for starting a business for detailed information on how to start a web design business in your area.
Education and certification
Technically speaking, you can become a web designer with no formal education. However, you have plenty of competition in the field, and finding clients can be an initial challenge. If you already have excellent credentials and a stellar portfolio from a previous web design position, finding work might not be hard. But if you're trying to start a web design business with little or no experience in the field, your academic experience and certifications could help you stand out from the crowd.
You can earn a certificate in web design online or from a local community college in as little as a year. Make sure your course load includes classes in graphic design and writing code. If you plan to also offer web development and / or UX design services, consider earning a bachelor's degree in computer science, perhaps with a double major or a minor in graphic arts.
Marketing your business
No matter how talented you are as a web designer or developer, potential clients need to know that your business exists. Start your marketing plan with an emphasis on basic, low-cost strategies, and over time, you will start to attract clients by word of mouth.
Create a website that shows off your design and technical skills.
Tap into your professional network using LinkedIn.
Create a Facebook business page.
Attend networking events in your area.
Purchase targeted social media ads.
Protecting your web design business with insurance
Risk management is a vital component of any web design business strategy. You will have access to your clients' sensitive data, and it is your responsibility to take steps to protect it. But risk management isn't enough on its own. Even the biggest companies with the best risk management strategies experience data breaches and other issues.
Technology business insurance is essential to protect your business when things go wrong. Web designer insurance is specifically tailored to meet the needs of your industry and typically includes:
General liability: This insurance covers personal injury or property damage to your clients, as well as defamation and other advertising injuries. If needed, you can bundle general liability with commercial property insurance.
Errors and omissions: Mistakes are a fact of life in any line of work. Errors and omissions insurance protects you against professional negligence such as missed deadlines or mistakes in the project.
Cyber liability: Cyber liability insurance helps your company recover from expenses related to cyberattacks and data breaches.
Workers' compensation: Web design businesses that decide to hire employees need a workers' comp policy to cover workplace injuries or illnesses.
Fidelity bonds: Fidelity bonds protect your company against employees who steal money or data from your business or your clients.
Commercial auto insurance: If you use a vehicle in the course of your work, your personal auto insurance may not cover damages from accidents. Commercial auto insurance protects your work vehicles when you or employees are driving.
Compare web design business quotes from trusted carriers with Insureon
Complete Insureon's easy online application today to compare web design business insurance quotes from top-rated U.S. carriers. You can start your web design business coverage in less than 24 hours.