How to start a software company (and get contracts)
Some of the biggest names in technology today began as humble little startups in someone's dorm room or garage. Find out how to start your own software company and become a part of this profitable industry.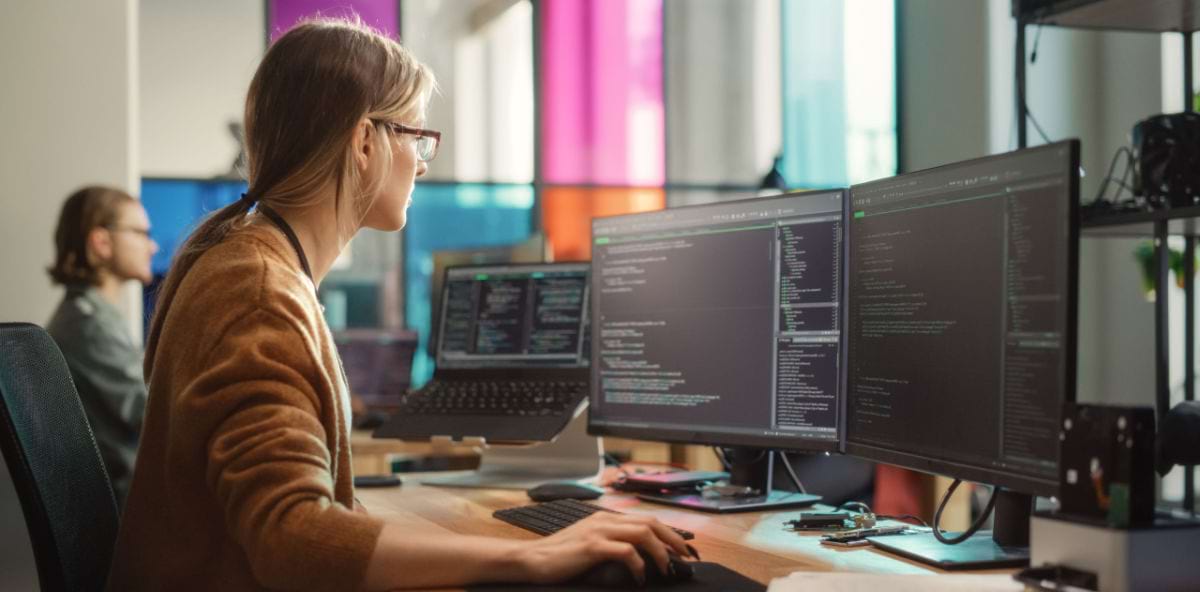 IT spending on enterprise software was $783 billion in 2022, a growth of 7.1 percent from the year before, according to Statista.com. The IT services industry overall saw revenues more than doubling between 2010 and 2020.
If you look at that trend, there's never been a better time to start your own software company. First, you'll need a plan and the right insurance to protect your new business, and that's where this guide can help.
Table of contents
Identify a real-world problem to solve
Today's tech giants each identified a particular problem or created a product that improved people's lives. Amazon and eBay built online marketplaces that made it easy for people to buy and sell almost every item imaginable, reducing time and effort spent shopping. Email made it easier for people to connect with each other. Facebook/Meta put a whole new spin on this, by practically inventing the idea of social media.
What problem could your company help people solve? Is there a service or a platform that you think could be improved, or something you could do better, faster, or for less money than someone else?
Another way to think of this is to look at problems that might seem to have nothing to do with technology, yet which have a technological solution. For example, farmers are monitoring the moisture levels and growth of their crops, while planting and harvesting much more accurately, thanks to technology.
Pick any field that you have knowledge of, think about the problems it faces and how you might solve them. This could be your first step toward a successful software company that offers unique solutions.
Build a business plan
A business plan outlines your company's goals and how you'll reach them. It also shows potential lenders and investors that you're well prepared and have done your research. Here are the key elements of a business plan.
Executive summary
An executive summary, or detailed description of your company, serves several functions. It helps you focus your ideas, provides a guide for how you'll achieve your goals, and makes it easier for you to explain your business to other people. Think of it as a business model for how you'll launch your software startup.
This summary should include:
Your business name
Your services or products
The problem you identified
How your products or services solve that problem
Comprehensive market research
Any potential customers, angel investors, or employees will want to see that you've done your homework and researched the supply and demand issues for your business. Make sure to focus on actual market data and avoid any preconceived notions, as they could become pitfalls to your success.
Business owners often start with an examination of their strengths, weaknesses, opportunities, and threats (otherwise known as a SWOT analysis). It's a way of analyzing the market for your product or services, and the industry in which you'll compete.
A SWOT analysis may include:
Strengths: What sets you apart from your competitors?
Weaknesses: Do you face a lack of funding, a knowledge gap, or strong competition?
Opportunities: Can you identify a demand for a product or service, but insufficient supply?
Threats: What factors might harm your business, such as potential supply disruptions?
Descriptions of products and services
You'll need to be specific when defining what you have to offer. This is where you go into more detail than your company description.
What problem will you solve and how will you solve it? Will you help businesses become more profitable? Manage their sales or inventories? Connect with their customers better?
What type of products or software will you offer?
How will customers access your services or purchase products? An online portal? A tablet or phone app?
What's your target market and how will you compete with the rest of the software industry?
Will you sell your products or services through a one-time purchase? A subscription?
What will set your business apart from the competition?
Will you offer Software as a Service (SaaS) or some other product?
Management structure
The management structure you choose for your software business is about much more than who's in charge and the division of labor.
This might be easy to define if you start with just one or two people. However, many companies experience growing pains if they expand faster than the management team expects, and struggle to define each person's role within the company.
Your business structure can also have a tremendous impact on how you divide your corporate profits and how you pay taxes.
There are several legal structures to choose from:
Sole proprietorship: This makes for an easy start, as the business and the owner are one and the same. The owner receives all of the income, but also faces all liabilities, debts, and losses. Business income is treated as the owner's personal income and is noted on the owner's tax return.
General partnership: A partnership is similar to a sole proprietorship, except two or more people have an equal share in the company's profits, liabilities, and losses. Each of them lists their personal share of the profits on their own tax return.
Limited liability company (LLC): An LLC is a separate legal entity that shields the business owner from any debts, lawsuits, or bankruptcy faced by the business. It's similar to a corporation, but without having a board of directors, shareholder meetings, or extensive documentation.
C corp: A C corporation provides similar legal and financial protections as an LLC, because the business becomes a separate legal entity from the owner. C corp owners are shareholders who receive their profits through shareholder dividends. The company pays its own income taxes on company profits, while owners pay taxes on the dividends they receive.
S corp: An S corporation, also known as an S subchapter, provides similar debt and liability protections as a C corp, but avoids the issue of the business and the owners each paying taxes. Shareholders report all income and losses on their personal tax returns, at their individual tax rate.
Your marketing strategy
A website is often the first place where people will look for information about your company. You'll need to get this started right away, to make sure you start to show up in Google rankings and other search engines.
Make sure your website is easy to navigate and reflects your brand. Regular updates to your website, such as blog posts about product development and topical issues within your industry, can help you stand out from the competition.
You want to make it easy for potential customers and investors to understand what your company is about and who you are. The right SEO strategy can improve your rankings and draw people to your site by using common search terms for your products and services.
Creating a blog is a good way to draw attention to your website. You can use a blog to tell people what your business is up to and offer information on notable industry trends.
Other marketing ideas to consider include:
Social media: Facebook, Instagram, and LinkedIn are all important avenues for promoting your company, with each of them having their own strengths and weaknesses. Whenever you post an update about your business on the company website, make sure you also post about it on social media.
Your social media posts should always include a link to your website. This is a great tool for promoting your business, if you can create engaging content that advertises your products.
You might also create a YouTube channel, where you can post videos about yourself, your business, your employees, and customers offering favorable reviews.
Business listings: Having your company listed on Yelp and Google My Business can help you spread the word about your products and services and solicit business reviews. These listings also make it easier for people to find your company by increasing your online presence.
Networking: Whether it's a meet-and-greet hosted by your local chamber of commerce or an industry trade show, networking events offer good opportunities for face-to-face meetings to attract business and possible investors. Make sure you have plenty of business cards and a well-rehearsed "elevator pitch" that you use to tell people about your company.
Testimonials: Posting favorable customer reviews on your website and social media channels is an effective way to promote your business, especially if you and a customer agree to cross-promote each other through links and comments.
Paid advertising: Google offers pay-per-click advertisements (the ones you see at the top of most Google searches). You could also use paid ads on social media sites that target your customer base.
A financial plan
A financial plan and analysis should project how much money you'll need to get your business off the ground, your long-term financial needs, and when you expect to turn a profit. This would typically include cost estimates and revenue forecasts for the next five years.
Such an analysis can help you focus on a long-term strategy. It could also help you attract venture capital. Any potential investors or lenders will want to see this information before they'll cut you a check.
You might look at industry trends and projections for future growth within your field. You could also consider how your competitors and similar companies fared when they launched their businesses. Industry trade groups might offer insights on this, and you may need to hire someone with experience in this area, such as a financial planner.
Protect your software company with the right insurance
Develop your brand and team
Once you've built your business plan, it's time to build your business. Establishing your company's brand and hiring the right people is crucial to your success.
A brand serves as your identity and tells people what your business is about. Your team serves as the face of that business and will help create your products and promote them.
Build your brand
Think of your brand as a business's identity. A brand goes beyond your company's name—it's what your business is about and what it means to your customers. It may be the first thing that pops into someone's head when they think about your company.
Your brand identity should help people form a favorable impression of your company. Your company name, logo, website design, and social media presence all factor into establishing your brand.
Here are some things to consider in building your brand:
Identify your target audience
Who are your key customers, and what are they looking for? You'll need to identify the types of people and businesses that would use your service.
Are your customers other businesses, or individuals?
What brands or products are they using that are similar to yours?
What's their demographic and economic information?
Research your competition
A detailed analysis of who your competitors are can help you better understand the marketplace and find ways to set yourself apart from the competition.
What strengths and weaknesses do your competitors have, and how do you compare?
What is their web and social media presence?
How do they promote and market themselves?
What's their pricing structure?
Identify your company's purpose
You might consider a mission statement or a slogan. It could be a short phrase, or one or two sentences that encompass what your business is about. Other items to consider are:
What's the reason for your company's existence, and what do you do?
What problems can your business solve for your customers?
What sets you apart from the competition?
Develop your own voice
Your voice is the tone you set for your company and how it interacts with the world. This affects your website and social media presence, plus all other communications. Your voice needs to fit what your customers expect and how you want them to feel about your business.
Look to your competitors and similar companies to get an idea of the type of voice they use.
You should also consider your target audience and potential customers, to see what kind of tone works best for them. Will they expect you to be formal or informal? Serious or funny? These are all factors to consider.
Hiring the right people
Finding the right team members is especially important in a startup environment, where people may have to fill many roles.
Some of the most important roles to fill will be your software development team. You'll need to find people with the right technical skills, but also the ability to function in a startup environment.
Many startups offer company stock, or stock options, as part of their compensation package. This not only allows you to reduce your salary offerings as you secure financing, but also gives your team an incentive to help you succeed.
Your job listings should emphasize a desire for people with experience developing new products or working at a startup, along with the particular skills you're looking for in each position.
Using contractors and freelancers might work to help get your business started. As with all hires, you'll have to vet them carefully to make sure they are the right fit.
Establishing your company's brand and hiring the right people is crucial to your success.
Testing and marketing
Once you have an idea of what your business will look like and the products it will develop, it's time to start laying the groundwork for how you'll test and market your software. These phases are crucial to the success of your software business.
Testing your software
A thorough testing of your applications is crucial to establishing and maintaining a reputation. Just a few glitches after a product release could have serious consequences for your business.
It's a good idea to have a testing plan in place before your software is complete, so you'll be ready to go and your team will know what to expect. This will require a set of procedures, plus testers working inside and outside your company.
Your quality control team should test every aspect of your software to make sure it works as expected. You might ask a few knowledgeable friends or outside experts to act as potential customers and put your program through its paces.
An initial release, in beta mode, should be restricted to a small group of end-users who can test your programs in real-life scenarios to spot any glitches and make sure they work as intended.
Market your software
Establishing an online presence is an important first step in any marketing strategy, as that's where you can find potential customers.
While your developers are working on your product, your marketing team should be laying the groundwork so that when your software is ready for release, your company will already have potential customers ready to engage—and a marketing plan that's ready to launch.
You might begin promoting your software as soon as it's in beta mode and you have a good idea of what it'll offer, or as soon as you have a launch date for your products.
Protect your business with cybersecurity
Cyberattacks and intellectual property theft are unfortunate parts of the business world, especially for IT startups and software companies. The right legal protections can reduce your risks and protect your bottom line.
Having a good IT security system in place will be crucial to protecting your business, especially with so much business being done in the cloud.
Make sure you take every step necessary to prevent a data breach at your business by making cybersecurity a top priority, with password managers, employee education, and multi-factor authentication.
Protect your intellectual property
While you can't eliminate the risk of someone stealing your ideas and property, there are ways you can make it much easier to defend your rights, and to take legal action if necessary.
These steps can help protect your business:
Copyright your products by registering them with the U.S. Copyright Office. A copyright establishes ownership of a creative work, including computer programs.
Have your employees and contractors sign nondisclosure agreements (NDAs). You might consult with an attorney who specializes in drafting NDAs, to make sure you're fully protected. This is especially important if you outsource work.
Insure your business against common risks
In addition to protecting your legal rights and property, you'll need to protect your own financial security with the right software developer insurance.
General liability insurance is typically the first policy that small business owners buy. It insures you against accidental customer injuries or damage to someone else's property. Many clients will require this coverage before they'll sign a contract with you.
Technology errors and omissions insurance (tech E&O) covers you in case a client accuses you of making a mistake and demands financial compensation. Your E&O coverage would help you with legal costs, including a settlement or judgment.
Cyber liability insurance, which is included in a tech E&O bundle, helps your business recover from a cyberattack or data breach. It also covers costs if a client blames you for failing to prevent a cyberattack or data breach at their business.
Fidelity bonds, also known as employee dishonesty bonds, reimburses your clients if one of your employees commits fraud, theft, or forgery against them. A fidelity bond may be required for some contracts.
Workers' compensation insurance is required in most states for businesses with one or more employees. It covers the medical bills and lost wages for those injured on the job.
Commercial auto insurance is required in most states for businesses that own vehicles.
How to get contracts for your software company
Finding clients for your software company might sound like a difficult task, especially with a new business. However, you can make it easier for yourself by breaking this down into a series of tasks that you tackle one at a time.
Staffing agencies
Leverage staffing companies to start getting your business out there. The staffing agency will often pre-screen you, as well as any potential companies you'd work with to make sure you're a good fit for each other. This also takes any ingenuine or shady businesses out of the equation.
Job boards
Job boards, such as Indeed, UpWork, and Fiverr, will provide you with the opportunity to pick and choose which projects you accept, however this process can be time consuming and you have to screen the companies yourself before accepting the contract.
Networking
Networking will be crucial to spreading the word about your company. Don't be shy about asking friends, former employers, and colleagues to help you spread the word about your business. Your software team will have contacts of their own that they can reach out to.
In-person networking can also be an asset, especially if you start early by attending trade shows, career fairs, and networking events to increase awareness about your company and products.
Promotional events and projects
Encourage your team to participate in hackathons, open-source projects, and other events involving developers where you can promote your brand.
Word of mouth
If any of your beta testers and early customers are willing to vouch for your software, this can also help your company. Consider posting online testimonials and videos and ask these customers to do the same.
Certifications
Even if you're a non-developer and more of an ideas person and entrepreneur, you might consider earning a certification as a software developer. Harvard University offers a free introductory course, "CS50's Introduction to Computer Science," where you can also become certified for a small fee.
Software giants such as Oracle, Microsoft, and Google also offer their own certification programs. Even if you don't write a single line of computer code, having certifications can boost your credibility and may provide networking opportunities.
Get the right insurance with Insureon
At Insureon, we make it easy for tech entrepreneurs to protect their businesses. With our easy online application you can compare insurance quotes from top-rated U.S. carriers. You can also consult with an insurance agent on your business insurance needs. Once you find the right policy for your software company, you can begin coverage and get your certificate of insurance in less than 24 hours.
You may also like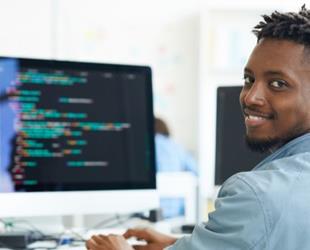 How tech companies can avoid software development risks
You can't eliminate the risks associated with software development, but there are steps your business can take to avoid them.
Go to article
Mike Mosser, Content Specialist
Mike spent several years as a reporter and editor covering politics, crime, and the world financial markets. He's worked for several newspapers, a financial newswire, and a monthly magazine. As a copywriter, Mike has produced SEO-based content, marketing, public relations, and advertising work for a variety of companies.