7 essential skills for freelance web designers
Hone your skills to find success and stand out from competitors with your freelance web design business.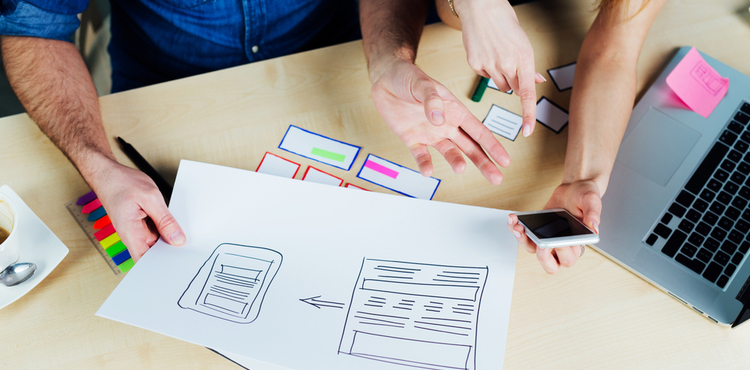 The fact that many organizations depend on their online presence means the people who design their websites are in high demand, and that's not likely to change in the near future.
One of the most in-demand jobs in 2018 was web designer, according to USA Today. The average hourly freelance web design rate in the United States is $27 an hour, but the rate can go as high as $54 an hour, according to ZipRecruiter.
As the owner of a freelance web design business, you and your employees will help your customers design eye-catching, easy-to-use websites. To succeed and grow your web design business, you'll need to be proficient in a number of skills:
Visual design
Your freelance web design business will thrive if you have advanced visual design skills. Using visual design principles, you can enhance the look and feel of a website. The most common visual design tools are typography, grid systems, type hierarchy, color psychology, web fonts, and color palettes.
HTML (HyperText Markup Language)
HTML is a basic markup language that's used to put content on a web page and give it structure. Using HTML enables you to format text into headlines, paragraphs, and footers. It also lets you place additional content, such as photos, videos, and graphics, on a website. If you do professional work on a website, having a solid understanding of HTML is important because it can help you read, edit, and solve problems more easily. Depending on the work your web design business does, you may need more advanced HTML skills.
CSS (Cascading Style Sheets)
Cascading Style Sheets are used to format the layout of web pages. While HTML determines the structure of a site, CSS handles its visual appearance. It improves how a web page displays text and other content. You can use CSS to change the fonts, adjust the colors, add a compelling background, and create a uniform look across several pages of a website.
JavaScript
Although you can code designs using only HTML and CSS, you'll gain an edge on the competition if you can program using JavaScript. With JavaScript, you can make static elements on a site interactive. Examples include image sliders, Twitter feeds that automatically update, and sites that look different when you're logged in.
UX (user experience)
Understanding UX (user experience) best practices will help you create your designs from the perspective of the user. The user experience is determined by factors like the content, navigation, colors, and calls to action. By increasing the usability and accessibility of a page, the user can easily find the information they are looking for – as well as the information your clients want them to find on their websites.
Responsive design
Today, most users view, read, and interact with web pages on tablets, smartphones, and other mobile devices. Consequently, you should understand responsive web design, an approach to design that allows web pages to render correctly on different devices and screen sizes.
SEO (search engine optimization)
As a web designer, you should understand the basics of SEO, which is the process of increasing the visibility of a web page or website to users of a search engine. Many factors affect how a website is ranked in a search engine, including its download speed, the content of the site, and if it is mobile-friendly. When you design a website, you should pay attention to these factors to make it more attractive to search engines and easier for users to find.
Selecting the right insurance
Whether you run a freelance web design business out of a home office or you operate a firm of web designers, you face risks as soon as you start working for clients, including liabilities related to your work, data theft, and copyright infringement.
The right insurance can help protect your business. Cyber liability insurance for web designers, for example, protects your company against expenses related to theft or loss of data, as well as security or privacy breaches. Technology errors and omissions insurance can help cover claims of negligence in your professional work, and general liability insurance can protect you against third-party claims, including copyright infringement.
Compare quotes from trusted carriers with Insureon
Complete Insureon's easy online application today to compare insurance quotes from top-rated U.S. carriers. Once you find the right policy for your web design business, you can begin coverage in less than 24 hours.