How to start a successful landscaping business from the ground up
To set your landscaping business up for success, you need to size up the competition, find your niche, set a budget, and more.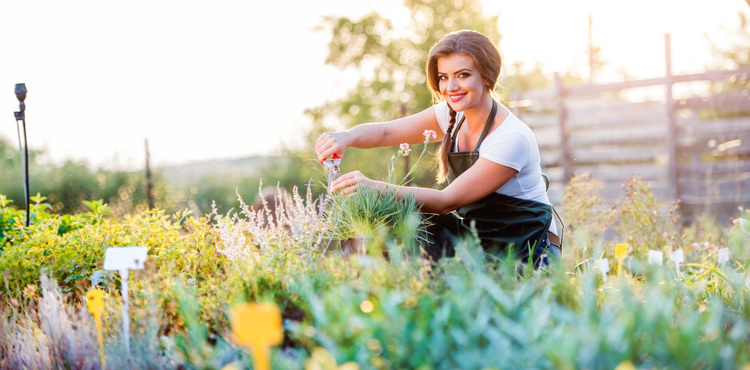 If you're thinking of starting a landscaping business, you probably have a green thumb and a love of the outdoors.
But building a successful landscaping, lawn care, or irrigation business takes more than just talent and motivation. Before you jump in with both feet, you need to ask yourself:
What services will I offer?
How will I finance my business?
How will my business be structured?
Do I have the right equipment?
Who are my customers?
What licenses and certifications do I need?
Will I need an office?
How will I grow my business?
The following steps can help you answer these questions and turn your passion into profits.
Learn your market and select your services
The first step to building a successful landscaping business is understanding your local market.
Learn who your competitors are and find out what customers in your area are looking for. Then use this knowledge to determine which lawn care services you'll offer.
Research your competitors' offerings and prices. Identify any service gaps in the local market that you could fill.
You might also survey homeowners and businesses about their current or anticipated landscaping and lawn care needs. One way to encourage responses is to offer discounts on future services.
You can provide many landscaping and lawn care services, including:
Lawn mowing and maintenance
Spring and fall cleanups
Gardening, design, and architecture
Tree and shrub pruning and removal
Irrigation
Fertilizing
Edging
Mulching
As you narrow down your offerings, you also need to know who you're selling to.
A market analysis can help you identify potential customers. Do you want to connect with homeowners for residential landscaping? Or are you looking for business clients, such as office park operators or large businesses with "campus-style" offices?
Figure out your target market, and then look at the demographics in your area. For instance, 10,000 baby boomers reach retirement age every day. And after a lifetime of hard work, they're often tired of pulling weeds or mowing lawns.
This information will help you narrow your focus and develop your immediate and long-term marketing plans.
Consider certifications and education
Depending on the services you're offering, a degree or certification could help attract customers.
For instance, customers typically expect landscape architects to have a degree in landscaping.
Most other landscaping or lawn care services don't benefit from academic credentials. But you will need to show a good working knowledge of the grasses, flowers, plants, shrubs, and trees in your area.
To set yourself apart from the competition, you could also obtain a certification. The National Association of Landscape Professionals offers landscape certification options for:
Contractors
Horticulturists
Interior / exterior technicians
Lawn care managers
Lawn care technicians
Other landscape pros
The Environmental Protection Agency (EPA) provides several certification programs for landscape irrigation professionals, including irrigation system design and system installation and maintenance.
Once you decide which services you'll provide, a relevant certification can help you attract new customers.
Choose your business structure
As you start your lawn care or landscaping business, you'll need to choose your business structure. Most small businesses opt for one of these three options:
Sole proprietorship
A sole proprietorship is a business owned by a single person who's responsible for all of the business's debts, taxes, and legal liabilities. It's also the easiest and least expensive type of business to start. But like any business structure, it does come with risks.
With a sole proprietorship, business assets and liabilities aren't separated from personal assets and liabilities. That means you could be held personally liable for the debts and obligations of your business.
But a sole proprietorship is a great option for owners of low-risk businesses or those who want to test the waters before formalizing their business structure.
Partnership
A partnership is the best structure for two or more people coming together to form a business. The two types of partnerships are limited partnerships (LP) and limited liability partnerships (LLPs).
LPs have one general partner with unlimited liability. All other partners have limited liability and limited control over the company. In an LP, the general partner is responsible for day-to-day management. Limited partners, sometimes called "silent partners," may simply be investors.
LLPs give each partner the same limited liability. This means that they can't be held responsible for the actions of the other partner or partners.
Limited liability company (LLC)
To take advantage of the benefits of both the corporation and partnership structures, you may consider a limited liability company, or LLC. An LLC delivers the structural simplicity of a sole proprietorship and the liability protection of a corporation.
LLC owners file a simple tax return and pay taxes at the personal income tax rate. But their personal assets are usually protected from business liability risks like lawsuits or bankruptcy.
Get your business license
While you don't need special industry licenses to start a landscaping company, most states require a business license. Some cities and counties have their own separate licenses.
Getting a landscaping business license is usually a simple process. But you could be turned down if you have a criminal record, fail to pay taxes, violate zoning laws, or fill out the paperwork incorrectly.
Contact your county clerk's office to learn which licenses you need and any potential restrictions.
If you plan on transporting plants or other greenery across state lines for your landscaping business, you may need a federal license or permit. If your business may have customers in multiple states, check with the U.S. Department of Agriculture about any specific requirements.
Open a business bank account and credit card
Setting up a business bank account is another important step. Even if you're operating as a sole proprietor, a business bank account is a good idea. It keeps your personal and business expenses separate and makes bookkeeping and tax filing easier.
Starting an account at a brick-and-mortar bank is a good idea if you accept cash for your services. Large banks offer the convenience of many branch locations, while a local bank keeps your money in the local economy.
There are also a number of benefits if you choose online banking. Online banks typically have lower fees and less paperwork.
A business credit card can also help separate personal and business expenses. These cards typically offer better terms and higher limits than personal cards. And they have the added benefit of perks like rewards points and cash-back offers.
Consider your current needs as well as what you might need in the future. With a little research, you can find the best checking account and credit card options for your business.
Budget your time and money
The long-term success of your business depends on solid financial management. When setting your landscaping company's budget, consider a few factors:
Startup costs and pricing
Begin by estimating your initial business expenses. These should include the costs of:
Renting or purchasing equipment
Advertising your services
Hiring employees
Registering your company
Decide what you'll charge for your services. Many landscaping and lawn care companies set prices by the square foot of land they service, while some charge hourly rates. Call a few competing landscaping services and ask for an estimate to help inform your pricing strategy.
But don't fall into the trap of undervaluing your services because a competitor is offering them dirt cheap. Landscaping business owners ranked low-ball competitors among their top concerns in Lawn & Landscape's 2019 "State of the Industry" report.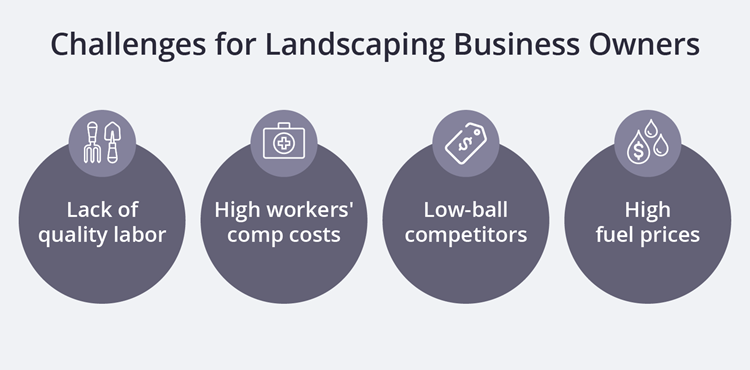 Equipment maintenance costs
Without functioning equipment, you'll soon be out of business. You need to budget for the costs of maintaining, repairing, and purchasing equipment.
While contractor's tools and equipment insurance can cover some of your costs, from time to time you will need to replace worn-out equipment. And as you grow, you'll need more equipment.
Plan for the off-season
In some parts of the country, landscaping and lawn care aren't a year-round business.
If your business is forced to shut down in the winter, you'll need to save and set aside money to last through the off-season.
Many landscaping companies provide snow plowing and removal services during the winter months to help with year-round cash flow. You may also try to pick up indoor landscaping jobs like maintaining plants in office buildings or apartment complexes to provide a consistent stream of income.
The off-season is also a great opportunity to catch up on things you didn't have much time for during the busy season. You could research new clients, explore marketing options, or work on a professional certification.
Taxes, insurance, and other expenses
Be sure to calculate yearly business expenses and liabilities, including taxes, business license renewals, and so on.
Depending on the nature of your business, you may need landscaping business insurance policies to protect your business. At a minimum, budget for general liability insurance premiums. This coverage pays for damages if you injure a third party or damage someone else's property.
You may also need commercial auto insurance to cover company-owned vehicles, workers' compensation insurance if you have employees, and hired and non-owned auto (HNOA) insurance for personal vehicles driven for business.
Time
Time is money, so budget it accordingly. Devote a portion of your time to keeping your business running smoothly.
You also need to set aside time for marketing efforts. And don't forget to account for the time you'll spend scheduling and confirming appointments, traveling, and reviewing your finances.
Protect your business with landscaping insurance
Renting, buying, and insuring your equipment
You need to decide early on if you'll rent or buy equipment, or a combination of the two. If you're starting out as a one-person operation, renting equipment may be the cheaper option. And that can help you manage start-up costs.
But as your business grows, buying equipment may be less expensive. Be sure you track your rental costs to see when owning makes more financial sense.
Depending on the services you offer, you may need:
Trucks and trailers
Commercial-grade lawn mowers
Edgers and weed-eaters
Rototillers
Specialized tools
Include the costs of maintenance and repairs for all of these items. And you need the right insurance to protect your vehicles and equipment from loss or damage.
Insuring equipment and vehicles
Contractor's tools and equipment insurance protects equipment such as lawn mowers, leaf blowers, and hand tools. This coverage will reimburse you for lost, stolen, or damaged equipment that is less than five years old. It includes protection for items in transit.
You might travel to job sites in your personal vehicle, especially as you start out. But your personal auto insurance policy may not pay for accident damages that happen when driving for work. You may need to consider hired and non-owned auto insurance. Be sure you review your personal auto policy and discuss your coverage with your agent.
As your business grows, you may purchase vehicles titled to your company for your use and that of your employees. In that case, you'll need to carry commercial auto insurance to cover any losses from accidents in company-owned vehicles.
Market your business
You can help get your business off the ground with advertising and marketing aimed at your target audience.
Landscaping companies will probably want to blend digital and traditional marketing efforts when seeking new business. A comprehensive marketing strategy includes:
Online marketing
Many prospective clients will find your business on the internet, so it's ideal to have at least a basic website. If you don't have the budget to hire a professional web developer, you can try creating one yourself with inexpensive tools like Wix, Squarespace, or WordPress.
Social media business pages at Facebook and LinkedIn can help reach potential customers, and make it easy for people to contact you. You can also generate business by creating profiles at online marketplaces such as TaskRabbit.
Physical advertising
Flyers and brochures have long been effective marketing tools for lawn care services. Physical advertising is also relatively inexpensive and can help build name recognition as you start out.
Customer referrals
For any business, one of the best ways to get new customers is word-of-mouth referrals.
Ask your clients if they know of anyone else who needs landscaping services. Encourage existing customers to recommend your business by offering discounted services if a referral becomes a client.
Decide if you need an office or additional storage
Lawn care and landscaping businesses mainly work on-site with clients and store their equipment at home. That's why an office isn't always necessary.
Not all equipment can be stored in your garage or shed, though. Or you may grow big enough that you require employees to handle administrative, marketing, finance, or other operations.
If you purchase or rent property for storage or office staff, you'll need commercial property insurance to protect against theft or property damage. This coverage is usually required by mortgage lenders and landlords.
Hire employees and promote a culture of safety
As your business grows, you'll likely need to hire employees. And landscaping business owners report that their biggest challenge is a shortage of quality labor.
You can try to minimize the costs of having to find and train new employees by offering competitive wages and benefits to increase employee retention.
The landscaping and lawn care industries also carry more physical risks than others. That's why you need to promote best safety practices and hold training programs to lower your risks. The U.S. Occupational Safety and Health Administration (OSHA) provides resources for identifying landscape industry risks and developing safety programs.
No matter how safe your landscaping business is, employee injuries can happen on any job.
This is why most states require businesses with employees to carry workers' compensation insurance. This coverage pays medical bills and lost wages for employees injured on the job. Workers' comp insurance also covers your business's legal defense and settlements if an injured employee sues.
Starting your own landscaping business may come with challenges, but it is a labor of love for most owners. Doing it the right way from the start will pay off in the long run and help keep your company thriving and profitable.
Complete Insureon's easy online application today to compare quotes for business insurance from top-rated U.S. carriers. Once you find the right policy for your small business, you can begin coverage in less than 24 hours.