How to become a software developer
Becoming a successful software developer requires finding your own niche and undergoing the proper training.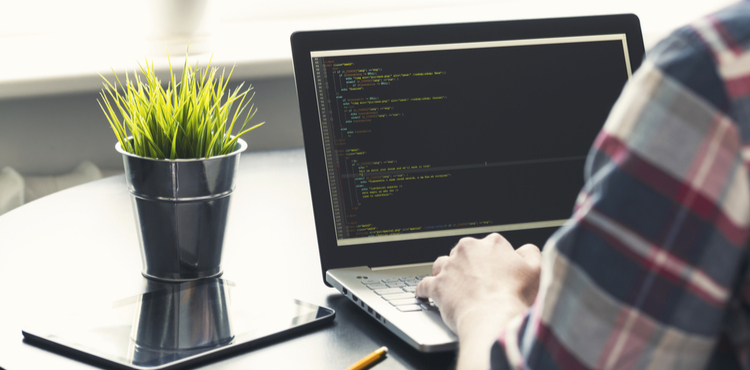 Thanks to strong demand and robust pay, there's no shortage of people who are eager to start a software development business. But the road to becoming a developer is not easy.
It takes more than enthusiasm and a bit of technical know-how. You'll need to find a niche and undergo a certain amount of software developer training before you can successfully launch your business.
Use this checklist to become a software developer with or without a degree, and learn how to protect your new business with the correct software developer insurance.
1. Find your niche
As a software developer, you'll need to decide what kinds of projects you'll be working on and your area of specialty. To stand out from the competition, it's better to have a particular area of expertise rather than be a generalist. If you're not sure what your area of expertise should be, first ask yourself what you enjoy doing the most. Are you interested in web applications? Do you like building sales landing pages?
Once you've determined your primary interests, then you'll need to research the kinds of clients you'll be focusing on. Do you prefer small projects, or would you rather work for a large corporate client? Sometimes you can get more hands-on experience with a smaller project. But a large company will inevitably have a bigger budget, which means you may end up having stronger backing for a project and potentially more room for experimentation.
2. Learn the fundamentals
It's not necessary to know every programming language – that would be impossible. But you'll need to start out by learning the fundamentals, such as HTML, JavaScript, and CSS, which will give you a basic understanding of how web pages are built.
Once you have an understanding of those core foundations and how they function, you'll be able to more easily transition to programming languages like Ruby and Python. Keep in mind that not every client is going to require knowledge of the same languages, so it's more important to be versatile and willing to quickly learn.
3. Get certified
Thanks to the proliferation of coding "boot camps" and other resources, you no longer need a degree in computer science to become a software developer. But if you want to stay competitive, it's a good idea to earn certification to demonstrate you have some degree of knowledge.
You can sign up for introductory courses, such as Harvard's CS50 – it starts off free but gives you an option for certification for a small fee. You can take courses from tech giants Oracle, Microsoft, and Google, which offer a variety of certifications.
4. Build your portfolio
Certification might help you stand out from the competition, but most clients are looking primarily for professional experience. The best way to show off your experience is to build software and make it available online, thereby expanding your portfolio.
Participate in open source projects, and seek feedback on any projects you've created. Even fun side projects, such as building a game app, can highlight your skills and add to your portfolio.
5. Network both online and offline
To get your career off the ground and maintain a steady supply of clients, you'll need to build your network. Tap into your existing connections first – friends of friends and companies you've worked for in the past, for instance. But also use online platforms such as LinkedIn and Facebook to connect with professionals who aren't in your immediate sphere.
While taking advantage of social networks is essential, keep in mind that face-to-face interactions are more likely to help you score your next job offer. Research events in your area that will give you more exposure and help you forge new connections.
Hackathons and meetups are easy ways to connect with others who share your interests and with companies that are seeking your skills. Career fairs and volunteer events are also excellent opportunities to connect with your target audience.
6. Protect your business with tech insurance
If you're an independent contractor or manage your own small IT business, you'll want to have adequate software developer insurance in place to protect your equipment and your business. General liability insurance is typically the first policy that small business owners purchase. It covers customer injuries or damages to someone's property at your place of business, whether that's at your home office or a rented space. Many clients require you to have this policy in place before signing a contract.
It's also important to protect yourself from coding errors that could negatively impact your clients. Technology errors and omissions (e&o) insurance provides coverage when a client accuses you of making a mistake and seeks financial compensation. Cyber liability insurance can typically be added to this policy to protect your business if a client sues your company after a data breach.
For example, if a glitch in the software you've developed results in data loss or exposes sensitive information, your client could sue you for the resulting financial damage. Tech e&o insurance helps cover the costs associated with a claim, including attorney's fees, court costs, and settlements.
Compare quotes from trusted carriers with Insureon
Complete Insureon's easy online application today to compare insurance quotes from top-rated U.S. carriers. Once you find the right policy for your tech business, you can begin coverage in less than 24 hours.