What to do after an employee is injured at work
It's critical for business owners to know how to handle employee injury incidents correctly. Otherwise the employer may be fined or penalized for breaking the law.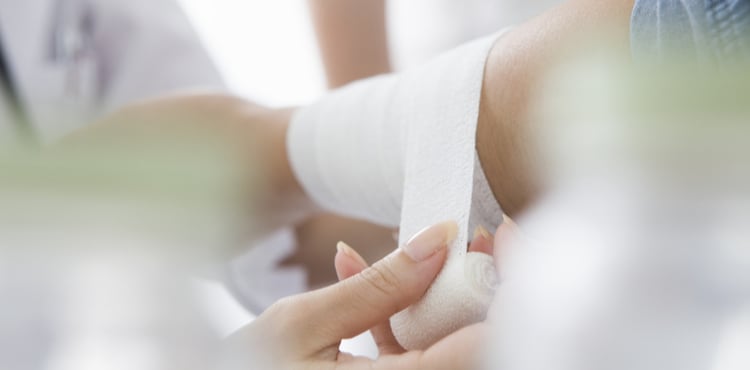 It's another routine workday, but then the unexpected happens. An employee is injured at work. Do you know how to help your worker and protect your business amid the chaos?
This isn't a trick question. According to a survey of 3,000 small business owners, more than 16% had an employee injury in 2018. While you probably have workers' compensation insurance to cover the costs, you still need to handle these incidents right. If you don't, you may get fined or penalized for breaking the law.
Let's look at what to do before an employee injury ever takes place and how to handle the aftermath of a work injury.
What to do before an employee injury
Some of the most important steps you can take to protect your business and your employees happen long before an accident. It's important to consider how to prevent workplace injuries before they occur and steps you can take to reduce risks for your employees and your business.
Getting workers' compensation, which is required by law in most states, is an action that most business owners take before they hire their first employee. Without it, you would have to potentially pay for employee injuries out of pocket and you could be held personally liable in court.
Terese Connolly, an employment labor and law partner with Culhane Meadows PLLC, says small business owners should also have policies and procedures in place so the people responsible for responding to an accident know what to do.
"One thing I like to give my clients is an investigation checklist," Connolly says. "If you don't have a list, things can get skipped."
You also want to have the appropriate forms on hand. Connolly says these may include:
Medical treatment consent forms
A return-to-work release form that is completed by a physician
The employee's job description
Your company's light duty policies
A light duty policy explains your plan for dealing with a workplace injury that limits an employee's ability to do their job. Alden Byrd, litigation attorney with the Washington Law Center, says employers should try their best to accommodate injured workers with light duty work while they are recovering.
"This will help maintain that employment relationship until the worker is fully recovered," he says.
Finally, Connolly recommends being vigilant about employee training.
"Get your policies and procedures in place and train, train, train," Connolly says. "That will alleviate some risk because it puts safety on the top of people's brain."
If an accident does happen, consider taking the following steps for responding to an employee injury.
Step 1: Help your employee get medical care
Despite your best efforts, a workplace injury can still happen. When it does, Connolly says the first thing you want to do is to assess the injury and get your employee medical attention.
However, an employee injury might take place when you're not around. In that case, Alexander Shunnarah, owner of Alexander Shunnarah Personal Injury Attorneys, PC, says, "It is the responsibility of an employee to notify their employer, HR department, etc. of an injury obtained on the job."
Once your injured employee is under the care of a physician, it's a good idea to follow up. Shunnarah says that as a small business owner, he always wants to have his employee's best interest at heart. Monitoring your employee's recovery and claim is one way to do that.
Step 2: Investigate the accident
Whether an employee notifies you of a workplace injury or you're on site when it happens, Shunnarah says employers have a duty to investigate the incident. In some circumstances, he says that may mean getting written accounts from the injured employee and any witnesses.
Firsthand information from all witnesses can be invaluable to figuring out what happened. "Everybody's view is different," Connolly says. "If a ladder is falling on me, I may not remember I kicked a bucket right before it happened."
Additionally, Connolly recommends taking photos at the scene of the incident. You may find wet floors or misplaced equipment that contributed to the accident.
Perhaps most importantly, Connolly says you should investigate the accident even if there is no resulting injury. You can use the information to see if your safety processes are sufficient and improve them where they fall short. And if you do take actions to fix unsafe conditions, she reminds you to "document, document, document."
Step 3: File the claim
The final step is to file a workers' compensation claim. Shunnarah says your insurance company should guide you through every step of the process to correctly file and document the claim.
Whatever you do, don't try to avoid filing a claim by offering to pay your injured worker's medical bill directly.
"It's difficult to know if an injury is going to turn out to be something much more serious than you'd expect," Byrd says. He says the best way to protect your rights and your employee's is by filing a claim – even if the injury appears to be minor.
For more insight on the claims process, read "What is the workers' compensation claims process?"
Compare quotes from trusted carriers with Insureon
Complete Insureon's easy online application today to compare quotes for workers' compensation and other types of insurance from top-rated U.S. carriers. Once you find the right policy for your small business, you can begin coverage in less than 24 hours.