Risk management tips for child daycare center owners
If you're looking to start a daycare center, the right insurance can protect your business and keep it compliant with state and local regulations.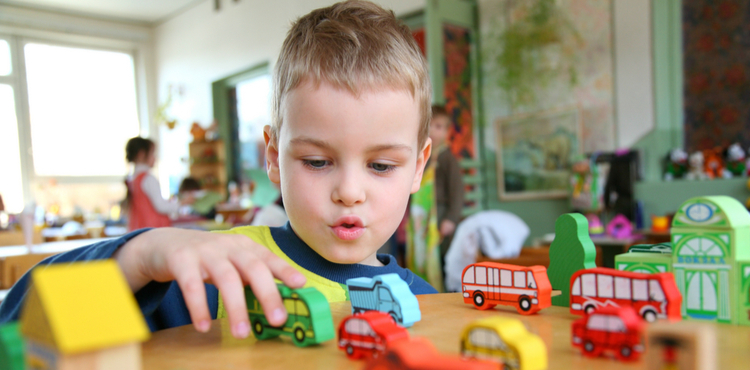 Owners of child daycare centers often have to adhere to strict regulatory guidelines designed to protect the health and safety of the children who attend these facilities. Before you open your own daycare center, it's important to consider the many regulatory requirements you'll need to meet in order to comply with state and local guidelines.
Adhere to state and local daycare regulations
Licenses and permits
Licenses for running daycare centers are regulated at the state level. Requirements and licensing policies vary from one state to another, and many are highly specialized: depending on where you live, you may have to have age-specific licenses for the children you serve. Be diligent about securing the licenses you need; without proper paperwork, you likely won't be able to secure liability insurance for your daycare center.
Staffing issues
Most states require daycare center staff members to have at least some specialized training. Many states also limit the ratio of children to staff members, meaning that you'll have to coordinate your employee list with the number of children who enroll in your center. As with licensing requirements, staffing guidelines are a key component that insurance companies analyze when writing coverage policies for daycare centers.
Building safety
Depending on where you plan to operate your daycare center, you may have to choose a building with specific safety features, which can range from covers for outlets to bolsters for furniture to non-toxic building and decorating materials. In addition to housing your daycare in a building that meets specific safety standards, you may be required to purchase furniture designed for the age group you plan to serve.
Health and sickness policies
Preventing the spread of sickness in daycare centers is a key risk management consideration. Anyone who plans to run a daycare center should have policies in place for when parents should keep their children home, how instructors should handle illness or injury, and how instructors will keep the daycare facility clean.
Crisis management
Owners of child daycare centers, like owners of any business, should establish a plan for managing various crisis situations, including fires, floods, power failure, and injury. Educating staff about these plans will help ensure that damage is minimized in the event of a crisis.
Protect your child daycare center business
Whether you choose to run a daycare center as a for-profit or not-for-profit enterprise, you can protect your business in part by investing in appropriate business insurance policies. (Read more about insurance for nonprofit organizations on our business insurance for nonprofits page.) Typically, daycare center owners can expect to purchase a range of insurance policies.
This coverage shields you against personal injuries and damage to the property of third parties (including the children you serve).
This coverage protects you against charges that the curriculum you teach isn't adequate or is harming your children. Some policies provide full coverage of the legal cost of defending yourself against such charges.
Specialized abuse coverage
This daycare-specific coverage protects you and your staff against allegations that you mistreated the children in your care.
This provides protection for your business premises and the toys, tools, and equipment you use to do your job.
Some insurance carriers offer all of these policies bundled together, which makes purchasing adequate coverage more efficient.
Compare quotes from trusted carriers with Insureon
Complete Insureon's easy online application today to compare insurance quotes from top-rated U.S. carriers. Once you find the right policy for your small business, you can begin coverage in less than 24 hours.