Nearly half of small businesses don't provide sexual harassment training
An Insureon poll of small businesses revealed common practices regarding sexual harassment training, prevalence, and response.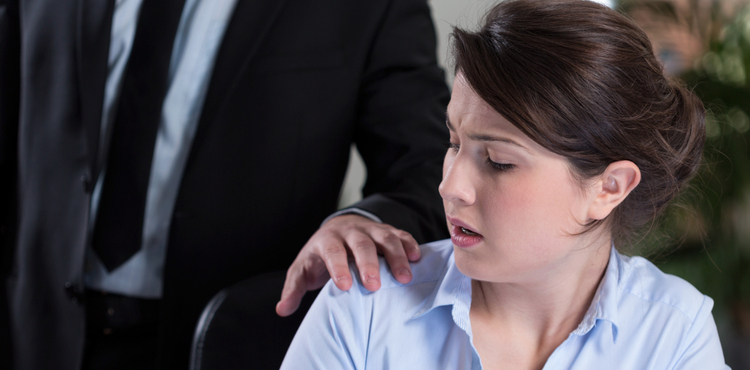 A recent poll revealed that most small businesses have policies in place to address sexual harassment. However, nearly half of 1,600 small business owners surveyed don't provide sexual harassment training to their staff.
An Insureon poll of businesses registered with Manta, a leading online directory, surveyed more than 1,600 small business owners to learn more about sexual harassment training, reporting, and risk management. We also asked whether they have small business insurance that can help pay for legal costs related to sexual harassment lawsuits.
When asked if they have formal policies in place to protect employees from sexual harassment, 75% of respondents said that they do. Forty-seven percent of small business owners reported that they don't provide formal sexual harassment training to their staff.
While 95% of small business owners reported they have not received complaints of sexual misconduct at their company, 76% of those who did receive complaints said sexual harassment claims at their business have increased in the past 12 months.
Survey summary results:
95% of respondents have not received a complaint of sexual harassment.
75% of respondents have formal rules in place to protect employees from sexual harassment.
53% of respondents provide some type of sexual harassment training or education:
The poll margin of error is +/- 2.43 percentage points.
Sexual harassment risk management
To prevent sexual harassment lawsuits, business owners can take a few basic steps to protect their employees and manage business risks, starting with creating a formal sexual harassment policy. Consider including:
An overview of what constitutes sexual harassment
A statement that sexual harassment of any kind will not be tolerated
The steps employees should take if they need to file a complaint
Reassurances that anyone reporting harassment will not face retaliation
An overview of the investigative procedure for complaints, including the disciplinary actions perpetrators might face
Review the policy with all employees, and encourage them to ask questions. For tips on how to handle a sexual harassment complaint, read "Tips for responding to sexual harassment complaints at your small business."
Our survey found that 53% of small business owners provide some type of sexual harassment training, but that means 47% don't. Mandatory sexual harassment training can help reduce the chances of an incident occurring at your business. Consider training new hires, as well as training all employees annually.
Employment practices liability insurance (EPLI) can also help your business manage sexual harassment risk. This policy can cover lawsuit expenses related to claims of harassment, discrimination, and wrongful termination. The average EPLI lawsuit settlement is $160,000. Without EPLI, your business would be forced to pay those costs on its own.
Finally, lead by example. Let employees know that you will not tolerate harassment of any kind, and take immediate action if any incidents are reported. Employees are less likely to engage in behavior that can cost them their job.
The cost of sexual harassment in the workplace
The spike in sexual harassment claims reported by some of our respondents over the past year tracks with national trends. The hot-button issue has touched nearly every corner of the professional sphere in recent months, from high-profile Hollywood scandals to small local restaurants, schools and healthcare facilities.
Sexual harassment lawsuits are costly for business owners – even if they are settled out of court. If a jury believes a business owner was aware sexual harassment occurred but failed to take appropriate action, it could award punitive damages to the victim.
Federal law places limits on punitive damages based on the number of employees. For small businesses with 15 to 100 employees, the limit is $50,000. However, state laws can have different caps on punitive damages – and some may not have caps at all. If the employee lost their job because of harassment, business owners could also be liable for back pay and the employee's legal expenses.
A significant sexual harassment settlement has the potential to bankrupt a small business, especially in a state with no cap on punitive damages. That's one more reason to invest in sexual harassment training and the appropriate business insurance.
Compare quotes from trusted carriers with Insureon
Complete Insureon's easy online application today to compare quotes for employment practices liability and other types of insurance from top-rated U.S. carriers. Once you find the right policy for your small business, you can begin coverage in less than 24 hours.