Time for an insurance inventory for your business?
Are you sure your business's assets are properly insured? If you have to guess, maybe it's time to make an insurance inventory for your items.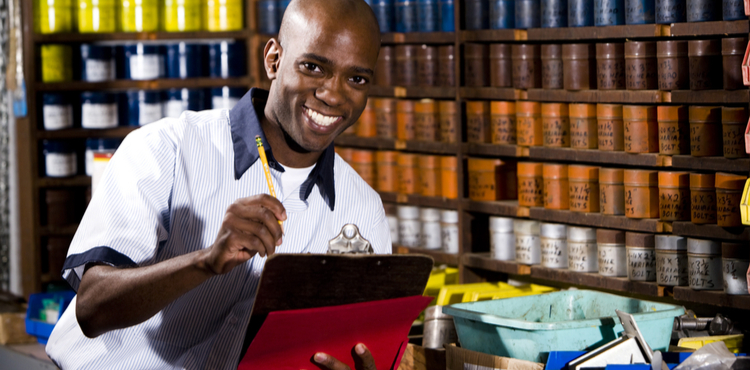 Let's do a quick experiment. Close your eyes. Now, name your small business's valuable assets out loud. No peeking!
How did you do? You probably remembered the big things – your physical office building, if you own it. Your home office if you run a home-based business. Maybe your computers, tablets, and specialty gear (e.g., that fancy DSLR camera, your cash register, or your restaurant's culinary equipment).
But what you may notice is just how much you left out. This is the folly of relying only on your memory to recount your business's worldly possessions. And if you don't keep a thorough record of your small business's assets, you're going to have a difficult time if your property is ever lost, damaged, or stolen.
That's why insurers always advise that you take careful inventory of your stuff before you purchase commercial property insurance. You want to be sure your major assets can quickly be replaced or repaired on your policy's dime if they're damaged in a covered event (fire, theft, vandalism, and some weather events). And that's why taking an insurance inventory of your business's property is essential. It ensures:
You don't accidentally leave yourself uninsured by forgetting to account for key assets
The claims process goes as smoothly and quickly as possible
You keep track of your business's physical investments
So how do you take inventory, anyway? Let's review.
How to make an insurance inventory: A list so nice, you'll check it twice
An insurance inventory is pretty straightforward: it's simply a detailed list of all the physical assets your business relies on to operate. The devil is really in the details here. For example, on first pass, you might overlook your business's:
Furniture
Fixtures
Signage
Security cameras
Commercial-grade routers
But in the event of a fire, those are also items you want your property policy to be able to replace or repair. (Note: if your business owns vehicles, your property insurance can't cover them. You'll need commercial auto insurance for that.)
The goal here is to be thorough. Perhaps the most efficient way to go about it is to walk through your business slowly and take pictures of everything. You'll also want to take notes because a solid inventory lists:
Item descriptions
Serial numbers
Purchase dates
Estimated values
Though taking pictures and digital notes is a perfectly acceptable way to document your assets, don't feel limited. You can also write everything down longhand, make a spreadsheet, or use an inventory app.Remember to be thorough.
Leave no stone unturned
Walk through your place of business a few times to double check that you've listed everything.
Consider organizing your list by the room
Making a list of the inventory in your lobby, office, kitchen, etc. will make it easier to quickly update your inventory if you need to.
Make copies
If you use photos and digital notes, upload your inventory to the cloud and back it up on a thumb drive, too. If you take written notes, make several hard copies plus a digital copy. Be sure to store your thumb drive and paper copies in a secure location away from the office so they're not destroyed in the same disaster that necessitates their use.
Save your receipts for business items
This way, you have proof of the item's value. Also, it can make filing taxes and taking business deductions much easier for your small business.
Even if you already have small business property insurance, you can always adjust your coverage to account for assets you previously overlooked or newly acquired. For more on that, read this commercial insurance renewal checklist.
Compare quotes from trusted carriers with Insureon
Complete Insureon's easy online application today to compare insurance quotes from top-rated U.S. carriers. Once you find the right policy for your small business, you can begin coverage in less than 24 hours.