Small business insurance and car accidents: Are you covered?
You may not be covered by your personal auto insurance when you are using your car on the job.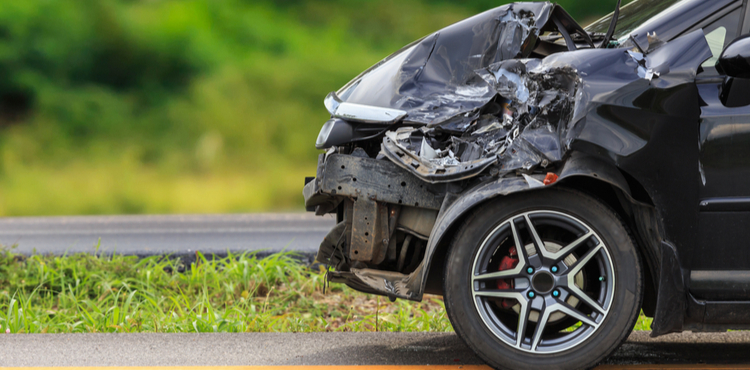 Small business insurance provider The Hartford noted in a 2015 report that work-related vehicle claims cost a whopping $45,000 each. While these claims are relatively rare, accounting for less than 5% of all small business insurance claims The Hartford processes, they're still frequent enough to warrant a policy review for any business owner who uses a car on the job or lets their employees do so.
Small business auto insurance vs. personal auto insurance
Whether you're driving for Uber, ferrying yourself from various clients' offices for meetings and consultations, shipping and delivering packages, or renting an occasional vehicle on a business trip, you may be exposed to vehicle claims.
Here's the thing many business owners don't realize: personal auto insurance policies often exclude claims that happen while a driver is acting in a work capacity. So if one of your employees is driving to a client's office to deliver a presentation and gets into an accident, their personal auto policy may not cover the damages.
The good news is that there are two business insurance policies that may be able to fill the coverage gap:
Hired and non-owned auto insurance can cover damages that happen in a vehicle not owned by the business but used for business purposes. If you or your team use their personal vehicles for work-related errands, adding a hired and non-owned auto policy to your business insurance coverage may fill any gaps.
Commercial auto insurance can cover damages that happen in cars owned by the business.
If you're not sure about the current state of your auto insurance, check with your insurance agent to make sure you and your team are covered.
Minimizing the risk of vehicle-related accidents and expenses
Of course, even if you have the right business insurance policy, it's better to avoid making a claim if at all possible. Putting safety first means your employees (and your finances) stay out of harm's way. As a business owner, it's up to you to set the tone of safety for your team.
"Business owners should help to make it easier for the employees to do their job while driving," says Scott Marshall, driving safety instructor and owner of The Safe Driver blog.
One way you can do that is to not bother employees with phone calls and texts while they're driving for work. "Promote having their seating compartment free from distractions," Marshall says. "Perhaps even reward it."
Other safety-first best practices include the following:
Develop a company policy that outlines what "safe driving" means. Include rewards and potential disciplinary actions.
Before letting employees drive for work, check their driving records.
Make safety information readily available: training programs, workshops, and seminars on road safety.
If you're buying or leasing a company vehicle, always research its safety record first.
Remember: car accidents are costly but often preventable! Taking the time to build a safer workplace can keep you, your employees, and your bottom line in the best shape possible.
Compare quotes from trusted carriers with Insureon
Complete Insureon's easy online application today to compare quotes for commercial auto and other types of insurance from top-rated U.S. carriers. Once you find the right policy for your small business, you can begin coverage in less than 24 hours.