How to hire employees for your small business
Hiring the right employee can accelerate growth and meet the increasing demands of your small business.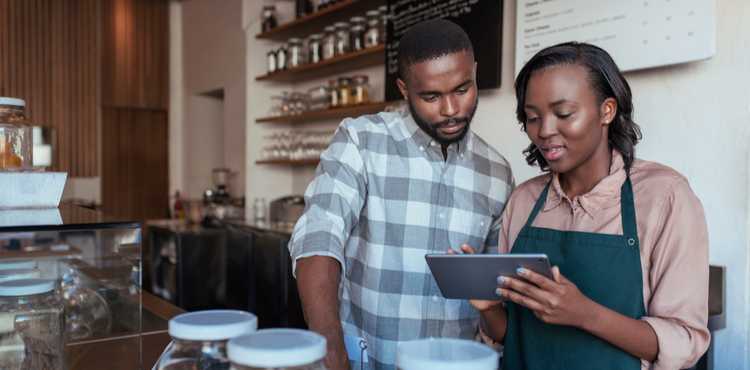 Hiring an employee is one of the biggest decisions you'll make as a small business owner. Adding the right person to your team can help you meet business demands and accelerate growth. On the other hand, the hiring process takes resources away from other business-related tasks, and it can take months to recover from hiring the wrong employee.
It's important to pay close attention to each step of the hiring process to make sure you hire your ideal candidate, meet legal requirements, and protect your business from risk with the right small business insurance policies.
What are the steps for hiring?
Identify the need and create a specific job description. The first step in the hiring process is determining the job duties for the new employee. Whether you are filling an existing position or creating a new role on your team, write a job description with as much detail as possible.
Determine where to share your job description with potential employees. Not every job listing site is the best fit for your opening. Choose a job listing site based on the type of position you're looking to fill. If your business is small and hyperlocal, sometimes advertising in local publications or Craigslist is the best way to find the right candidate. Several other job boards allow business owners to cast a wider net or target specific areas of expertise, such as tech (AngelList) or professionals (LinkedIn, Indeed).
Establish a process for vetting applicants. Sometimes you can tell just by reviewing an applicant's resume that the person is not the right fit for your business. If that happens, it's a common business practice to send a brief thank you note that notifies the applicant of your decision.
If you are interested in several candidates, ask yourself a set of questions that can help narrow the pool
Does this person have the minimum skill set and qualifications for the job? This might include previous experience, certifications, training, and knowledge of business-related equipment and software.
Does the resume demonstrate specific qualities that would be helpful or necessary? Review each resume to see if the applicant's previous jobs are related to the duties listed in your job description.
Does the cover letter explain why this person wants to be hired? Motivation matters. If a cover letter would help you learn more about each applicant, you can request it in the job description as part of the application process.
Once these questions are answered, choose the strongest candidates and conduct a job interview.
Avoid legal issues during interviews
The candidate interview is one of the most crucial steps in the hiring process. It's often the best way to get a true glimpse of the person's potential to be a part of your team.
You've probably heard about illegal interview questions. This isn't just urban legend – it's real. Avoiding discrimination and harassment in the workplace, even before a new employee is hired, should be a top priority.
The Equal Employment Opportunity Commission has guidelines that you must follow when interviewing and hiring an employee.
You are not permitted to ask about the following:
Race, color, national origin
Religion
Sex, gender identity, sexual orientation
Pregnancy status
Disability
Age, genetic information
Citizenship
Marital status, number of children
Generally, stick to questions related to the job description and the person's professional experience and avoid personal ones. Share as many details as possible about the open position and your company's culture to help the candidate make the right decision.
Take steps to avoid employee lawsuits
You've selected the person or people who you believe would be the best fit for your business, but hiring procedures don't end there. Throughout an employee's tenure with your business, you need to be sure that you are protecting yourself from discrimination claims and employee lawsuits.
Maintain thorough documentation for each employee, starting with a job offer that includes the job description and compensation information. This is also a good time to share benefits information and your employee handbook.
Any time you hire, promote, or terminate an employee, it should be on the basis of that person's quality of work performed. However, you can't control a person's thought process – if he or she is passed over for a promotion, it's possible that the employee will think that it was because of a discriminatory reason.
Keep a detailed personnel file for each employee, and retain those records long after that person has left the company. By keeping clear and detailed notes on each of the steps in the hiring and promotions process, terminations, and employee performance reviews, you're making it more difficult for an aggrieved employee to bring a lawsuit against your business.
Even unwarranted lawsuits can be expensive. Consider employment practices liability insurance (EPLI) to cover your legal expenses if you do get sued by an employee for discrimination, harassment, wrongful termination, or other employment-related claims.
Protect your business with workers' compensation insurance
Part of the onboarding process is ensuring that you have the correct documentation that the IRS requires for each employee and purchasing workers' compensation insurance.
Workers' compensation coverage protects your employees if they are injured on the job, and it also provides liability protection for your business. Almost every state requires businesses with employees to have this coverage. Learn more about workers' compensation laws in your state.
Compare quotes from trusted carriers with Insureon
Complete Insureon's easy online application today to compare quotes for workers' compensation and other types of insurance from top-rated U.S. carriers. Once you find the right policy for your small business, you can begin coverage in less than 24 hours.