How to get clients by growing your business network
If you want to expand your client base, connecting with new people is key. Grow your network of business contacts by frequenting networking events, starting conversations, and making genuine connections with the people you meet there.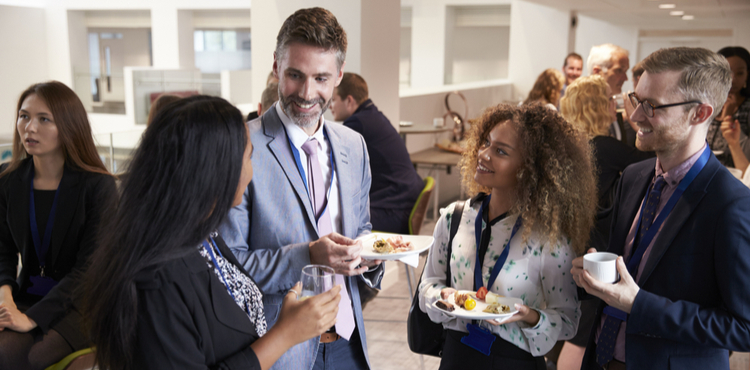 Business networking is one of the most effective ways to get more clients. While attending events and schmoozing comes naturally to some people, some of us still get sweaty palms at the thought of walking into a room of strangers.
If you fall into that latter camp, take a deep breath. Even if you're an introvert, you can network easily if you have a game plan and know what to talk about. Let's walk through how to create a good impression and build relationships now that will result in clients down the road. Here are some tips for getting clients by growing your business network.
1. Become a regular
Be mindful about which networking events you attend. Start by choosing one reoccurring event in your area. It's a good way to get to know others in your community and start creating relationships.
"Chamber of Commerce networking events are perfect for establishing relationships within a community of business owners," says Charlene Burke, owner of the marketing consultancy Search by Burke. "Attend those regularly and you will become well known to your potential customers simply because you continue to show up and say hello to them."
Once you've found one event that you feel comfortable attending, try branching out.
"Business owners should attend a variety of networking events to determine which niche best fits his or her needs," says Heather Rothbauer-Wanish, owner of the resume services company Feather Communications. "It could be a collaborative networking group that meets weekly or a women's organization that focuses on building business."
The important thing is to find groups that you like and consistently attend their events.
2. Do your homework
Make sure you have a strategy before attending a networking event. You'll be more effective at making connections if you have objectives to meet. You don't want to end up wandering aimlessly or standing in a corner nursing a drink.
"Decide ahead of time how many people you want to have a conversation with, what business they are in, and what you will talk about with them," Burke says.
Once you know who your ideal targets are, think about what you have to offer them.
"Go into each event with the purpose to learn something and make connections, not with the direct goal to sell something in that first exchange," says Paige Dawson, president of the marketing firm MPD Ventures Company. "Find something of value you could offer the other person, from helpful advice to a referral of any sort."
3. Relax
Try not to get stressed out the day of the event. Remember, you are going to meet people, not to make a sale. So try to relax and enjoy it.
"If you're nervous about networking, try to put yourself in a positive mood," says Deena Baikowitz, chief networking officer of the consulting firm Fireball Network. "Create a playlist to energize you or calm your nerves. Get a pep talk from a trusted friend, family member, or fellow business owner."
Once you've centered yourself, it's time to head over to the event. Try to arrive early if possible so you don't feel rushed or flustered when you get there.
"Leave yourself plenty of time to arrive and park," says business coach Debbie Page. "Nothing is worse than being late and arriving stressed."
4. Start a conversation, even if you're shy
Now we come to most people's least favorite part of networking events – walking into a roomful of strangers and making small talk. Yes, it can be intimidating, but try to remember that a lot of people feel exactly the same way. Take a minute to collect your thoughts, and walk up to the first person you want to meet and start talking.
"Remember that you already have one thing in common with every person in the room," Dawson says. "You are all attending the same event, so this is a safe, easy starting point for a conversation. Simply ask them a question along the lines of, 'How did you hear about this event?'"
Most networking events will have food and drink available, so if you're really nervous, start by hitting that first. You may feel less pressure if you ease into things by striking up a conversation with the person next to you in line.
You can also be strategic about who you approach.
"Seek out someone else who looks like they are solo," Page says. "It's less intimidating to approach one person than insert yourself into a group conversation."
5. Learn to listen – it's key to sales
Even if you feel confident meeting new people, it's important to keep in mind that networking is about building relationships, not closing sales.
"At a networking event, the one who is the most interesting is the one who is the most interested," says Page. "Ask questions, and be curious about the people you meet."
Rather than talking about your business for 15 minutes, try to get to know the people you are meeting.
"Think of networking like dating: it's a process," Baikowitz says. "Don't expect to land a major client, close a deal, or secure an investor over a cocktail party conversation. Invest your time and energy to get to know the people you meet, and find out how you can help them in return."
6. Keep the conversation going
Don't forget – you're not done networking when the event ends. Block some time out the next day to reach out to each person you met. If you don't do it right away, chances are you'll never do it, so don't put it off.
"Send a personal email expressing how nice it was to meet them," Page says. "Connect on the appropriate social channels. Start with LinkedIn and be sure to include a personal note similar to what you sent in the email."
Landing new clients through networking is a slow, but steady strategy. The more visible you are at events, and the more you are able to offer valuable advice or assistance to the people you meet, the more you will be seen as someone who is a trusted ally. Then when one of your connections needs the type of product or service you provide, you may be at the top of their list to call.
Compare insurance quotes with Insureon
The right insurance coverage is key to building trust with clients. Complete Insureon's easy online application today to compare quotes for general liability and other kinds of business insurance from top-rated U.S. carriers. Once you find the right policy, you can get coverage in less than 24 hours.