Does professional liability insurance protect your engineering firm's employees?
Professional liability insurance protects you from claims that you provided late, inadequate, or inaccurate work, but what about the rest of your team? Learn how your professional liability policy can protect your employees from lawsuits.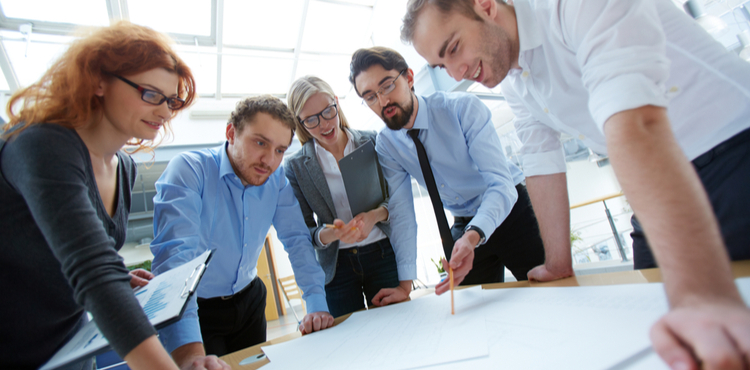 If you own an engineering firm, you've probably purchased professional liability insurance by now. In your line of work, there's too much at stake to go without coverage – even a single miscalculation can compromise an entire project. Your engineer liability insurance offers all parties peace of mind that your firm has the means to address its mistakes.
But what about your employees – are they protected by your policy? Let's take a look at some of the most common questions we hear from engineering firms about employees, liability, and lawsuits.
Which insurance policies cover my engineer employees?
Assuming you keep your insurance up to date and have adequate coverage, your employees should be covered by:
General liability insurance. Let's say one of your engineers gets into an internet flame war with a rival engineer at another firm. If their trash talk crosses the line and results in your firm facing a libel lawsuit, your general liability policy can help cover the legal costs.
Professional liability insurance. If a client claims that your employees provided late, inadequate, or incorrect work, professional liability insurance for engineers will likely cover the legal fees. The coverage functions the same as if it was your own (alleged) error.
Workers' compensation insurance. If employees get injured while inspecting a client's job site, your workers' comp coverage can help pay for their medical bills and lost wages.
Basically, your engineer insurance protection usually extends to your full-time employees.
Can my employed engineers be sued individually over the work they do on behalf of my firm?
Technically, anyone can be sued at any time for anything – so yes, one of your employees could be sued over the work they do for your engineering firm. However, you should know that when reviewing a case, the court isn't necessarily concerned with which individual engineer's name was on a set of faulty plans.
According to an article from the National Society for Professional Engineers, a judge is usually more concerned with whether the individual engineer was negligent in their duties and caused damages. However, if the employee was acting within their scope of duties, your engineer professional liability insurance should cover them, even if they are liable for negligence. If one of your employees is sued, notify your insurance company. It will usually appoint an attorney to handle the case and cover the legal fees.
Should my employees have their own professional liability insurance for engineers?
In most cases, the protection offered by your firm's professional liability insurance should provide enough coverage for your employees. However, let's say one of the engineers at your firm offers an extremely specialized or unusual engineering service. Depending on what it is, it could increase the overall liability for your company.
As always, it's smart to check with your insurer to make sure your professional liability insurance covers your employee's specialized work. In some situations, your insurer may recommend that the employee also purchase their own supplemental coverage.
Be aware that professional liability insurance is a claims-made policy. That means your policy must be active both when you file the claim and when the incident took place to collect on a claim. It's possible to set a retroactive date on your policy to fill any gaps in coverage.
Compare quotes from trusted carriers with Insureon
Complete Insureon's easy online application today to compare quotes for professional liability and other kinds of business insurance from top-rated U.S. carriers. Once you find the right policy, you can get coverage in less than 24 hours.