$500K settlement for hot coffee spillage (thank goodness for general liability insurance)
When hot coffee burned a baby at a Denny's in Buffalo, the restaurant chain paid half a million dollars (according to rumors) to make the lawsuit go away. If you don't have that kind of cash on hand, general liability insurance can keep your small business from bearing a similar settlement alone.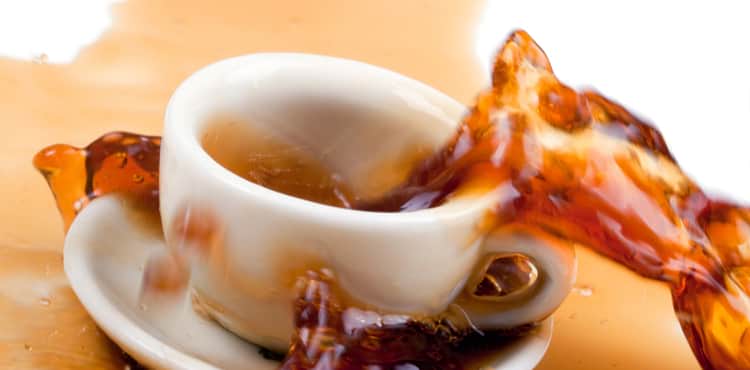 As the owner of a small food business, you probably know all too well that accidents happen in the blink of an eye. One minute, your staff is serving a hot breakfast to your customers. The next, your customers are serving you with a lawsuit summons.
It's astounding how little time it takes to alter the course of business. Take, for example, a recent lawsuit in Buffalo, New York. According to a report by Grub Street, Denny's was sued over hot coffee burns, but the accident isn't what you'd expect. Tatyana Adames, a 14-month-old girl at the time, accidentally pulled a cup of scalding hot coffee into her lap when she and her parents were eating at Denny's. She suffered first- and second-degree burns on her chest, neck, and abdomen because of the incident.
In the lawsuit, the girl's parents alleged the waitress was negligent for putting the cup of coffee close to the edge of the table and Denny's ended up settling for an undisclosed amount, though there are whispers that the figure was at least $500,000. That may not seem like a staggering amount of money for a business like Denny's to part with, but imagine if it were your restaurant or coffee shop. Do you have $500,000 to spare to make amends for an unpredictable injury that happens on your property?
If you're like most small business owners, you probably don't. Good thing there's general liability insurance.
General liability insurance: Your rainy day lawsuit resource
An accident doesn't have to be your business's fault in order to for it to be held legally responsible. In the Denny's case, the fact that the coffee injury happened on the restaurant's property is enough to hold the business accountable. That's because of a thing called "premises liability."
According to most state laws, once your business is open to the public, you have a duty to ensure the safety of your premises. If you fail to do so, you can be sued over the bodily injuries that oversight causes (e.g., someone trips over a wayward appliance cord or slips on your restaurant's unsalted, icy sidewalk).
And that's where general liability insurance can help out. It can pay for the legal expenses associated with non-employee accidents that end in bodily injuries.
In the Denny's lawsuit, there are two coverages this policy offers that could be applied, depending on what the lawsuit alleged:
Premises liability coverage
When you hear general liability referred to as "slip-and-fall insurance," it's this part of the policy that's being referred to. If someone suffers an accidental bodily injury on your property, your GL can pay for the ensuing legal costs (e.g., legal defense fees, court costs, and settlements). This is likely the coverage you would need if your coffee shop or breakfast joint were facing a lawsuit similar to the one Denny's just settled.
Product liability coverage
In order for this part of the policy to kick in, the lawsuit would have had to take issue with the temperature of the spilled coffee rather than the fact that the coffee was accidentally spilled. In other words, the lawsuit would have had to blame the product for the injury. It's a subtle difference, but it matters in these cases. For example, your GL's product liability coverage could step in if you're sued over not serving allergy-free food as your menu advertised and your dish causes an allergic reaction.
In short, if your business is open to the public, you take on certain unavoidable risks. That's why it's smart to consider general liability insurance an essential part of doing business.
Compare quotes from trusted carriers with Insureon
Complete Insureon's easy online application today to compare insurance quotes from top-rated U.S. carriers. Once you find the right policy for your small business, you can begin coverage in less than 24 hours.