4 things to help win roofing clients' trust
A roof provides not only shelter and security, but it shields us from the elements and keeps our families safe. If you want clients to trust your roofing company, you have to focus on making your marketing materials shine.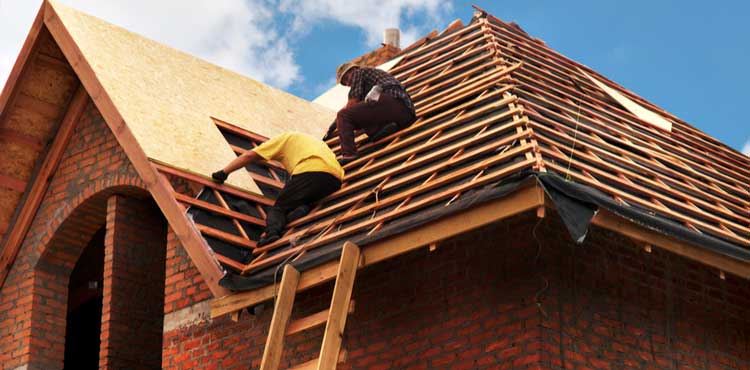 A roof is a lot of things, but to your clients, it's the very symbol of their shelter and security. It shields them from the elements and keeps their families safe.
That is to say, clients are wise to vet their roofers carefully. They don't want to trust just anyone making repairs. They want a roofer they can trust – someone who understands the weather in the area and can make fixes that can hold up against the region's storms and challenges.
So how can you show roofing clients that they are right to put their trust in your roofing company? Be sure your marketing materials – everything from your roofing business's website to its flyers – put the following credibility-builders front and center.
Showcase your past work
They say a picture is worth a thousand words, but when it comes to photos of your past work, your clients may need some help understanding what they are looking at. So educate them!
On your website, show before and after photos of the roof work you've done. Explain the repairs you made and the purpose those fixes serve.

For example, a before photo shows curling asphalt shingles. Under that photo, you might explain how these brittle, buckling shingles have maxed out their life expectancy. The after photo can show brand new shingles. Explain how a new asphalt shingle roof should last 20 to 25 years so clients see the benefit of this work.
Keep in mind that your clients may have no experience with roofing and repairs, so make sure to discuss your work in a concise and easy-to-grasp way. All this legwork shows that you care about the clients' needs and that you want them to be informed – you're not trying to keep them in the dark to upsell them.
Display your Better Business Bureau rating seal
If you haven't already, look into getting your business accredited by the Better Business Bureau. You can learn about the accreditation process on the BBB's website.
Once accredited, you can use the BBB seal on your website and other marketing materials to show clients that you have the appropriate licensure and that your business can be held accountable for its work. That may bolster clients' confidence in your roofing business. After all, most people are familiar with BBB ratings and may even research your company through the BBB when deciding whether or not to work with you.
Offer proof of insurance upon request
The fact that you have roofers insurance – which may include general liability insurance with product liability coverage and workers' compensation insurance – should be noted right alongside your licensure and permits.
Insurance demonstrates that you have the means to handle financial setbacks associated with your work. If you build a defective roof that causes water damage to a client's home, they will want a way to recover those damages.
Your insurance essentially acts as proof that you can put your money where your mouth is. On your website or marketing materials, make sure to note that you can produce a certificate of liability insurance when your clients request it.
Highlight your local experience
Clients want to do business with local roofers because they understand the area and can make repairs that account for the type of climate the house is exposed to. And if a local roofer is part of the community, they probably aren't trying to rip people off and run. Show clients they can trust your roofing business by publishing testimonials from local clients on your website. (Be sure to get their permission first!) You can ask those clients for referrals, too.
Compare quotes from trusted carriers with Insureon
Complete Insureon's easy online application today to compare insurance quotes from top-rated U.S. carriers. Once you find the right policy for your small business, you can begin coverage in less than 24 hours.